Britannia has been cancelled for 2017 so if you're looking for a freeride and race in British Columbia, welcome to the Salt Spring Slasher com in yup May 13th and 14th right before Danger Bay.
Well known by Coast Longboards and its disciples, the island hopping Coasties of the our community have never needed the big sponsors and exposure to have a reason to throw a race for their friends. The Salt Spring Slasher is in its 9th year and has been everything from outlaw to sponsored event and back again… as long as theres a will to meet and skate, there will be an event with even just the homies.
As this is a throwback post. Please enjoy some photos from 2015 thanks to Olivier Bashonga. We cooked, we camped, we partied and we skated, as we do and it was an awesome event and just a great weekend.
Here's a link to the original Facebook album we posted.
You can also get a bit more gnarly with your action and check out the raw run from Laine Jackart and Alex Ameen:
EVENT DETAILS:
Dates: May 13th (Race Day), May 14th (Freeride)
Registration Fees: 
Late-Registration (after april 7th) – $140Paypal or E-transfer to Supermaxkaye@gmail.com**Basically, you should have pre-register, as it makes the event running much smoother, and ultimately, better. And now we need your support to make it all happen!**
Facebook event for contact and etc info and communication here.
Race Details: 
NO WRENCHING  – you are only allowed a single set of wheels for the entire race (do whatever you want for the freeride).
The Race is held on saturday (the 13th) and the freeride is held on the sunday (the 14th). This avoid injury and makes the freeride portion of the event less competitive.
Skaters are allowed to take all runs. That means that during the race, if you have been eliminated you are still able to skate runs.
Uhaul's will shuttle the racers.
Bring snacks, lots of snacks! Do not expect to be fed on the race hill. Hit up the local grocery store in the morning and don't get hangry.
Accommodations:
There is a shared race campsite. We aren't sure where it is, but everyone heads there from the race hill, so you can't really miss it. Its free, and there is a lot of space. One thing is for sure, there are no amenities (running water, bathrooms etc). Come prepared to camp! Bring fresh water, toilet paper, food, and a coleman stove if you have it. But trust us, its more fun this way.
If you must have accommodations, there are some places on the island from motels to bed & breakfasts and etc. Tourists need places to stay, so it comes at a price of it's own colour. We'll be camping if you want to join us for a visit all the same.
Facebook event for contact and etc info and communication here.
Hope to see all you hooligans there!
Unofficial poster we made…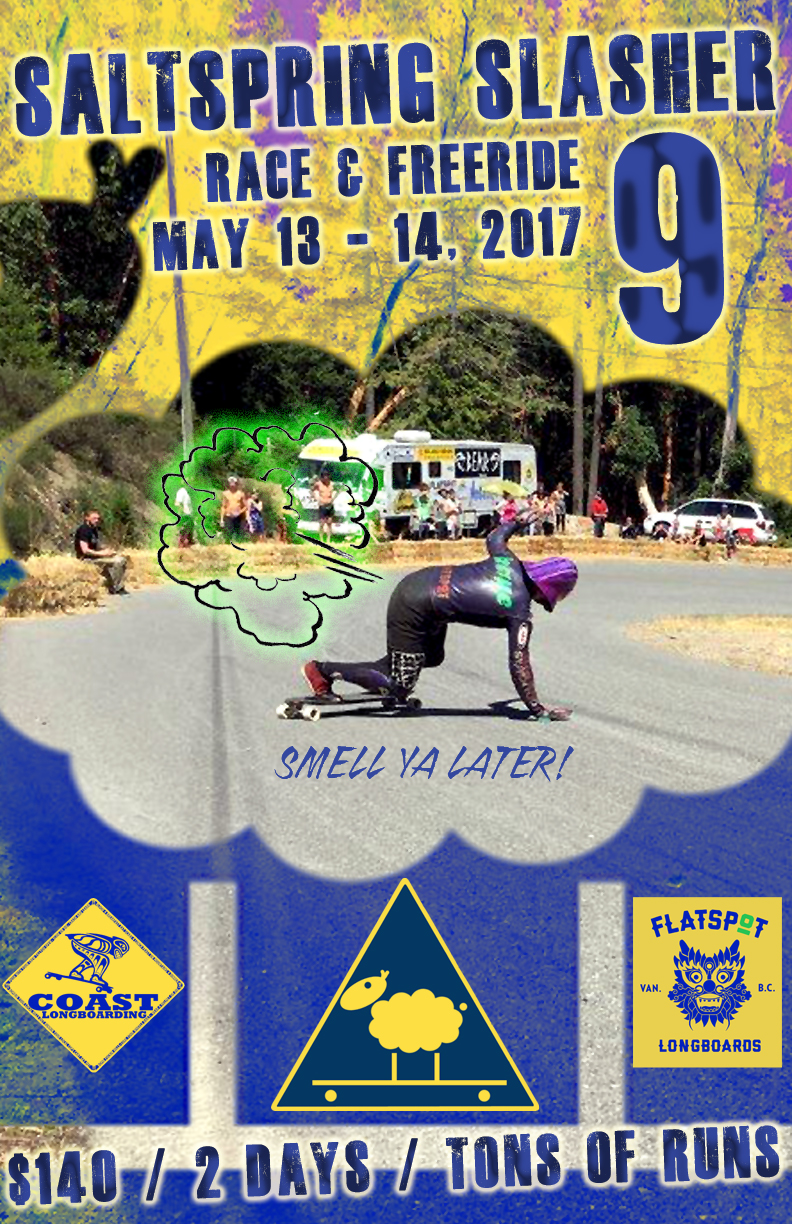 Lots more events to check out with Coast Longboarding. Have a look at the schedule below and mark your calendar. Get on the Cribb!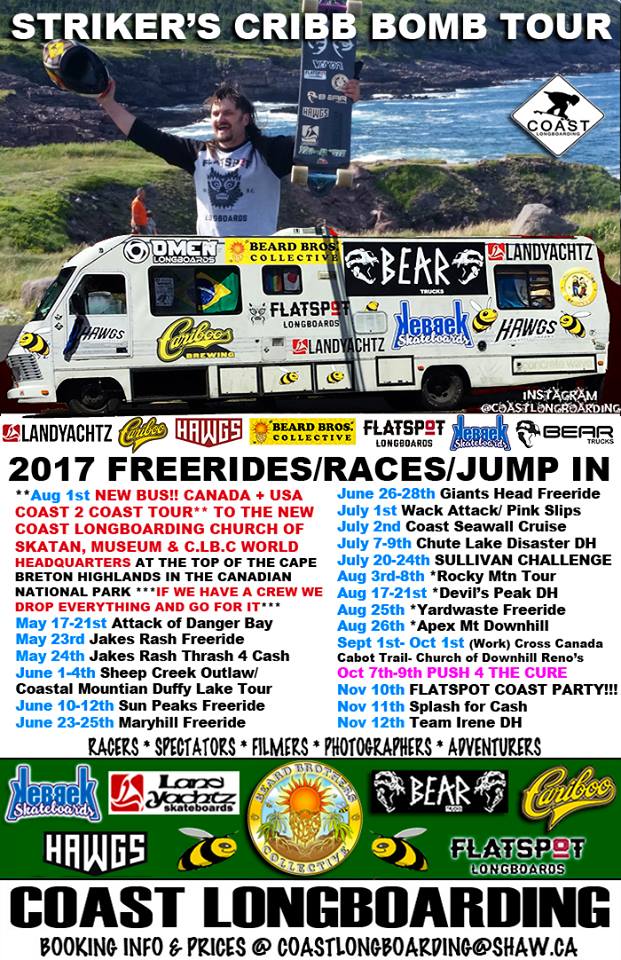 Latest posts by Les Robertson
(see all)