After years of being a successful Toronto event, FUBU, an All-Womyn Longboarding Weekend event, has made its way to Vancouver. While never specifically "for men", I am sure we can all agree, most of the longboard events are hosted and participated in by men and others take a back seat to their presence, intentional or not. Additionally, while these events might be open to all genders and skill levels, they are primarily "egalitarian" and not actually designed to welcome less experienced people and foster their time there at the event. Typically events are geared to a higher level of skill, whether or not they are competitive, and those with the most skills get to dominate the space. The FUBU events are geared to welcome not just womyn, but all skill levels, and there is a distinct tone of fun and friendliness that rarely exists in other event spaces.
We are stoked to for Vancouver's first FUBU and hopeful for more to come in years ahead. Hope to see you there!
More from the FUBU Event page: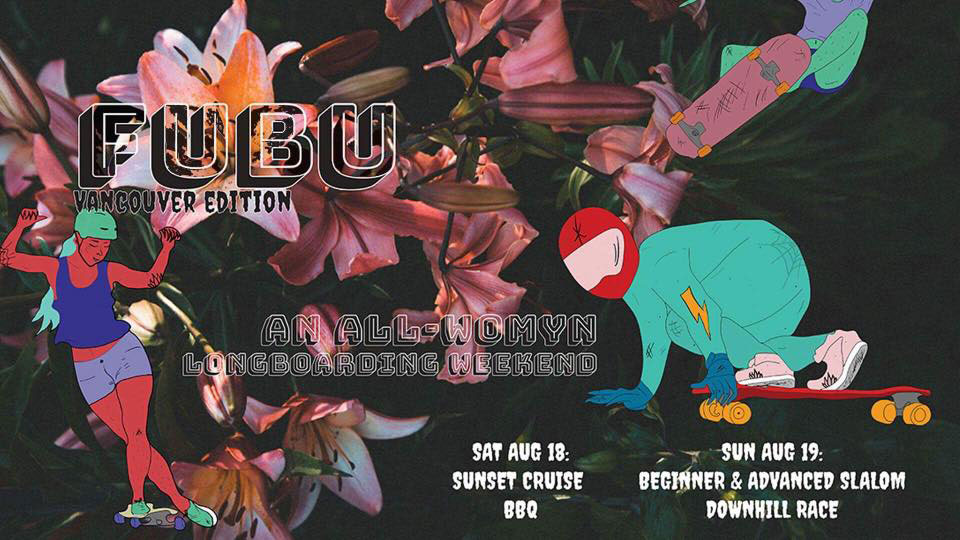 FUBU is a For Us By Us event – meant to spread the stoke and encourage other women, trans, non-binary folk to come out to skate, party, and race together. This entire event is beginner friendly so if you have a longboard and you are looking for other ladies around Vancouver to skate with, this is a great event for you to attend!
If you plan on participating, please fill out this form:
https://goo.gl/forms/yXiCYB8SeBjXR8K73
FRI AUG 17: Learn to longboard dance session @ 6:30pm (Science World next to the playground)
SAT AUG 18: Mellow sunset seawall cruise @ 7PM, BBQ
SUN AUG 19 : Beginner/advanced slalom race, DH race, raffle and awards
Meet up @ 1pm
@ a spot dubbed Tarmac, actual address will updated weekend of
••• HELMETS ARE MANDATORY, participation is at your own risk •••
More Details and best place to ask questions and connect here on the FUBU Event page

Latest posts by Les Robertson
(see all)