Last Winter's C.L.B.C. Vancouver Outlaw Series organized by the legendary Chase Johnson was some incredible fun. This Fall, Chase is bringing back outlaws and organizing a series of Parkade Races, coinciding with the regular Parkading that happens Thursday already.
The first race is coming up this week!!!
DEATH SPIRAL – THURSDAY, SEPTEMBER 19th 9:30pm
Meet @ Vancouver Art Gallery @ 8pm
Get all the details on the series below!!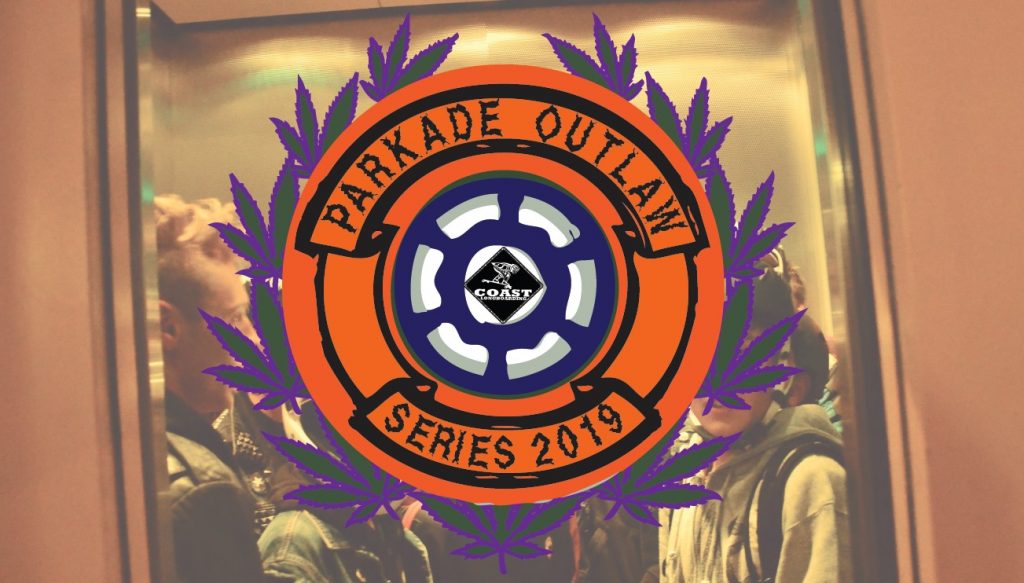 Here are some details about the Parkade Series – copied from WWW.CHASEJOHNSON.CA
Hey y'all, starting Thursday, September the 19th, the first of a 5 race Parkade series begins.
Points will be earned according to how you place. The overall series winner will be the person with the most points at the end of the last race. Points will be tallied and view-able on Chasejohnson.ca along with any other info about the races.
– FINAL HEAT & CONSI HEAT will earn Points
– ALL Competitors will earn 4 points for attending a race
– PURRFECT ATTENDANCE RECORD (all 5 races) = (+4 points)
Points breakdown per position as follows:
1st – 40pts., 2nd – 37pts., 3rd – 35pts., 4th -33pts., 5th – 31pts., 6th – 29pts., 7th – 27pts., 8th – 25pts., 9th – 23pts., 10th – 21pts., 11th – 19pts., 12th – 17pts.
– ONLY FINALS & CONSOLATION ROUND will Earn points.
– We will strive for a minimum of 4 racers per heat and a maximum of 6 racers per heat in the FINALS and CONSOLATION rounds of racing, unless conditions such as security or law enforcement are demanding we leave the spot THEN we race "Chinese Downhill" with all remaining racers at once, in which case top 8 will earn points.
– Winner of the consi round will receive +1 extra point for winning the consolation round, because they earned it.
– If after the last race, we have a tie between anybody in the top 8 positions, we will race a tie breaker heat to determine who places above another. We will award one point to the winner of the heat to break the tie. Depending on what the scores look like at the last race if a tie breaker may end up causing more tied scores, we will assess a fair, sensible way to establish the top 8 racers to conclude the race series.
Racers have the opportunity to score an additional 4 points for dressing up in the best costume for the MARIO KART DEATHMATCH TOUR on halloween. (costumes and weapons are mandatory for this race anyways – best costume to be decided by event organizer, Kady Messenger)
ENTRY FEE WILL BE $2.00 – (with the exception of the Mario Kart Deathmatch Tour on October 31st. That race will likely be $5, but stay tuned for further details about that very special race.)
DEATH SPIRAL – THURSDAY, SEPTEMBER 19th 9:30pm
Meet @ Vancouver Art Gallery @ 8pm
NINE LIVES – THURSDAY OCTOBER 3rd 9:30 pm
Meet @ Vancouver Art Gallery @ 8pm
RENAISSANCE – THURSDAY OCTOBER 17th 9:30 pm
Meet @ Vancouver Art Gallery @ 8pm
MARIO KART DEATHMATCH TOUR – THURSDAY OCTOBER 31st 8pm
meet @ Robson Square Ice rink
CHAN CENTER – THURSDAY NOVEMBER 14th 10 pm
Meet at UBC Museum of Anthropology Parking Lot
Watch some fun from the 2015 Mario Kart Death Match:
Thank you to our supporting brands for their contributions:
Flatspot Longboard Shop
COAST LONGBOARDING
Team PIZZA
Cariboo Brewing
Additional details about the Parkade Series? Head to WWW.CHASEJOHNSON.CA.
¯\_(ツ)_/¯ ¯\_(ツ)_/¯ ¯\_(ツ)_/¯ ¯\_(ツ)_/¯ ¯\_(ツ)_/¯ ¯\_(ツ)_/¯ ¯\_(ツ)_/¯