If you haven't heard, we have 25% off everything Sector 9 and Gullwing until Friday!!!! We also have 10% off the whole website (including the clearance section) and we've hidden a few eggs around the website with even better deals, just on that specific product or package. You might want to browse around and find them, they will have black back ground images and be limited in quantities.
Use code SMASHEDGLASS10 at check out to get 10% off!
Find out more below!!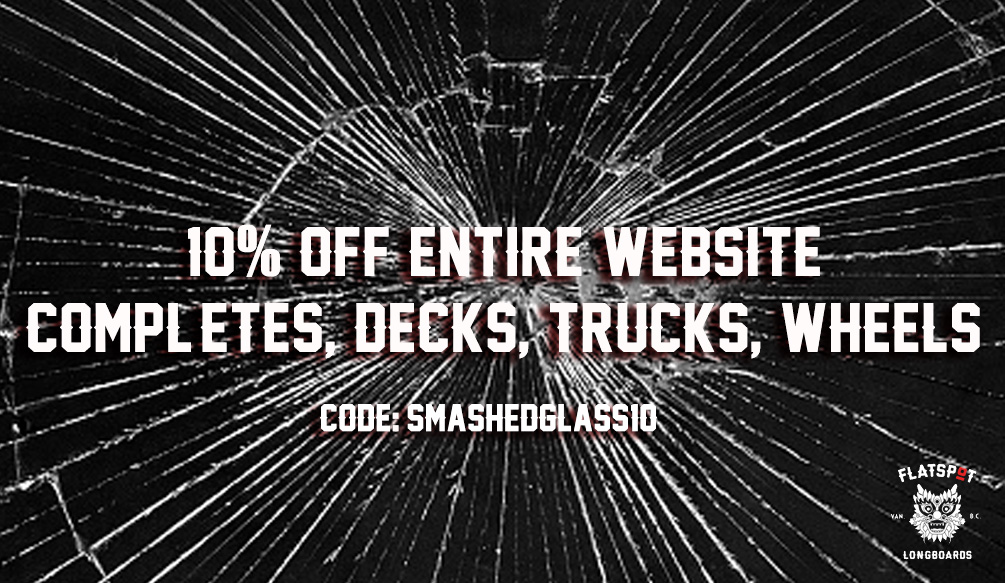 We do our best to not over buy. We don't operate as a seasonal business and aren't trying to flip to snow as winter comes. We're a longboard and skateboard hard goods and service shop. We focus on hard goods as a central part of what we do – not shoes, fashion, or selling "skate culture" to the masses. Big seasonal clear out sales have never really been a thing for us. We keep a healthy "clearance section" on the website and offer a discounts where we can – usually because something is being discontinued, or we've been given a discount by the brand to pass along, or some scratch / dent thing.

Right now, we're offering 10% off because, well, inflation. Prices are going up. Some have already gone up this past year with supply chain issues. Specifically urethane prices (wheels) are climbing as a hot topic, but we know 100% the price of everything has gone up for 2022 because we have already been booking the goods for next season. So, lets get skaters the best prices we can, now, save you some money, and hopefully keep the price increases at bay for as long as possible.

But in all honesty, we also need to run a sale. With 4 smashed windows and a 5th with a small hole already in it, we have been forced to replace some glass. It ain't cheap! We had hoped the Black Friday sale would make it for us, but we're still short and the holidays are going by fast! So we're hoping 10% off all week will help save you some money, and help us recover some. Use code SMASHEDGLASS10 at check out to get 10% off.
Don't forget, all Sector 9 completes, decks, Gullwing trucks, and Sector 9 wheels are on sale now for 25% off, and will remain on sale until Friday, December 10th, midnight. Use code 25SECTOR9 at check out.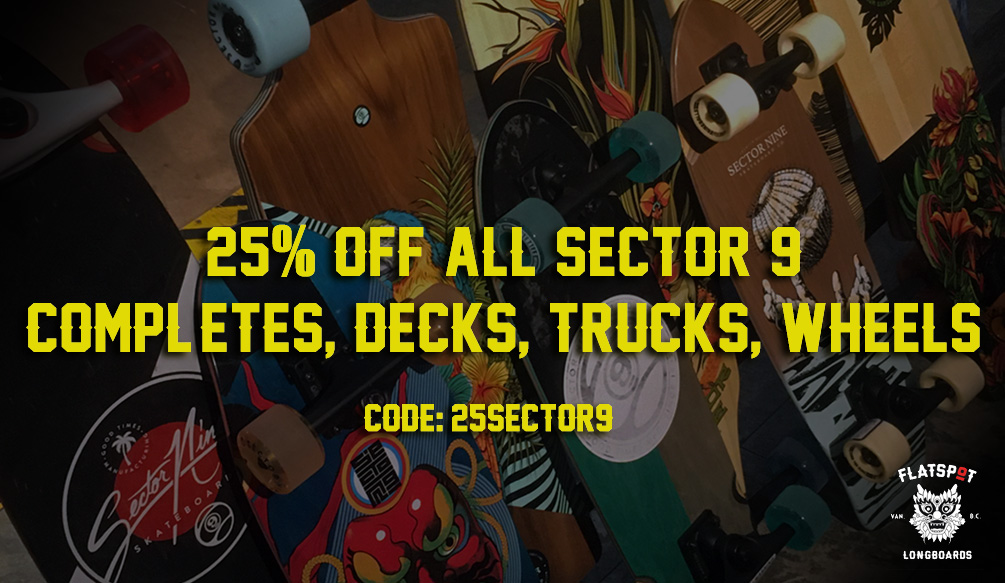 ---
If you haven't found what you're looking for, be sure to check out our full selection in our web store. We've got one of Canada's largest selection of decks and completes ready to ship worldwide.
---
If you have any questions please feel free to shoot us an email at info@flatspotlongboards.com, message us on facebook, or call at 604 899 8937!