THE 2017 ATTACK OF DANGER BAY IS ONLY HOURS AWAY AND WE'RE TOTALLY AMPED UP SO WE'RE GOING ALL CAPS LIKE THE MAIN MAN BRICIN STRIKER LYONS.

BRICIN DROPPED THE DANGER BAY BIBLE – THE FULL SCHEDULE OF WHERE TO BE AND WHEN TO BE TO GET THE MOST OUT OF THE PENDER HARBOUR FESTIVITIES. READ THE BIBLE. HELL PRINT THE BIBLE. PUT THE BIBLE IN A BAGGIE UP YOUR BUTT FOR SAFE KEEPING AND BE READY TO SKATE AND PARTY!!
** NOTE THE NEW SLIDE COMP START TIME
WANT A REAL DANGER BAY EXPERIENCE? DON'T MISS THE EGMONT GRIND BIG AIR THURSDAY!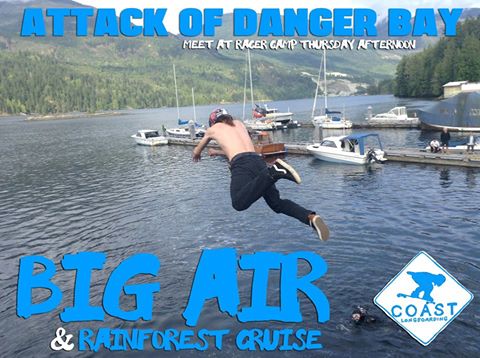 STRIKER HAS BEEN MAKING REGULAR ANNOUNCEMENTS ON FACEBOOK ABOUT THE EVENT, THE HISTORY AND THE SCHEDULE FOR THIS YEAR FROM THE BANDS TO BIG AIR AND EVERYTHING IN BETWEEN. AS A TEST TO SEE IF YOU HAVE BEEN PAYING ATTENTION WE'RE GIVING AWAY SOME COAST LONGBOARDING AND FLATSPOT GEAR TO THE LUCKY BUGGER WHO NOT ONLY ENTERS, BUT GETS THE ANSWERS RIGHT. SHOULD BE EASY, BRICIN HAS POSTED THE ANSWERS ON FACEBOOK. GO LOOK YOU NERD!
HERE'S THE CONTEST // HOW YOU WIN AND WHAT YOU WIN
ENTER THE FORM BELOW WITH ALL THE RIGHT ANSWERS AND YOUR EMAIL
WE WILL PICK ONE WINNER FROM THE CORRECT ENTRIES *MUST HAVE CORRECT ANSWERS – IF THERE ARE NO WINNERS WITH COMPLETE ANSWERS, WE WILL MOVE TO THE MOST ANSWERS CORRECT.
WIN A COAST LONGBOARDING AND FLATSPOT SWAG PACK *SEE IMAGE BELOW
IF YOU HAVENT CHECKED OUT THE TOY BOARDERS, THEYRE RAD!
QUESTIONS:
WHO HOSTS THE DANGER BAY RACER CAMPSITE
HOW MANY YEARS HAVE THEY HOSTED THE RACE CAMPSITE IN THE HISTORY OF DANGER BAY
WHICH DANGER BAY HAD THE FIRST BROKEN BONE
BONUS: WHAT BONE WAS BROKEN
WHAT IS THE NORMAL NUMBER OF HAY BAILS USED AT DANGER BAY
HOW MANY TIMES HAS THE HOUSE ON CARNAGE CORNER BEEN BOUGHT/SOLD DURING HISTORY OF DANGER BAY *INCLUDING THIS YEAR
HOW MUCH MONEY DOES DANGER BAY PAY OUT TO THE RACERS?

[contact-form-7 404 "Not Found"]
PRO TIP: THE DANGER BAY (Michael Crowe Rotary) MEMORIAL CUP WAS AT THE WONDERFUL LAVERNE'S GRILL!!!!! IN GARDEN BAY!!! KILLER ICE CREAM CONES!! WICKED FISH AND CHIPS!! AND THE BEST HANGOVER BREAKFAST ON THE COAST!! LaVerne's Grill
Contest Closes Thursday, May 18th 4:20pm PST
IMPORTANT CAMPSITE INFO:
IF YOU HAVEN'T HEARD, DAYGLOW ABORTIONS WILL BE PLAYING THE RACER CAMPSITE!!!! AS WELL AS FLATSPOT IS PROUD TO PRESENT NEIL E DEE DANGER THRILL SHOW ON THE SATURDAY NIGHT!!!!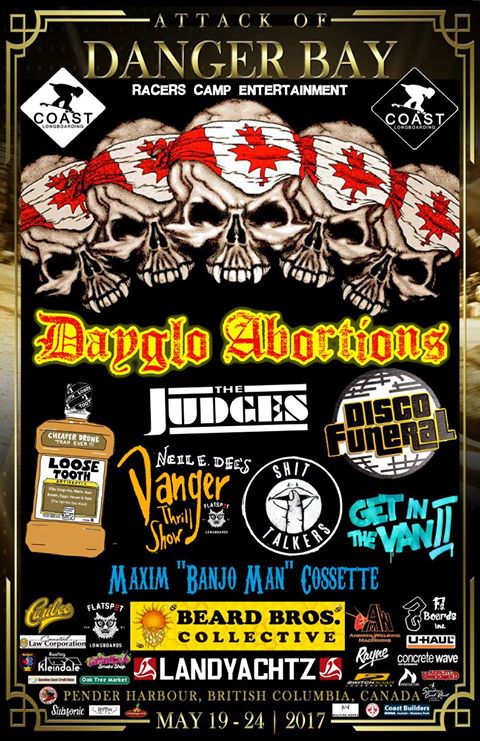 FLATSPOT PRESENTS NEIL E DEE DANGER THRILL SHOW SATURDAY NIGHT AT THE RACERS CAMP!!! MORE DETAIL SOON!!!!
READ UP ON THE CAMPSITE RULES HERE FROM BRICIN STRIKER LYONS: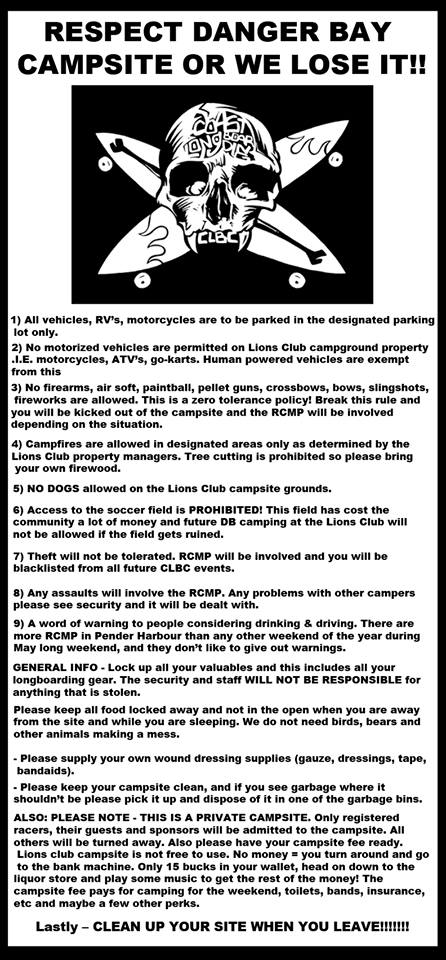 "YEAH SO JUST A HEADS UP…… THE REASON WHY THE CAMP SEEMS MORE QUIET EVERY YEAR IS BECAUSE THEY ARE SCARED TO COME CAMP BECAUSE OF THE MOB…. SOMETHING I HAVE NEVER LIKED BECAUSE IVE SEEN FRIEND NEVER COMEBACK TO MY FAMILY REUNION BECAUSE OF THIS…IVE NEVER SAID SHIT OVER THE YEARS BUT ITS SOMETHING I DONT LIKE… PEOPLE DONT WANT TO COME ANYMORE BECAUSE OF THE MOB… BECAUSE THEY ARE SCARED TO GET FUCKED WITH… NOT WHAT I WANT DANGER BAY TO BE ABOUT!!
I WANT PEOPLE TO BE ABLE TO COME CAMP AND FUCKIN GIVER!!! NOT BE TERRIFIED THROUGH THE NIGHT … I GOT FRIENDS THAT WILL NOT COME ANYMORE IT FUCKIN SUCKS…
SO DONT WRECK THIS SHIT FOR ME DONT FUCK WITH PEOLE COMING TO HAVE A GOOD TIME OR IM FUCKIN OVER THIS… I PUT TOO MUCH WORK AND TIME AND FUCKIN STRESS TO THIS EVENT FOR PEOPLE TO JUST FUCK IT UP…
IM MOVING TO BETTER COAST IM MOVING MY FUCKIN FAMILY AWAY FROM EVERYTHING I FUCKIN STARTED MY WHOLE LIFE.. FOR YOU ALL… IM MOVING FROM OLD GRANDPARENTS AND UNCLES AUNTS.. .. IM QUITTING MY JOB GIVING UP ALL MY SPONSORS… TO BUILD US A FUCKIN CHURCH TO HAVE A COAST MUSEUM!! AND A HOSTEL!! IM PLANNING ON COMING BACK HERE TO KEEP THIS GOING … I WANT TO HAVE A RACE IN THE ATLANTIC NEXT YEAR AFTER DANGER BAY THE NEXT WEEKEND AND DRIVE 2 BUSSES ACROSS CANADA FOR THE 1ST ANNUAL EVENT…
ILL JUST FUCKIN QUIT! I DONT WANT THE MOB FUCKIN WITH CAMPERS… NOT FAIR TO THEM OR ME WE ALL HAVE THE RIGHT TO FUCKIN HAVE A WICKED TIME NOT GO HOME SAD PISSED OFF NEVER WANTING TO COME BACK….THIS HAPPENS EVERY YEAR..
I WANT TO GET FUCKIN ROWDY!!!! THATS HOW ITS ALWAYS BEEN!! BUT DONT FUCK WITH MY CAMPERS DONT FUCK WITH MY TOWN!!!
PENDER HARBOUR OR PEOPLE THAT DONT LIKE US AND THANKS TO THE INTERNET WILL FUCKIN SHUT ME..US DOWN!!! WE CANT LET THESE PEOPLE HAVE ANY EXCUSES TO SHUT US DOWN!! BAD NEWS TRAVELS FAST!!! REPRESENT COAST!!! WE ARE RESPECTED THERE DONT BLOW THIS OR ILL NEVER FUCKIN COME BACK AND ITS NOT THE FUCKIN WAY I WANT TO END MY LAST FUCKIN YEAR HERE SO FUCK YOU!!
I DONT WANT A MOB THIS YEAR I WANT SOME FUCKIN FUN! SPREAD THE WORD OR BURN IN HELL!!!
ON THAT NOTE LETS FUCKIN PARTY!!!!! LETS GET TO 20!!!!
DAAANGER BAY!!!!
THANKS OR NO FUCKIN THANKS!" – BRICIN STRIKER LYONS
THAT'S IT FOR NOW. HEAD TO THE FACEBOOK PAGE FOR MORE INFO OR IF YOU HAVE QUESTIONS FOR STRIKER.