Early in the spring we kicked off a new Yoga series here at Flatspot Longboard Shop thanks to the help of Unity From Within and Samantha James leading our sessions. The goal is to provide a safe, comfortable and relaxed atmosphere for our community to come practice and enjoy the benefits of yoga. We want to help create opportunities for better overall wellness and mindfulness in our community so we can all have more fun skating through the season.
Each week, we gather at the shop and take Mondays to the Mat with Yoga at Flatspot. Whether you skate or don't does not really matter. The goal is to work out some of the stress and tension built up in our bodies and minds and help repair us mentally and physically for the week ahead. Whether that's a skate injury, a test, rent, or even just making time for yourself, we provide a relaxed, super casual environment where can come release and not have to worry about some of the formalities of most yoga studios. Unity From Within not only leads the session, Sam has helped supply mats, doesn't care what you're wearing, and has no expectations of anyone even knowing what they are doing. Each session is built around welcoming and helping each and every one of our guests practice yoga at a level they are most comfortable with.
Please check out a few photos from our friend, photographer and yoga participant, Baron S. Cameron aka Culture Thug Photography (Baron's blog)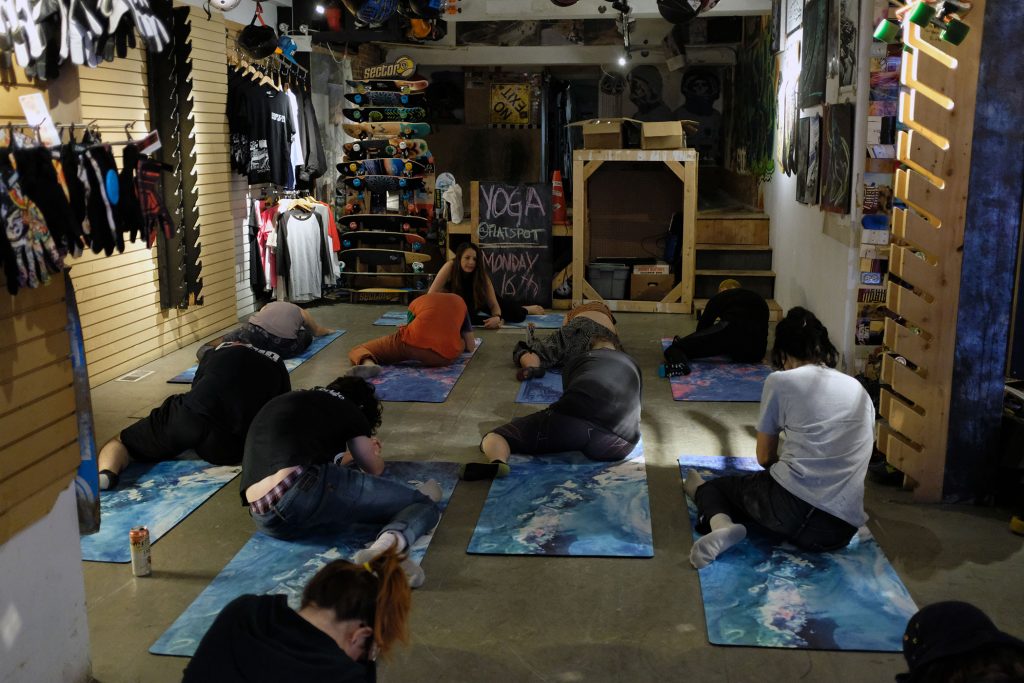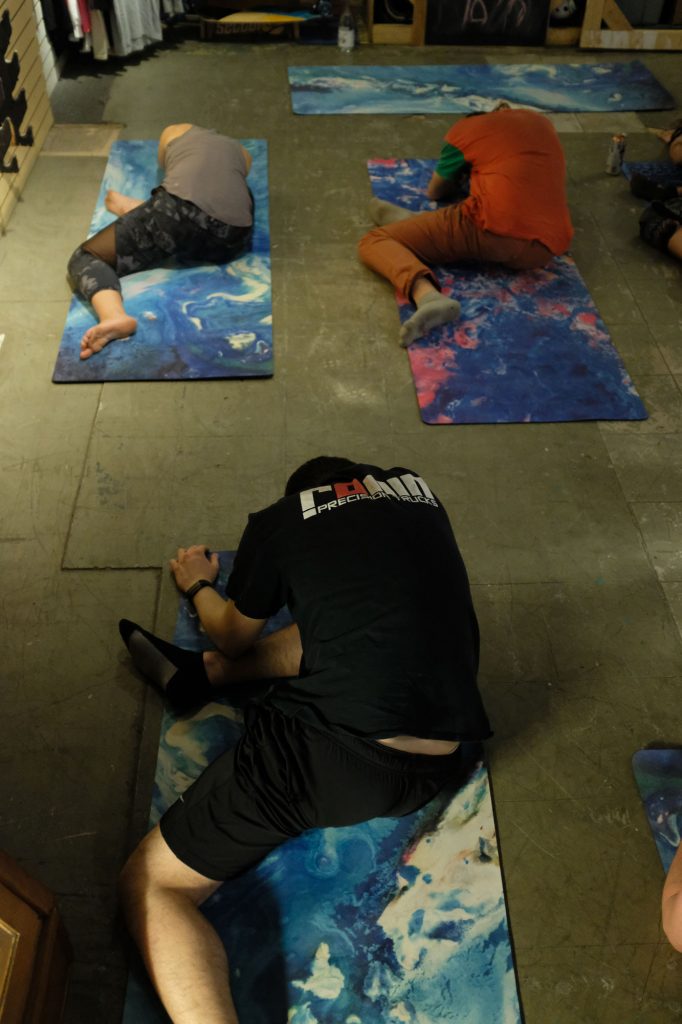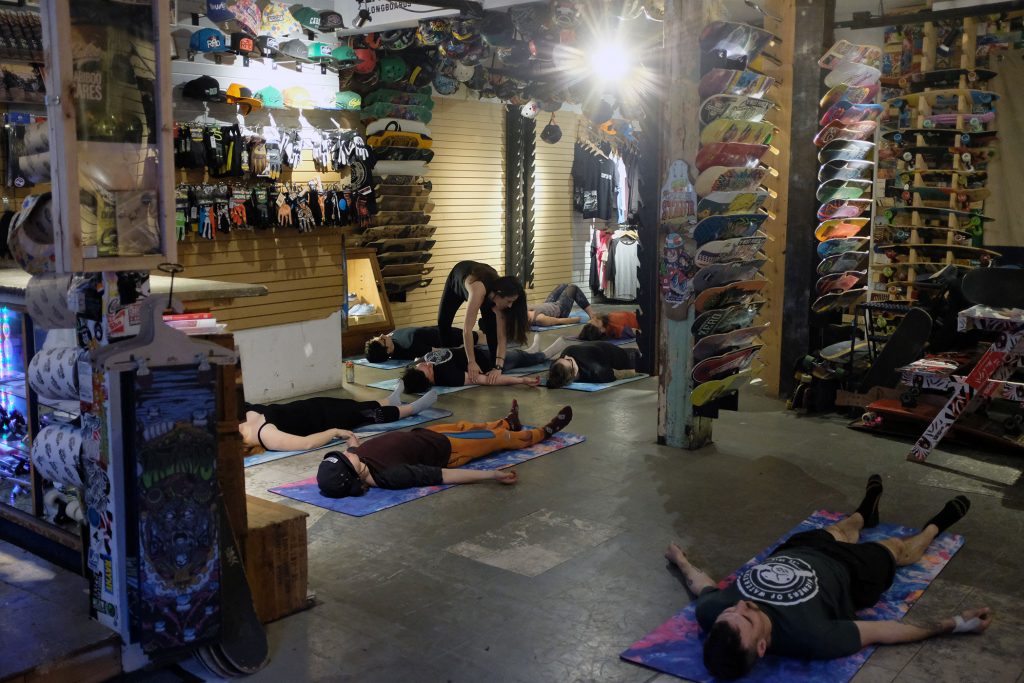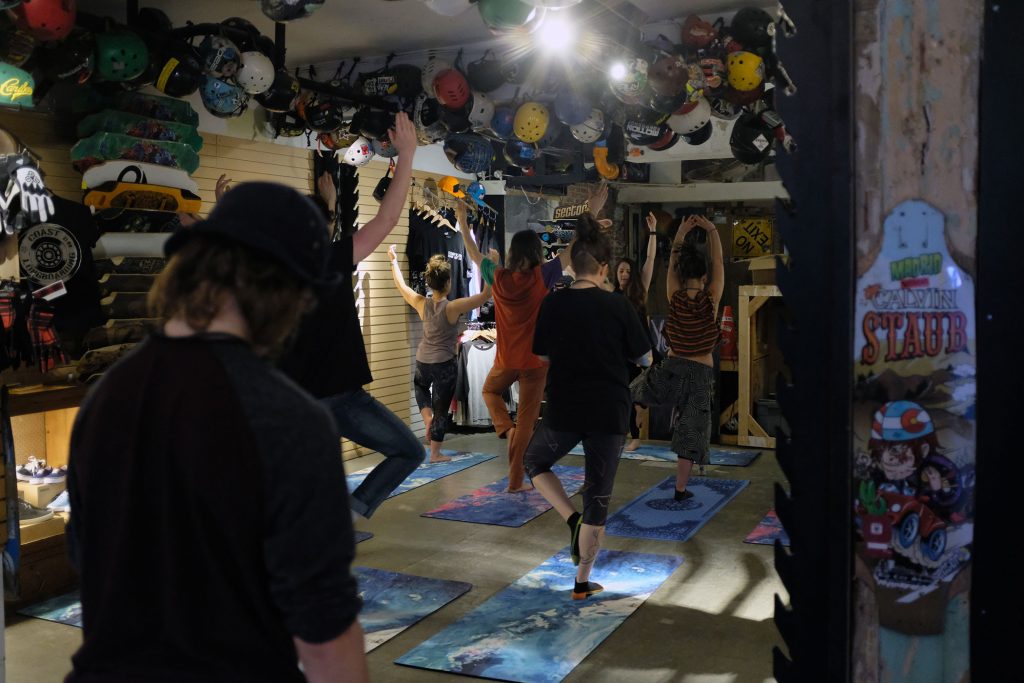 We continuing to host an hour long session, Monday nights from 7:00pm (ish) to 8:00pm (ish) at Flatspot Shop for $5 per session.
* No yoga specific attire required, come in what's comfortable. We care about attitude, not clothing.
* We will have some mats available for $2 rental (offset cost of mats and cleaning). If you need a mat please contact us to reserve one.
* Space will be limited to 16 people per session.
If you have questions or want to reserve space, please hit us up at Flatspot Longboard Shop on our contact page, or facebook page.
About Unity From Within:
I believe we are all healers and we have the ability to provide the environment to calm our nervous system so our body can repair itself naturally. What if our perceptions and belief systems from development were limiting our conscious mind on a subconscious level? How do you connect to an energy that vibrates on a much higher frequency? You tune into your breath and connect to your body. You become the energy of creation. The energy of light. Yoga has many practices that bring presence to the participant. I offer yoga for all levels as well as yogic philosophy and theory to help you grow and see your potential.

Latest posts by Les Robertson
(see all)