It's once again the time of year when the sun hides away, roads become wet and the holidays consume our lives…so Seasons Skatings from Flatspot!
If you haven't noticed by now, we at Flatspot tend to take the holiday season a little different from others. Rather than shoving the "BUY BUY BUY" mantra down your throat we opt for a more community focused approach. We are a small, community built and supported shop that is run by a small crew of skaters. Supporting local business and our community has always been a top priority. Whether it's sponsoring an event, or making sure Strikers F-Bomb has support to spread the Coast Longboarding name. Flatspot has continually pushed to be apart of this skate community in both it's home city of Vancouver and all across Canada.
Flatspot Longboards prides itself on carrying a massive selection of some of the best brands in the industry. We've always made a point to only carry the gear we ourselves would ride. Nothing cheap, nothing low quality and nothing that doesn't fit our brand. Along with our skate brands we also carry TONS on small, skater made, DIY products available only through Flatspot. Whether you're looking to "Give a F*CK" this holiday season, or "Get Loaded", Flatspot has the goods to keep you stoked through the winter season.
---
Certainly sales keep our doors open but theres so much more to Flatspot than just providing customers with a place to buy skateboards. For the last 4+ years we've been hosting community events on a nearly weekly basis. Rain, shine or snow we'll see you at one of our weekly events across the city. Of the many events we host, Tech Slide Tuesday has slowly become our new favorite. Originating from the OG skate scene of Vancouver, we've revived the "Slide Stable Sessions" of our core community. Any given Tuesday proves to be equally as stoked filled as the one prior.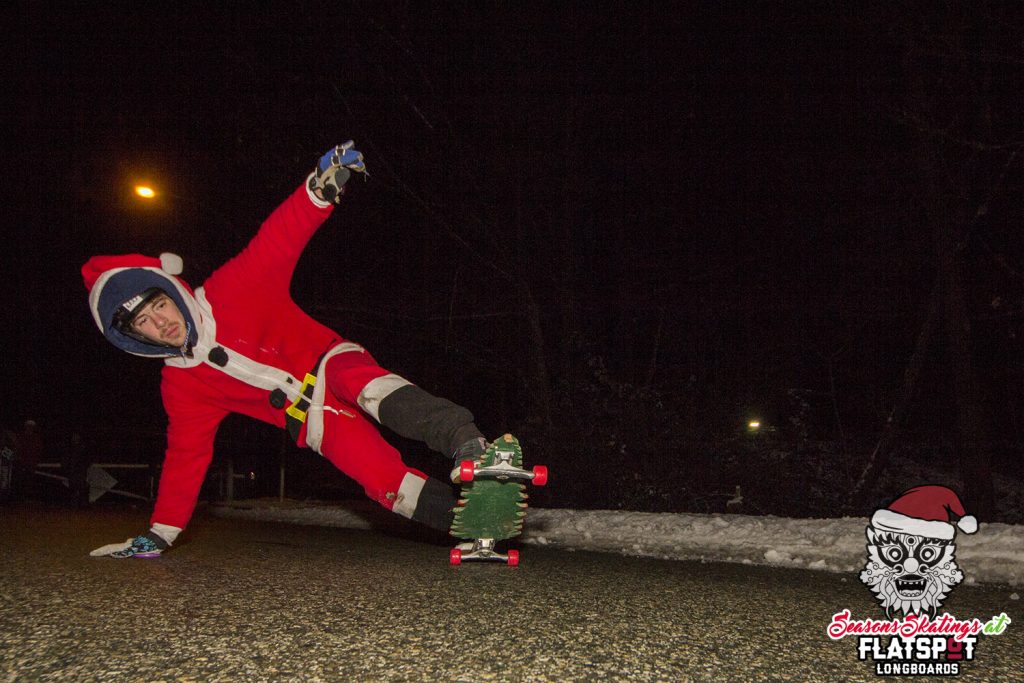 Curious about what else is going down at Flatspot for the rest of the month? Lucky for you we've created a calendar loaded with important dates and events. All month long we'll be offering daily promos and weekly deals to make sure your holiday purchases are filled with a little extra stoke. The holidays however haven't slowed us down one bit from skating. Without fail every Tuesday we'll be hosting our Tech Slide Tuesdays, Thursdays are Learn 2 Stops and then Parkades! We also just announced our next Highway Jam! Coming December 18th wheel be hitting the snow with Landyachtz and their rad snowskates for a special Flatspot x LY Snow Highway Jam. Be sure to check out our holiday calendar below for all the important dates for the rest of December!
---
Looking for some last minute gift ideas? Flatspot has you covered with plenty of ways to stoke out any skater without breaking the bank. Thanks to our "Get Loaded" sale we've got an entire month LOADED with weekly promos and daily deals. Each day there's something new so we highly suggest checking out our GET LOADED SALE PAGE. For those just looking for someone to tell you what gift you should pick just take a look at some of the great gift ideas only available from Flatspot!
---
And don't forget we're also including an entry to our Custom Flatspot Camping Knife Giveaway with every order placed during the month of December. We've hand made the handle of this knife from recycled skateboards and is a one of a kind item any skateboarder would be stoked to have!

---
If you're looking for something else or more gift ideas, be sure to check the full selection products in our store. We've got one of Canada's largest selection of decks, completes, wheels, trucks and accessories ready to ship worldwide.

---
If you have any questions please feel free to shoot us an email at info@flatspotlongboards.com, message us on facebook, or call at 604 899 8937!