In addition to our month long "Get Loaded Sale" we're also giving you a chance to win a custom Flatspot camping knife made from recycled skateboards!
We're a strong believer in reusing or recycling old skate gear, especially in more creative ways. For the last few months we've been not-so-secretly working in our basement on a few recycling projects with broken skate decks. With proper technique and a few tools the possibilities of what came be made from broken skateboards is really endless.

The process of actually making the custom knife is one we've closely guarded. Making anything from recycled skateboards is a learning process, and we had to do plenty of trial and error before establishing a method that works best for us. While we won't get into the fine details, we will share a few photos of the process that goes into making these killer knives!
---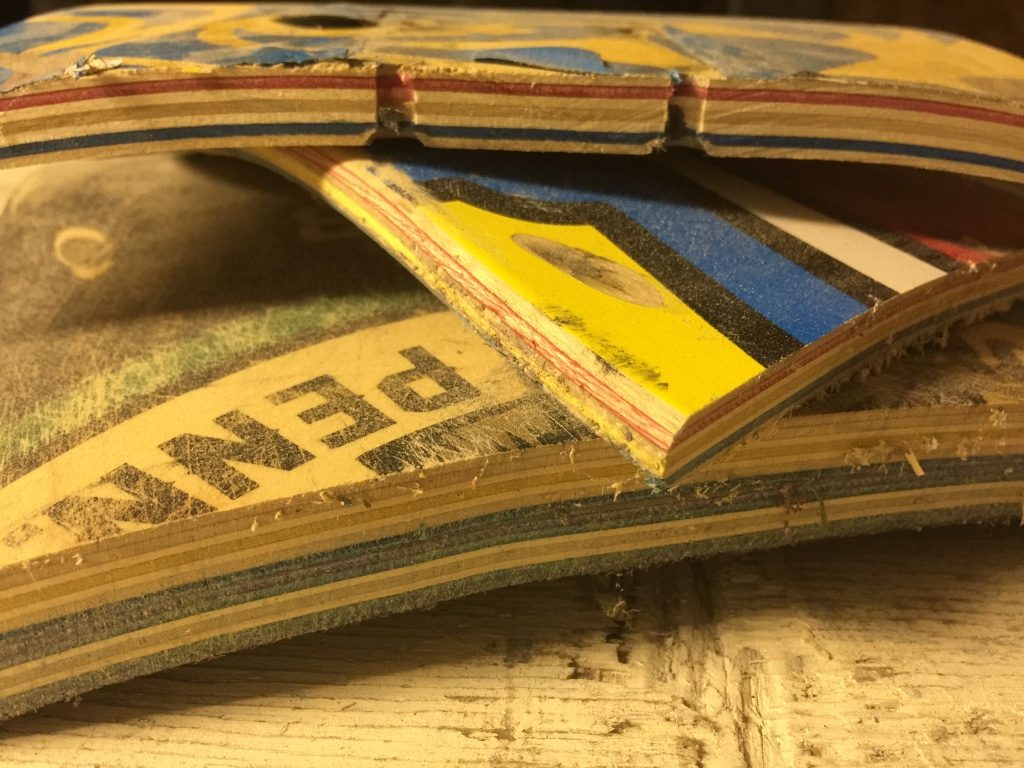 ---
It all begins by stripping the griptape from the boards (saw blades HATE grip) and cutting them into strips. From there were glue the strips into sheets which will be used to create the knives scales (handle).
---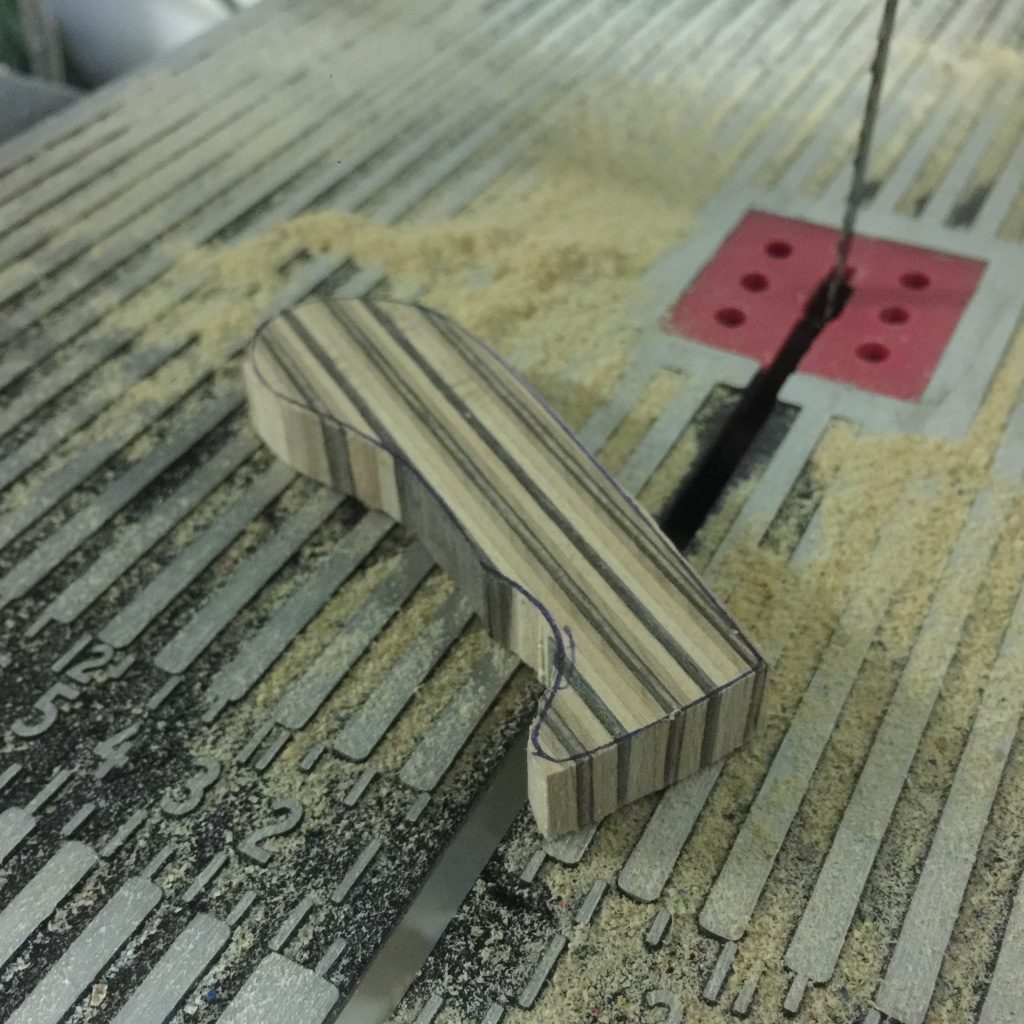 ---
After the sheet has dried and cured the outline of the handle is traced over the sheet. We then carefully cut out the shape on a band saw to produce a rough shape of the scales.
---
---
Once the scales have been fixed to the knives handle it's on to shaping an sanding. Through various grits of sand paper and LOTS of elbow grease the final product begins to take shape. This process is the most time consuming but makes all the difference in the end. After shaping and sanding a few coats of varnish and polish are applied to help protect the wood. The overall time it takes from start to finish (include glue curing) is roughly 3 days and no two knives are exactly the same. Each one is hand made and display the own unique characteristics.
---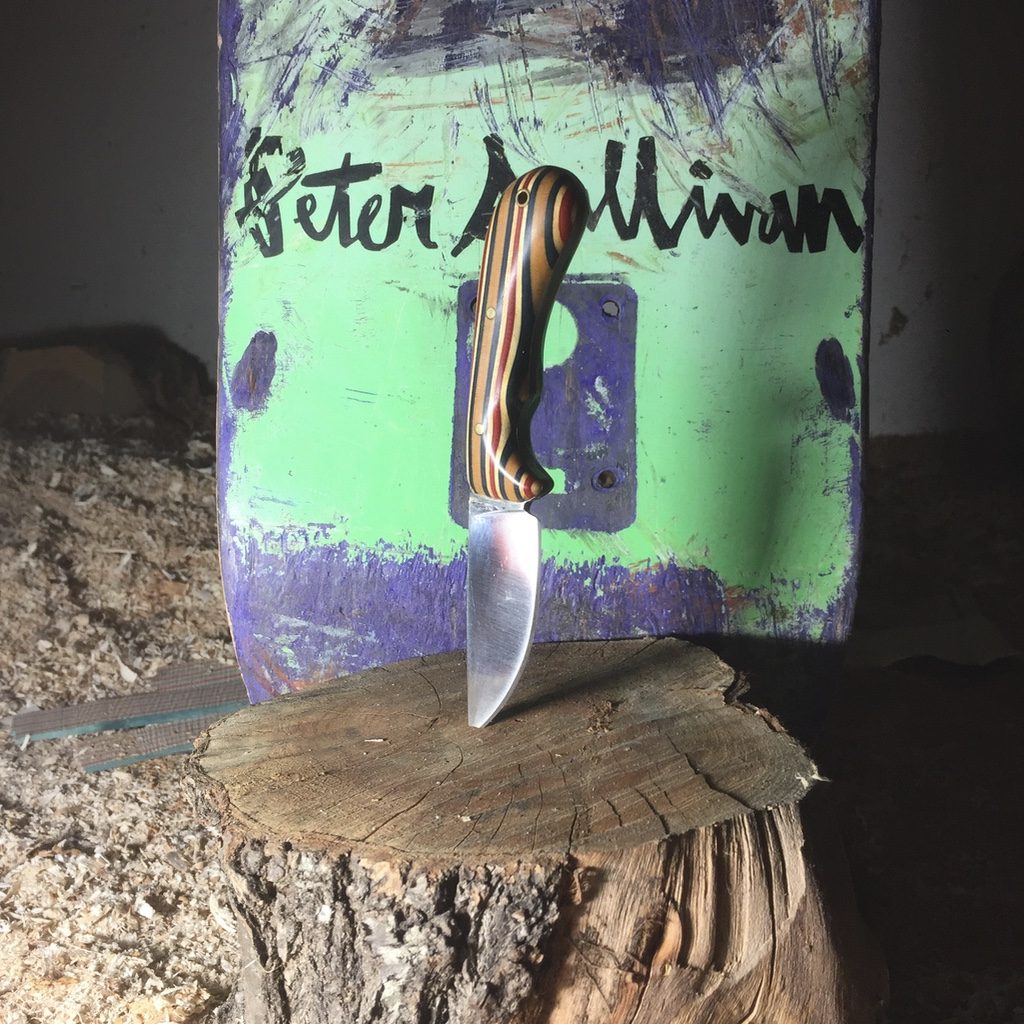 ---
We currently have a selection of knives available and on display in our store in China Town. If you are interested in purchasing a custom Flatspot camping knife please contact us at 1-(604)-899-8937 or send us an email to info@flatspotlongboards.com.
Beyond our custom camping knives we also have a great selection of recycled skate good from Our good friend James West. James has been pumping out some KILLER recycled skateboard products for the last year and any would make the perfect gift for a skateboarder in your lift. Check out our selection of "Westwood" products available from Flatspot!
---
And don't forget to check out our Get Loaded Sale going on all December with daily deals and weekly bonuses we've got plenty of ways for you to save money and score free gear from Flatspot and some of our favorite brands!

---
If you're looking for something else or more gift ideas, be sure to check the full selection products in our store. We've got one of Canada's largest selection of decks, completes, wheels, trucks and accessories ready to ship worldwide.
---
If you have any questions please feel free to shoot us an email at info@flatspotlongboards.com, message us on facebook, or call at 604 899 8937!