The Slip N' Slide is the earliest event on the Coast. So its no secret that its almost guaranteed to be raining if not actively snowing. Regardless, its an AMAZING series and a great way to kick off the season. Photo courtesy of Skateslate and Jonathan Nuss.
Salt Spring Island is a fantastic place for a longboard race. Its a small island, with a small town, LOTS of back country roads, and ample camping. Basically, its relatively easy to hold an outlaw and then hide 50-100 people in the woods for the night. Maxwell Kaye is a key driving force behind the event, and generally makes sure everyone is taken care of with the help of other island friends and his totally badass mom. We will absolutely be attending, and are stoked to see what comes of the event.
If you want to get a better idea of what goes down, check out Skateslates Article of the 2016 Slip N' Slide with photos from Jonathan Nuss.
HERE ARE THE DETAILS AND ITINERARY:
COAST MEDAL EVENT!!!
Bring your friends and your smiles!
It's gonna be awwwwesome.
Feb 27th – 28th Salt Spring island BC
10$ 2 DAYS 4 RACES
$5 accommodations
Saturday 27th
10am $10 registration at the skatepark
12pm Crumble Ridge (65k draft race)
2pm Jupiter rd (slasher 80k drift race)

Dinner, beer, sleep (possible accommodations if we sweet talk the Shit-Hawks, or #biglean)
Sunday 28th:
9am Dagwoods breakfast. Carb-up.
11am Quackback rd (50k drift into the ditch race)
1pm Mass-grave rd (80k draftrace)
Points are collected from all races and a winner is crowned. Who will dethrone the moose?! Will we be snowed in?! Only time will tell, and only one thing is certain;
Slip N' Slide Facebook Page – CLICK HERE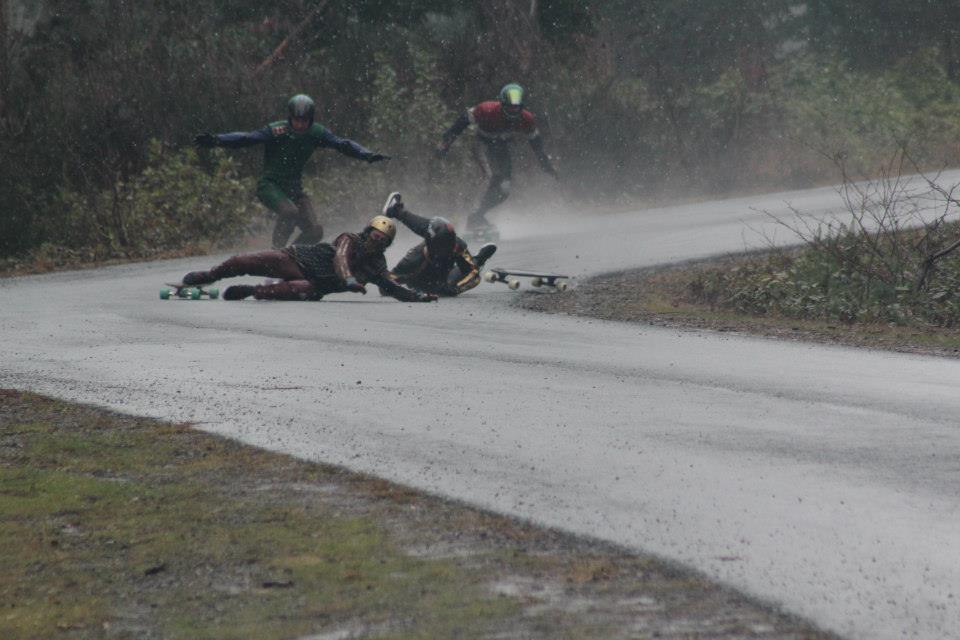 There is also this hilarious old video from three years ago that shows you some of the courses in this edit from Danny Carlson. And you can see baby face versions of everyone!
Saltspring Island is also home of the Saltspring Slasher
This event is held later on in the summer, and focuses on a single race course rather than several. Last year Mischa Chandler went there in the Cribb Bomb, Flatspot ran the BBQ and gear booth at crash corner, and Laine Jackart CRUSHED this raw run Filmed by Bad Decisions Alex! Which is fitting considering he won the Slip N' Slide Last year!
If you have any questions please feel free to shoot us an email at info@flatspotlongboards.com, message us on facebook, or call at 604 899 8937!

Latest posts by Mischa Farivar
(see all)