If you haven't heard by now that the Flatspot Longboard Shop Highway Jams are back on then you're either living under a rock or trying to pack and move during the great Stoop eviction of 2017 – arguably more tragic than a Hurricane!
There's no better way to handle a case of the blues, or avoid responsibility all together, like a Highway Jam. Already stoked? Get more freakin' stoked. You don't have to be bummed out or running away from your problems to enjoy a Highway Jam, we're doing that for you.
Highway Jam XIV hitting the road September 3rd continues the theme of No Brand Days… as in, no one really stepped up to sponsor, but we wanted to do the Jams anyways, so we're going unbranded this time around. Last Highway jam we headed down Highway 1 and met up with Yardwaste and toured Abby and Mission. This time around, for XIV this September 3rd, we are going to be headed down Highway 99 and getting a guided tour of the South end of the area… we anticipate this will be dubbed the "Run From The Fun Police Tour" as the cops are not always a fan out that way. We have a lot of spots planned, so not to worry.
September 3rd
https://www.facebook.com/events/111806992818622/

September 16th
https://www.facebook.com/events/1120351911430217/

October 14th
https://www.facebook.com/events/119169955398070/

Get your tickets here on Flatspotlongboards.com
DESCRIPTION
The format of the event is simple. We jam a full size school bus with as many people as we can fit (which is 50). The bus then takes us all to three or four locations where we skate. We spend a good portion of the day without any access to public transit. That means once you get on the bus, you're on it till it gets back into the city. So be prepared to get rad and have fun all day!
We supply lunch and water. BUT OUR SUPPLIES ARE NOT BOTTOMLESS. Bring extra water and food! You will not be able to buy food or drinks.
If you're not familiar, you should definitely check out our youtube channel for some video of past events.
From Highway Jam XIII… more media on the way!!
TICKETS
*New ticket pricing: Tickets come in three styles, Four Jam Bus Pass, Three Jam Bus Pass, and Single Day Bus Tickets.
Four Jam Bus Pass – $100 ($25 per jam)

Must be bought before Highway Jam XIII
Includes all four Highway Jam series dates
Three Jam Bus Pass – $90 ($30 per jam)

Must be bought before Highway Jam XIV
Includes three Highway Jam series dates, must note which dates.
Single Day Bus Ticket – $35

Available while supplies last!
*Multi Jam Bus Passes are not transferable. One rider, one pass. Passes will be custom to each rider. Riders trying to transfer their pass will not be on the bus and will lose their chance to get back on the bus. 
* Island Jam does not include Ferry Price. Details TBA.
All tickets come with an Exclusive Highway Jam T-shirt, snack, lunch and water.
All Multi Jam Bus Passes also come with additional swag, including a custom Bus Pass for the series, a Coast Longboarding Water Bottle, a hand made Flatspot skateboard keychain, and more.
There is a limited number of seats on the bus (50) and it sells out rather quickly. Please purchase your seat ahead of time. It breaks our heart to turn people down the day of, don't make us do that please.
**IMPORTANT**
If you are not on the bus do not follow/attend the event in your own vehicle unless asked to do so. This is an Exclusive event for Pass and Ticket holders only. Sorry.
WAIVER
You must sign a waiver to attend the event. They can be found on the FB page for the event, on our blog, or you can pick one up at the store.
ITINERARY
GET ON THE BUS!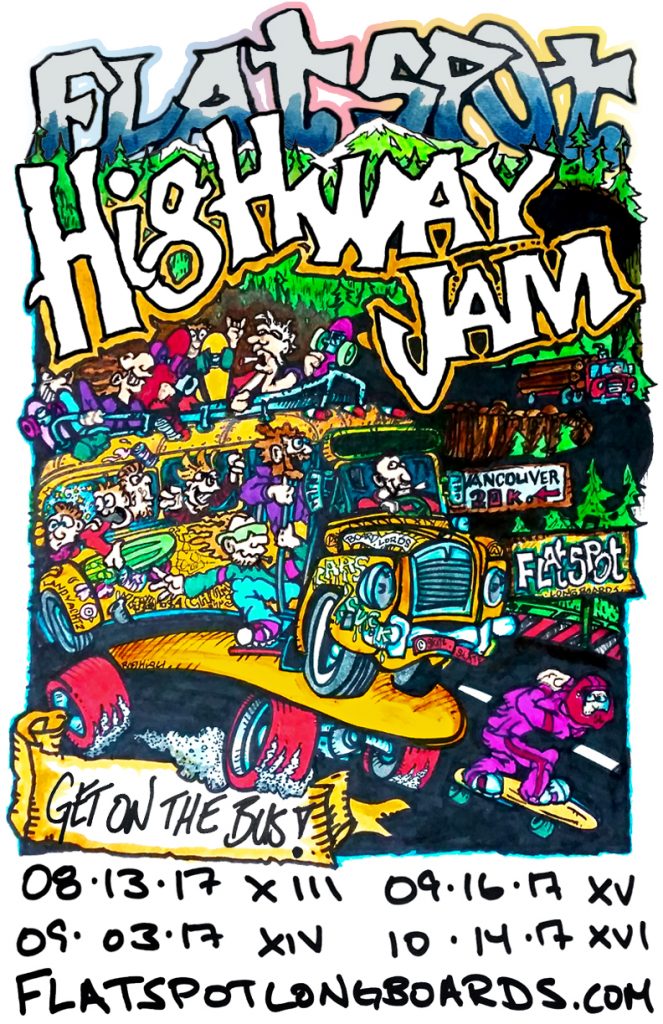 If you have any questions please feel free to shoot us an email at info@flatspotlongboards.com, message us on facebook, or call at 604 899 8937!