Danger Bay XVI is incoming! No amount of preparations will make you fully ready, don't worry about it, just show up. Photo by Jose Cortez!
The longest standing downhill race in North America still stands, and probably because no two danger bays are the same. You can keep going to danger bay for years and years and you wont ever get bored. Although there are some beloved traditions, Bricin is a master of novelty. There is always a new competition, theme, twist or challenge to keep coasties busy for an entire week. Considering how many of them there are, and the diversity in taste, that is an incredible feat.
This Year, what was a few dudes in thrift store suites has evolved into a full blown race (within the larger race). This money grubbing rat race is a blue collar travesty, and there is cold hard stock trading cash on the line. AND Coast Metals. So make sure to bring your business cards, a briefcase, and dress right, or you wont pass the job interview to get entered into heats!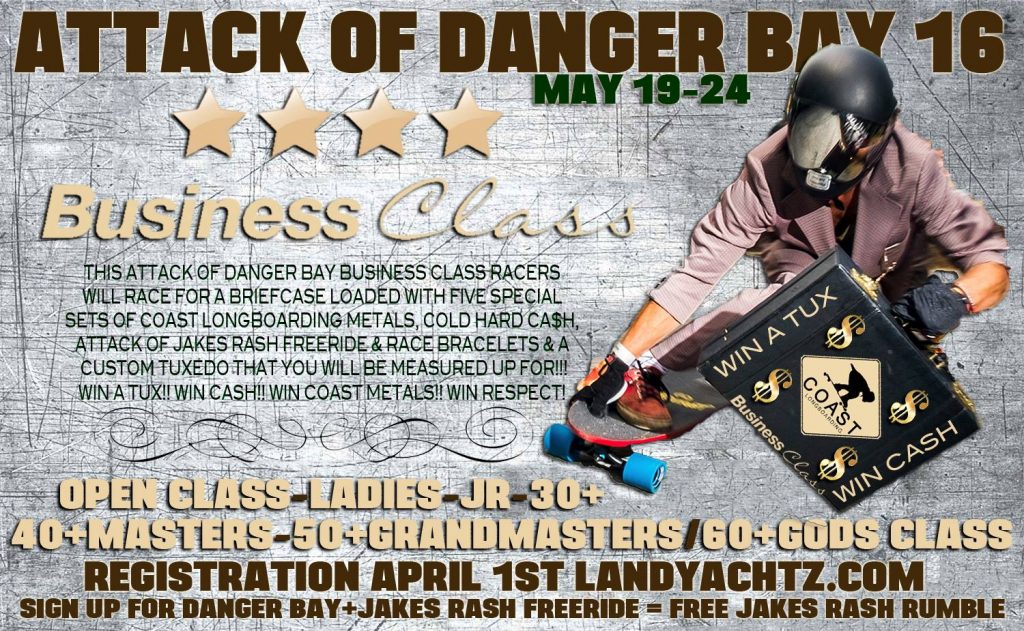 There are also some INCREDIBLE classics that are highly underrated. Like the EGMONT GRIND. Its an absurdly difficult push race up steep hills, and down steeper ones. It ends with a big hill bomb into a dock with a launch ramp at the end of it. Needless to say, you get HUCKED.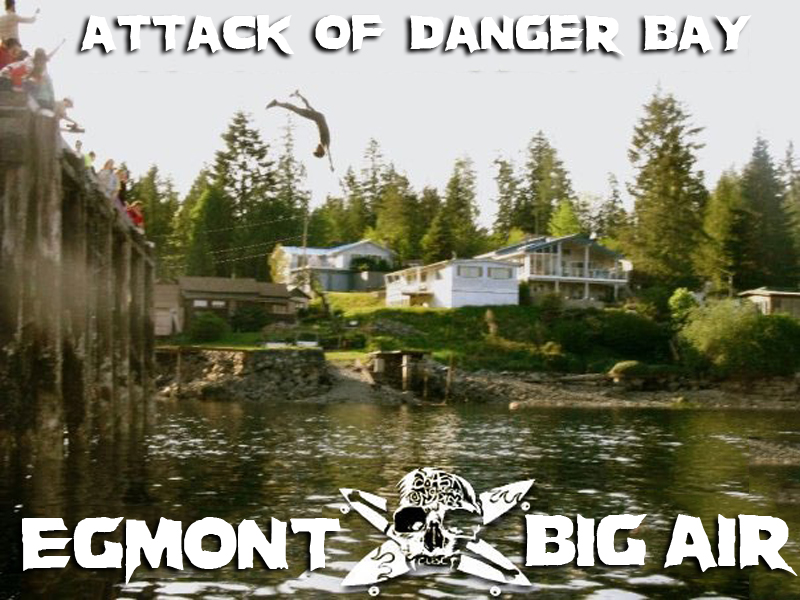 Way back when, Flatspot founder and chief rabble rouser Mischa Chandler WON with Troy Yardwaste in a close 2nd! Looks like the Flatspot team was destined for greatness  (or whatever it is they are now).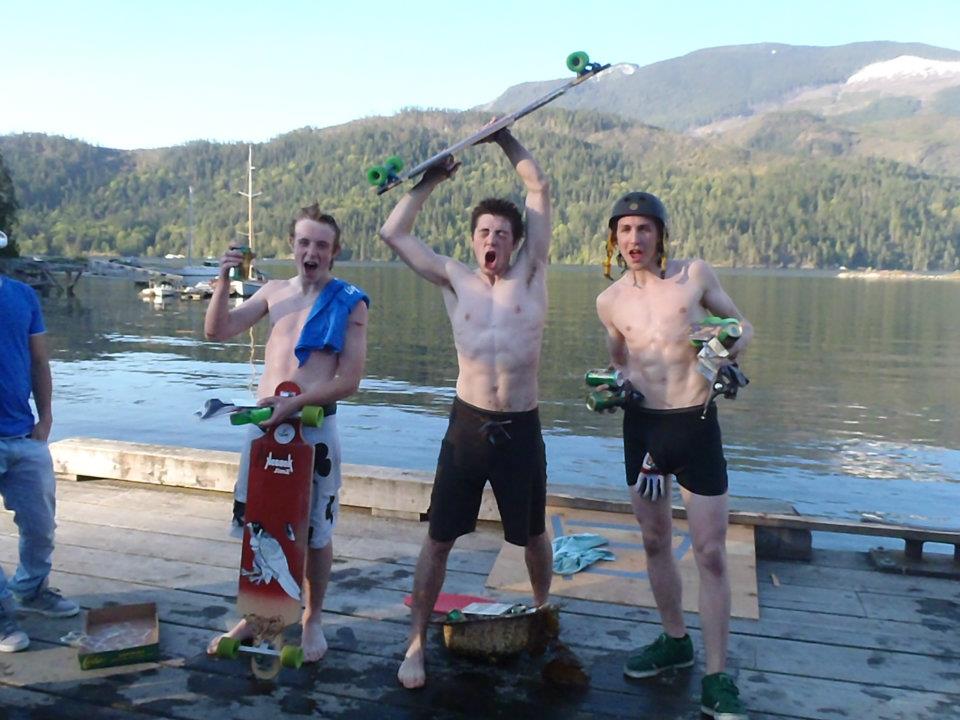 The anticipation is so strong for this event its starting to create ripples in the internet and on print. Will Edgecombe wrote a stunning article, illustrated by Yvonne Byers, on Danger Bay based on his experiences last year. Touching on thing like DB's oddly (yet intuitively) tribal nature, its traditions, value system and even entheogens. Basically, its some deep shit man, read it.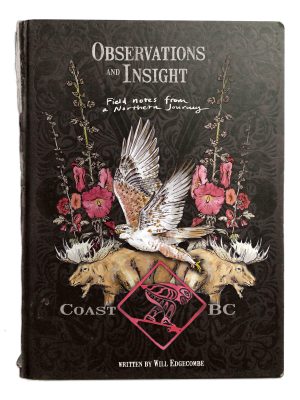 Our good friend and skate comrade Mark Short had an epic time at danger bay. So great that he didn't leave the west coast for over 6 months afterwards! Sometimes a place just speaks to you, you know? Here is a great snap Will caught of him listening to the land. . .
There is also a SLIDE COMP! Which is the most difficult to wake up for, for some strange reason. Either way, you'd better get out of your tent or you might find yourself at the mercy of the danger mob and their tirade of pranks. The Slide Comp is in a different location every year, which is why its important to wake up on time and make it out! Will Edgecombe took a break from covering the event to throw some wheely skids! Photo By Craig Barker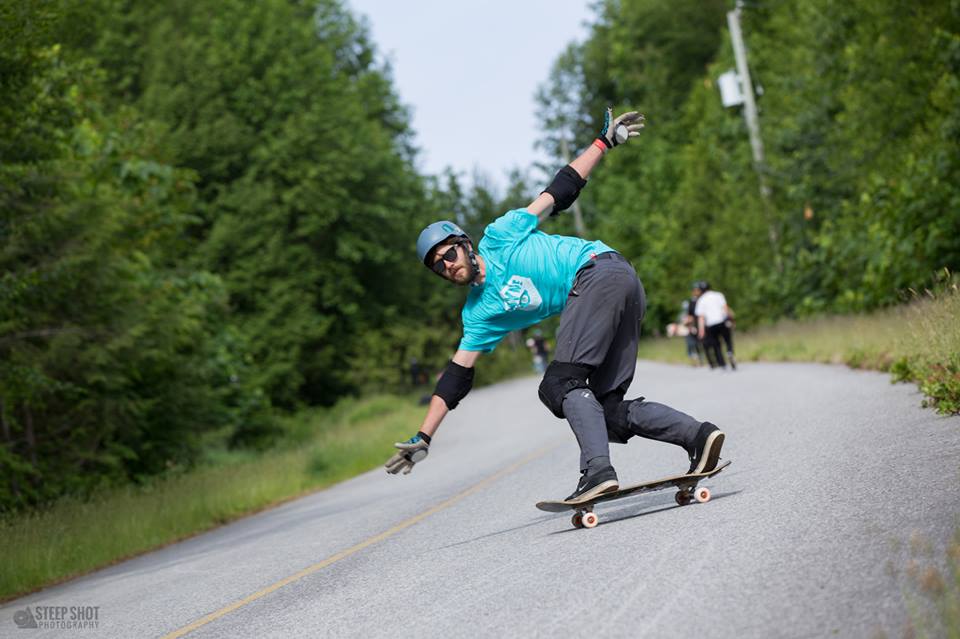 One of the raddest parts of Danger Bay is the degree to which the entire town of Pender Harbor and Madiera Park are stoked on longboarding. Coast Longboarding is a staple of their May Day Parade, and all the racers wind down, sleep, eat and generally recover from the race during the town festival. Some of them on the other hand beat the piss out of each other with hockey sticks in a cage, thats is pretty rad too. Its also when we set up our booth, hand out stickers, have cheap skate gear for sale, and drink unreasonable amounts of coffee to stay standing through it all. Bellow you can see Wes Sampson and his wife Deana, both legends of the community that ran more than a few Mount Washington Outlaws picking up some Flatspot Swag for staying cozy around the campfire later.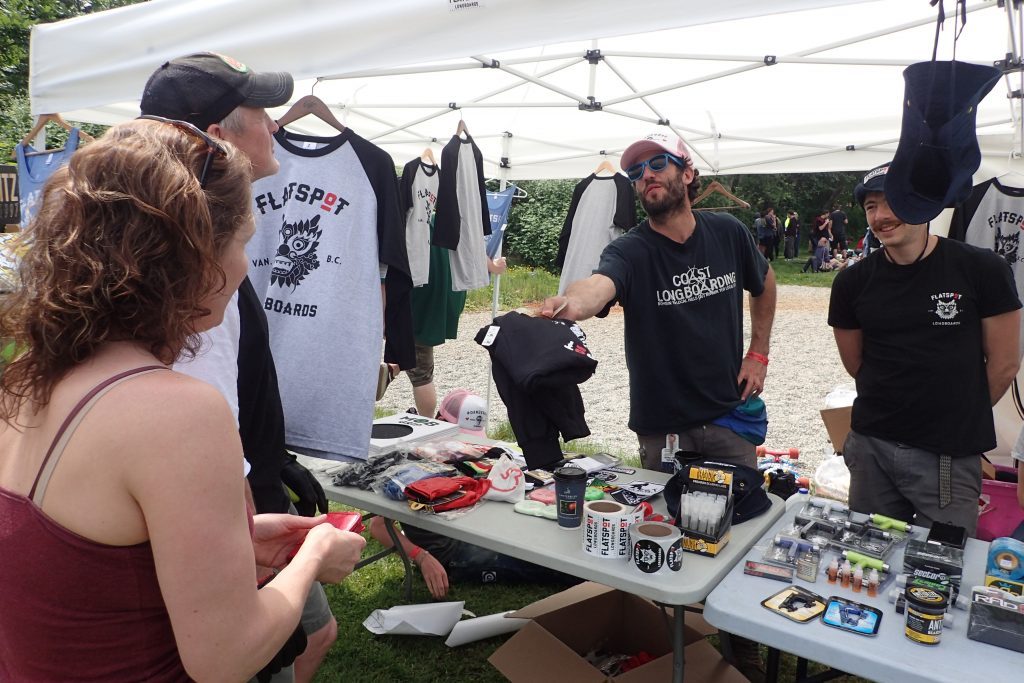 If you're primary function is mobbing hills, than you should probably save your energy for AFTER Danger Bay. Cause as soon as we wrap up our booth its onto JAKES RASH. Which is, no word of a lie, one of the best race courses on the west coast. There no sliding involved, its usually wet, and you need to be highly strategic to make sure you don't get drafted on the last stretch! The freeride before the race is a fantastic opportunity to get in a whack of runs, and is definitely a highlight for us. If you leave on monday your gonna miss some of the best skating of the whole event!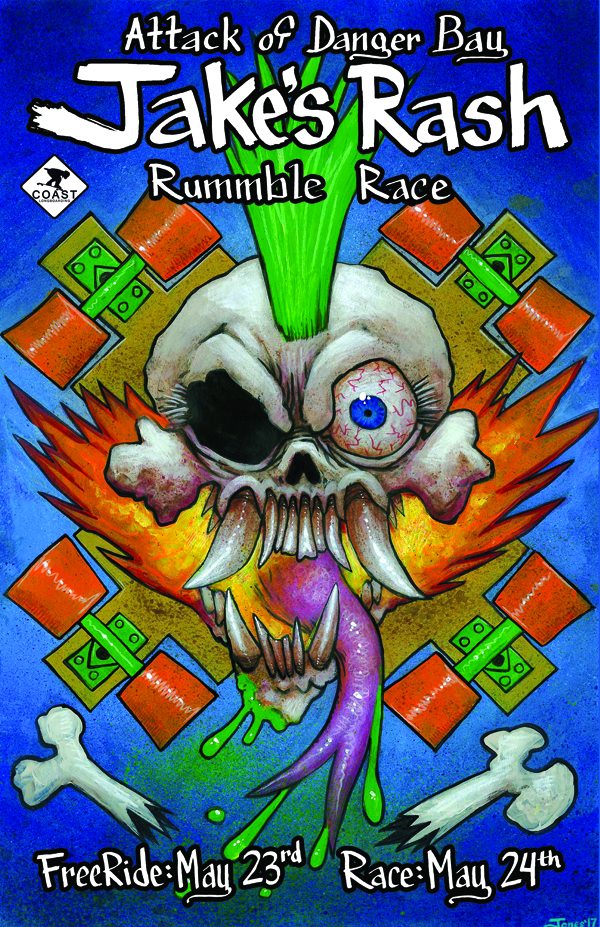 If you want the REAL scoop on danger bay, its best to hear it from the horses mouth. Striker writes an epic blog for Cariboo Brewing, and you can find all kinds of information and history on Danger bay on his FIRST, SECOND and THIRD Strikers Tales articles recently released!
Danger Bay is our annual pilgrimage that kicks off the skate season. Its when we get to see all our friends, skate family, and make new friends, and grow our skate family. If you want an insider look at the guts of Coast Longboarding, this is the place to do it. If you skate down hills and HAVEN"T been, we cannot even put into words how hard you are blowing it.
Here are the Details for the Event (shamelessly ripped off the FB event page)
***REGISTRATION APRIL 1ST*** www.coastlongboarding.com!!! OVER $8000.00 CASH TO GIVE TO THE RACERS!!
CLASSES: **BUISSNESS CLASS Super Grom, Grom, Jr, Open, 30s, 40s, 50s LADIES!!
THURSDAY: Egmont Grind Push Race!!! (finishline the ocean)
FRIDAY: Set up Racers International Camp Bands & bonfire
SATURDAY: Strikers Slide Comp – Mayday Parade – Sk8 Hockey Tournament – Racers Registration at the Camp 4:30pm SHARP!! – Camp Entertainment – Wolf dirt race – Hughs Dragg race – Bands & bonefire
SUNDAY: Attack of Danger Bay 16 Race – Camp Bands & Neil E Dee Danger Thrill Show & Bonfire
MONDAY: CAMP CLEAN UP CHILL SKATE & EXPLORE
TUESDAY: Jakes Rash Freeride All Day!!
WEDNESDAY: THE ROAD RASH RUMBLE JAKES RASH RACE!! MORE CA$H & COAST MEDALS!!!!
** To join the Buisness class you must have a buisness suite & tie with a briefcase** WINNER WINS A CUSTUM TUXEDO!
HERE'S THE CONTRACT!!! ATTACK OF DANGER BAY!!!!! JAKES ROAD RASH RUMBLE!!! 16 YEARS OF GRASSROOTS RACING!!!! BUSINESS CLASS RACING!!!! PACK YOUR LEATHERS AND BUSINESS SUITES!!! THIS YEAR WERE GONNA KICK SOME ASS!!!!
WIN A TUX!! WIN CASH!! WIN COAST METALS!! WIN RESPECT!!!!
**FYI If racers race DANGER BAY and join up for the JAKES RASH FREERIDE then they are automatically entered into the JAKES RASH race FREE!!! REGISTRATION IS APRIL!!
Danger Bay XVI Facebook Event Page!
If you can't make it to the event, but want to support Coast Longboarding, than check out the Coast apparel and Swag on our online store!
If you have any questions please feel free to shoot us an email at info@flatspotlongboards.com, message us on facebook, or call at 604 899 8937!

Front desk denizen, chief rabble rouser and founder at Flatspot Longboard Shop.

Follow on instaswag > @mischachandler

Latest posts by Mischa Farivar (see all)