It's happened! Coast Longboarding and Bricin Striker Lyons have made it to 20 years of Attack of Danger Bay! Nothing could stop him. Not broken bones. Not recessions. Not slimy sponsors. Not moving to Nova Scotia. Not Pandemics. Nothing! The 20th Annual Attack of Danger Bay even happened… without Striker in BC! Read on to find out more!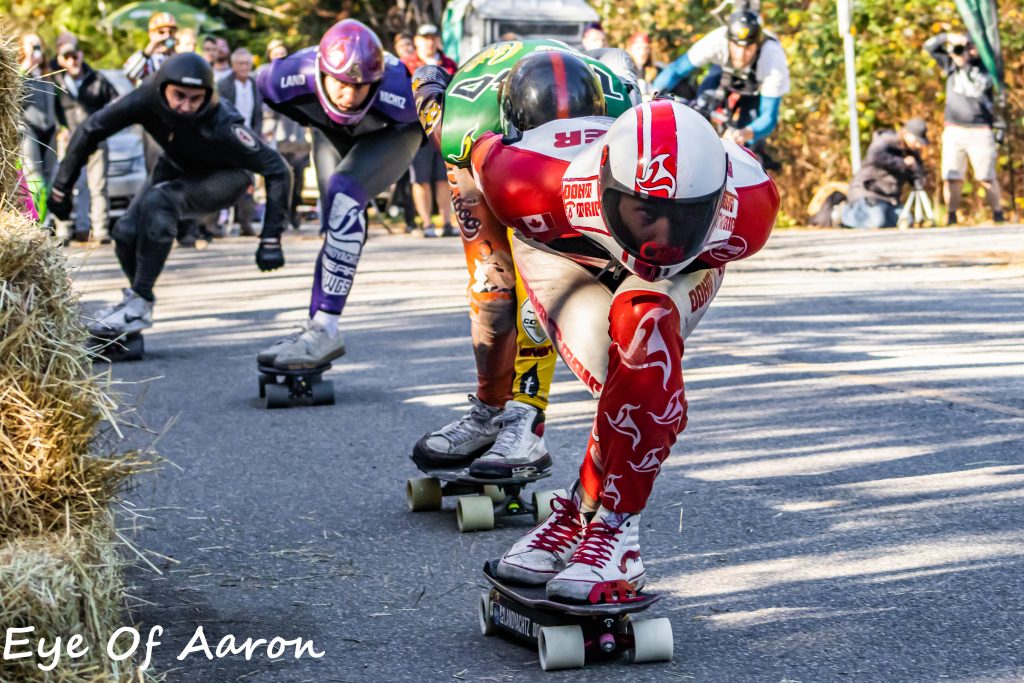 This year Danger Bay was much like last and there was an entry draw. Racers enter the draw and take a chance at maybe being selected for the race, maybe not. Bricin is ruthless and even Dexter, last years champ, didn't have a clear path to the podium and was an alternate. AN ALTERNATE. Not even drawn. Boy Striker got my nuts in a knot about it. Messaged him and he told me to throw my own race. Eat a tooth Striker! Well anyways, come race day, Dexter was in.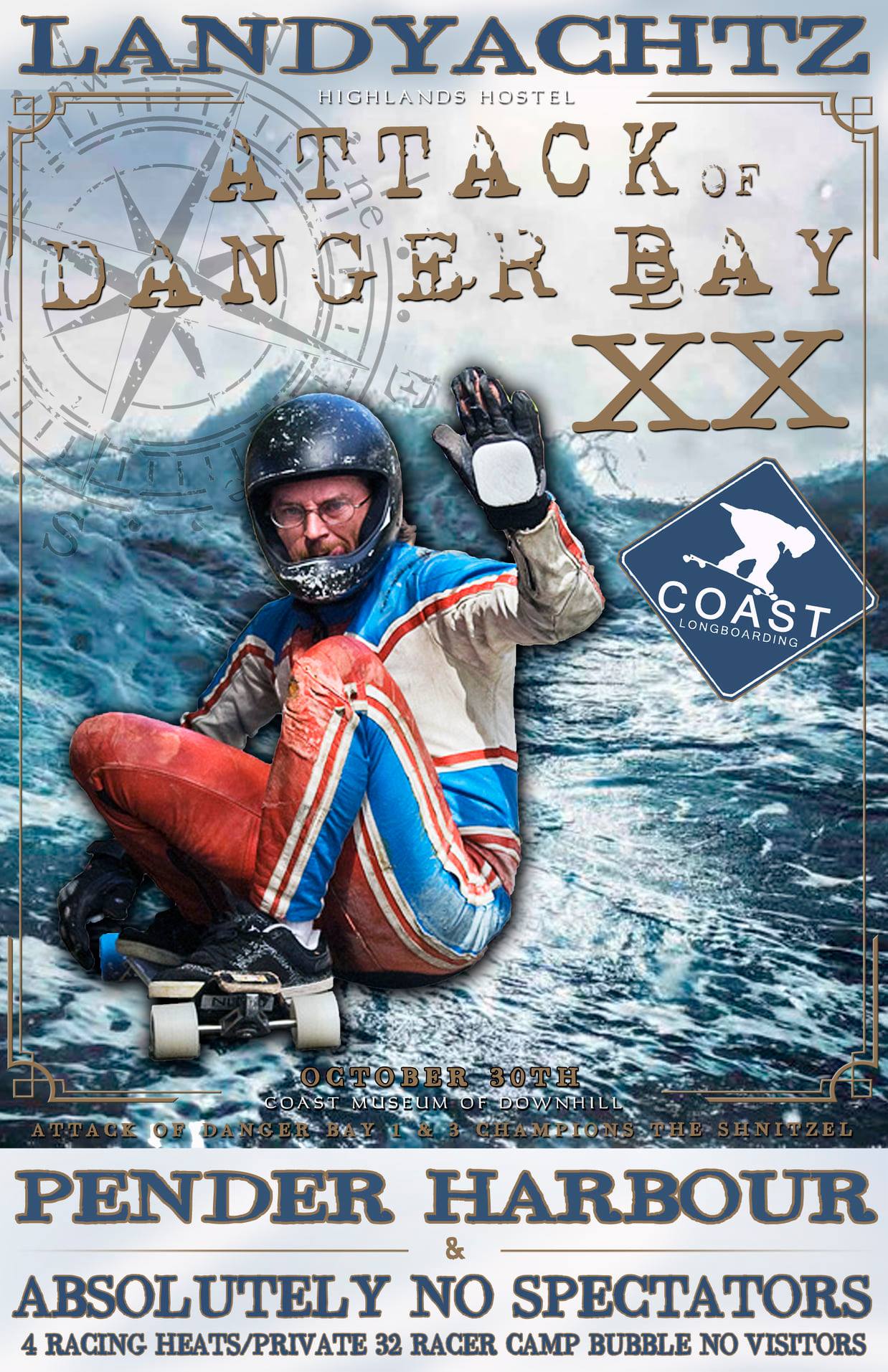 So Bricin held the draw online and left us all hanging over who would actually get in. You either know, or you don't know, but thats how it goes.

Here's what the heats looked like at first.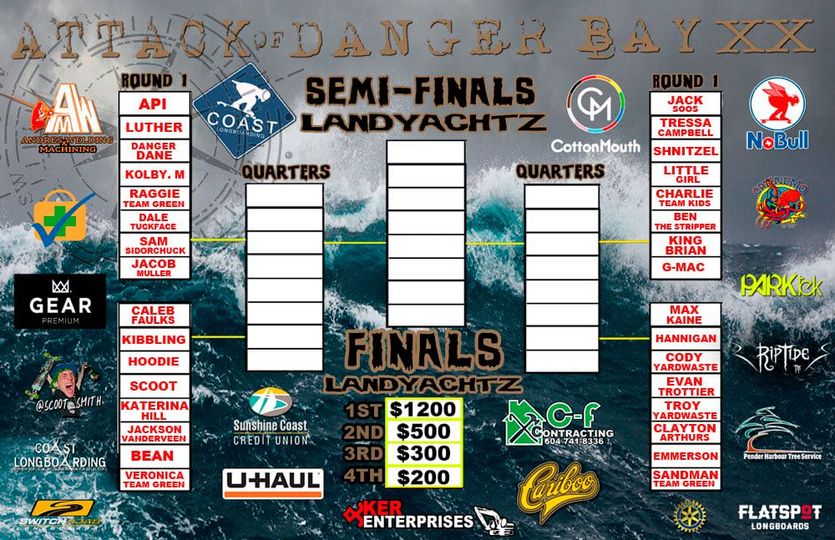 Come race day there a bunch of changes. Some people couldn't make it. Someone died. Someone had a baby. You know, the usual.
32 racers, 8 heats, ONE CHAMPION! ***ABSOLUTELY NO SPECTATORS***
Landyachtz was hosting the livestream, so I wasn't going to miss it. What I didn't know was Striker wasn't even going to be at the race!!! But surprise, surprise. i think the first thing that made me wonder what was up, was seeing a make-shift broadcaster desk on instagram. And then next thing I know Striker is announcing from the Church of Skatan in Nova Scotia!!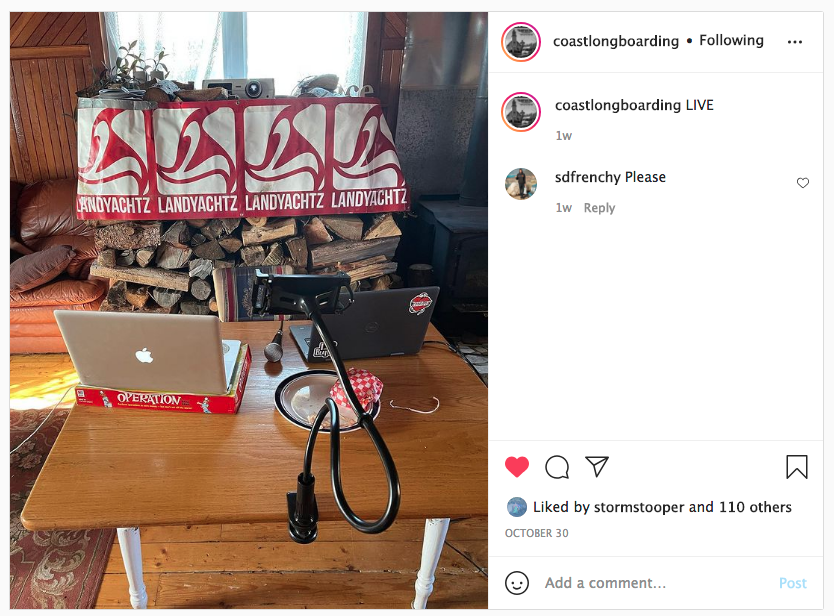 While I was bummed not to be there, the live stream was great, and just the pick me up I needed as we head into winter. Did you watch it? Seems to be down now. Hoping they are making a video and going to drop it or something.
Fortunately, there was an Aaron Kuhn at the race and he managed to snap a bunch of epic photos. We've selected a few of our favorites to share with you here. Please check his Eye of Aaron insta here.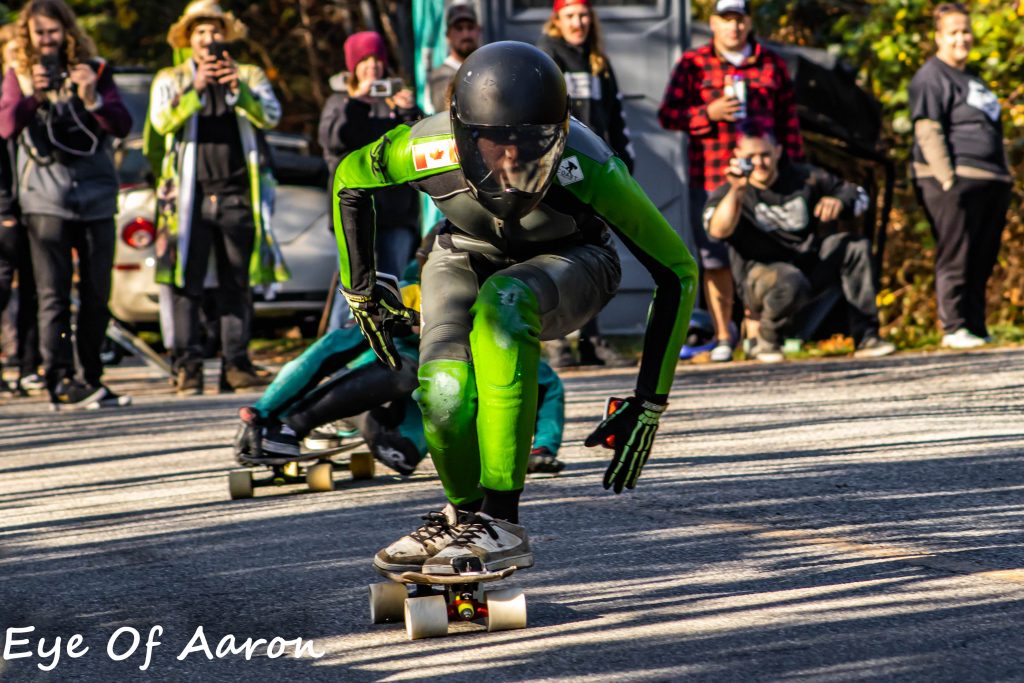 Katerina the Hill Kat has been putting in work out in Abbotsford with the Abby Skate School and Yardwaste. In fact, all of them have been and you'll see many of them here. Raggie, Cody Bear, Jacob, Jackson… Abby is the place to be for going fast these days. TBH Dane has been out there keeping fresh too.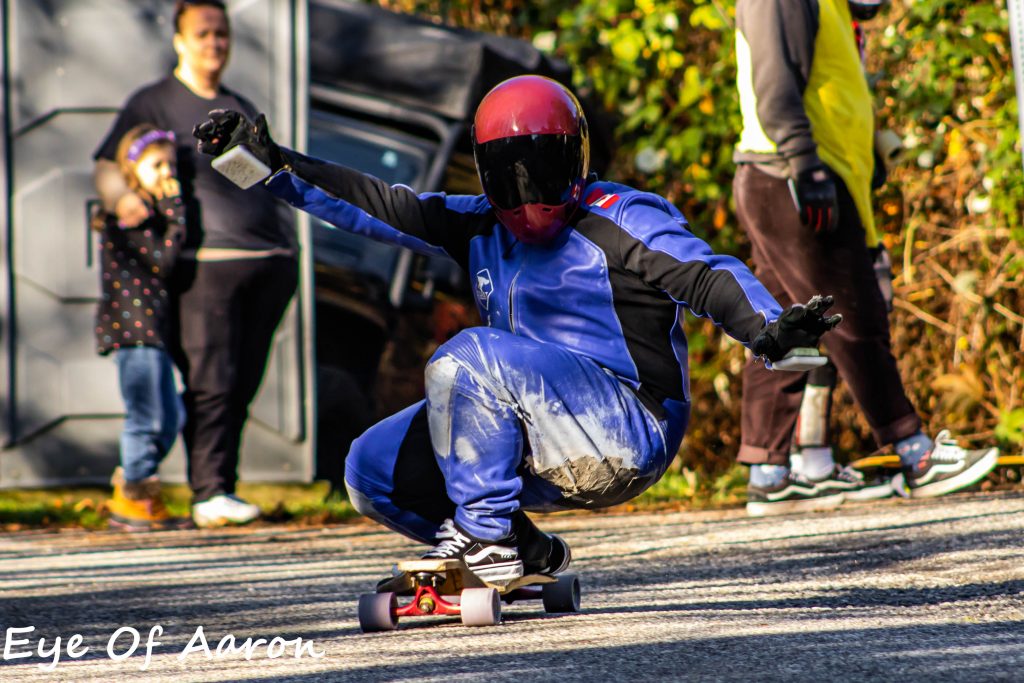 Who doesn't love Emerson. Kid has been just all smiles and stoke for years now and it is just so great to see him take the podium in his last shot as a Junior.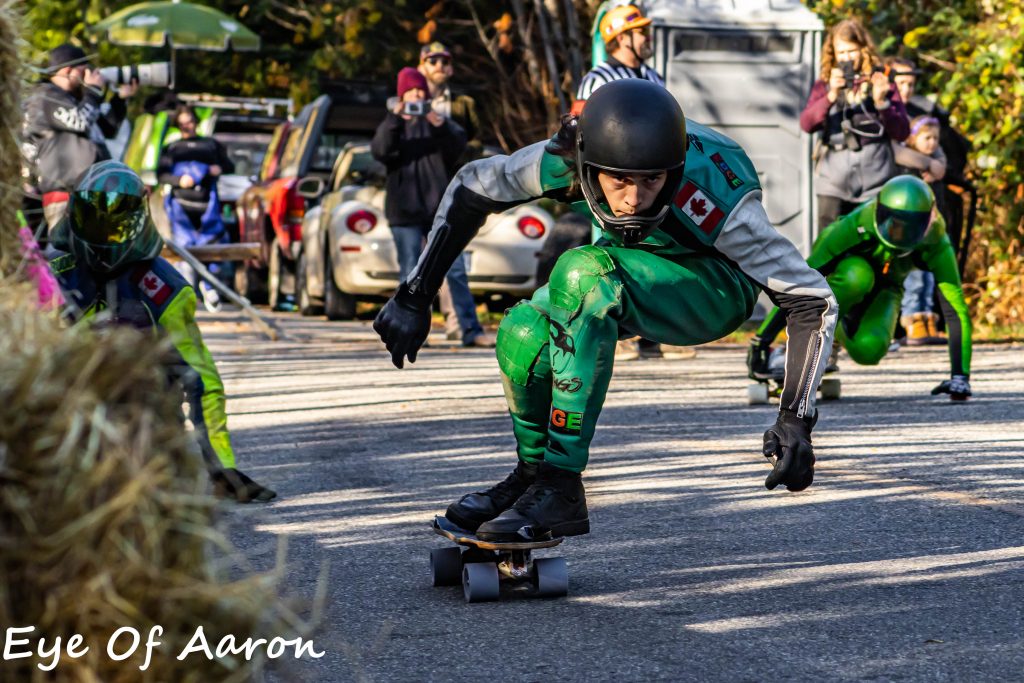 Sam is a shop local and has been for years. He's always out ripping with Void Inc and has a keen eye for product geekery. This was his first Danger Bay, and maybe his first actual race? We're stoked to see him stepping up to challenge himself.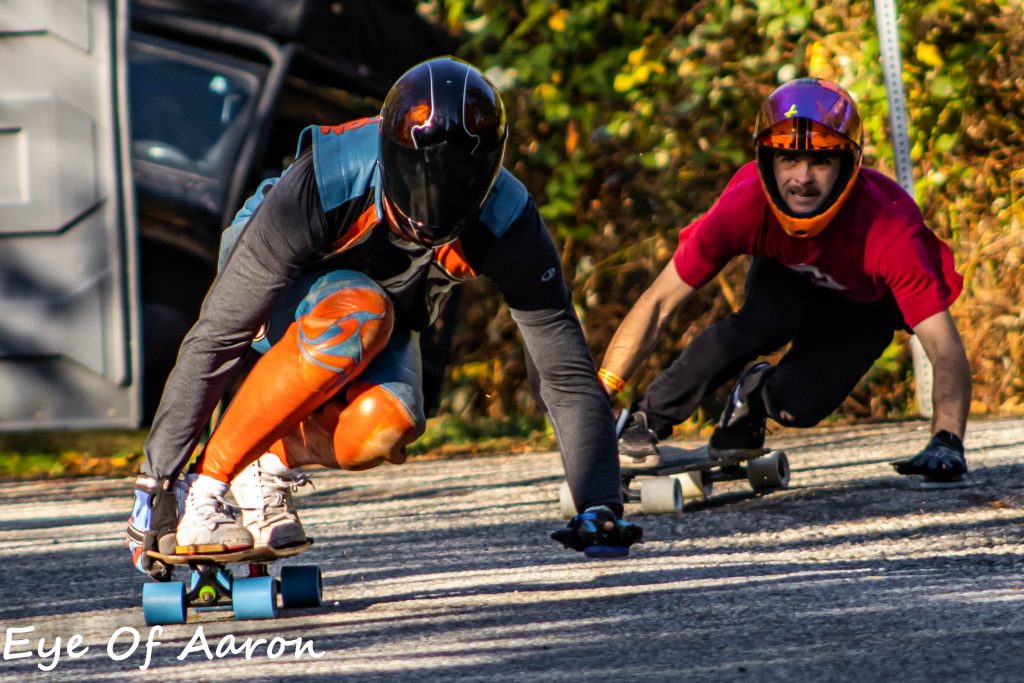 Hugh might not be the longest running Danger Bay competitor this year, but it's close, and he's definitely one of the most notorious. True story, Hugh once antiqued my RV when I was with Rayne (Tiffany) and I still owe him.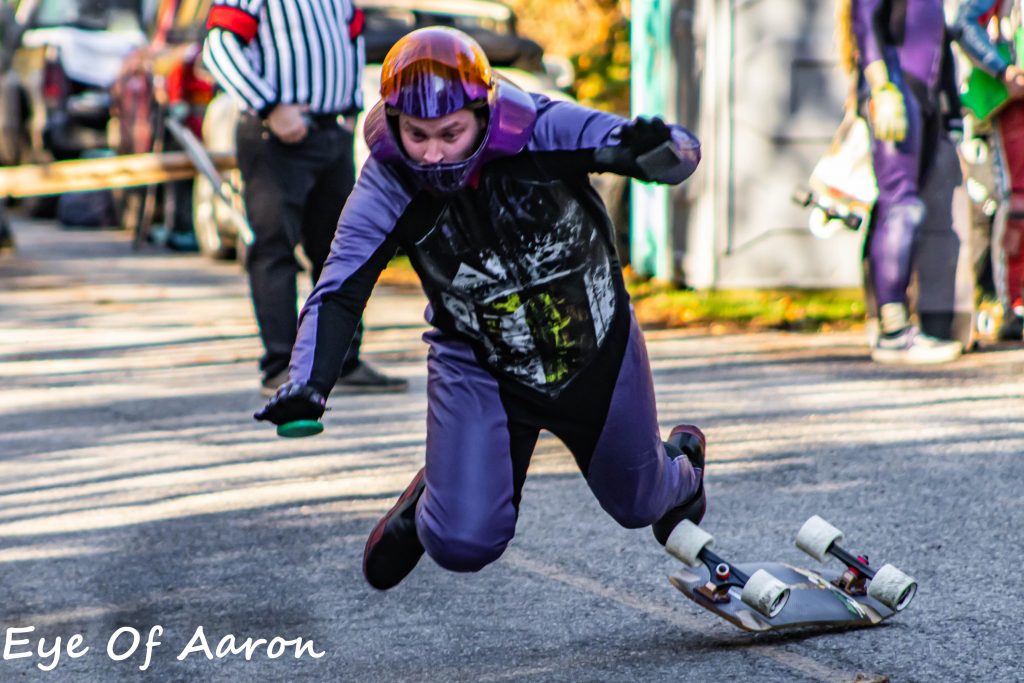 Max is both fortunately and unfortunately back from Europe with the current state of things. Most fortunately he was able to make Danger Bay, even if it was just for a ride into the hay <3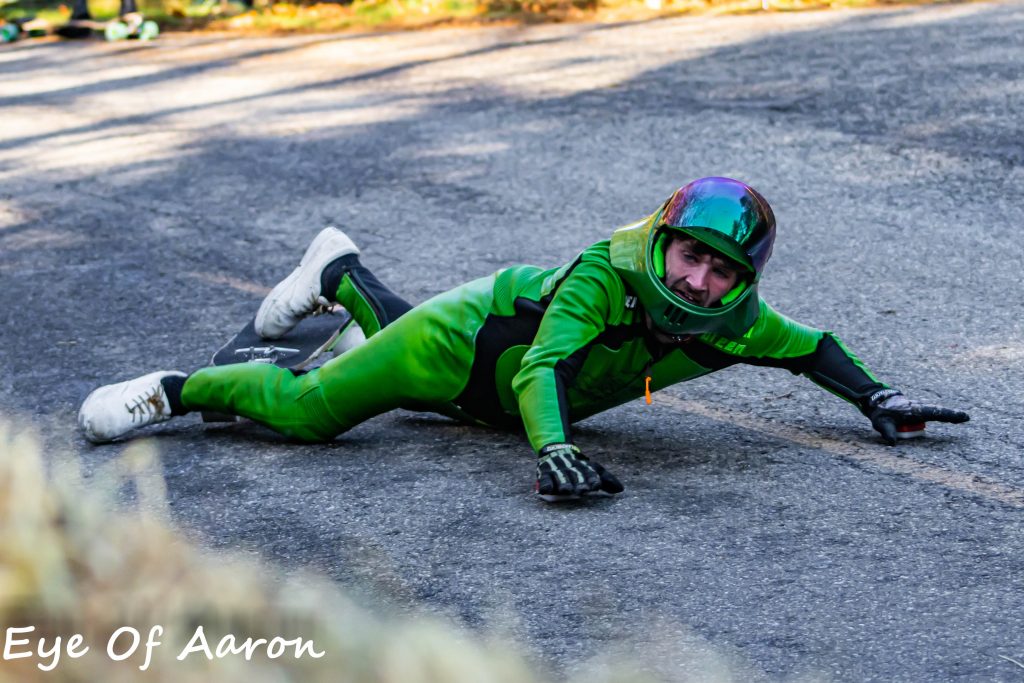 Raggie is a World Champion, Team Green local, Coast legend, and has been leading a new wave of rippers out with Yardwaste and the Abby Skate School. Here he displays perfect crash form.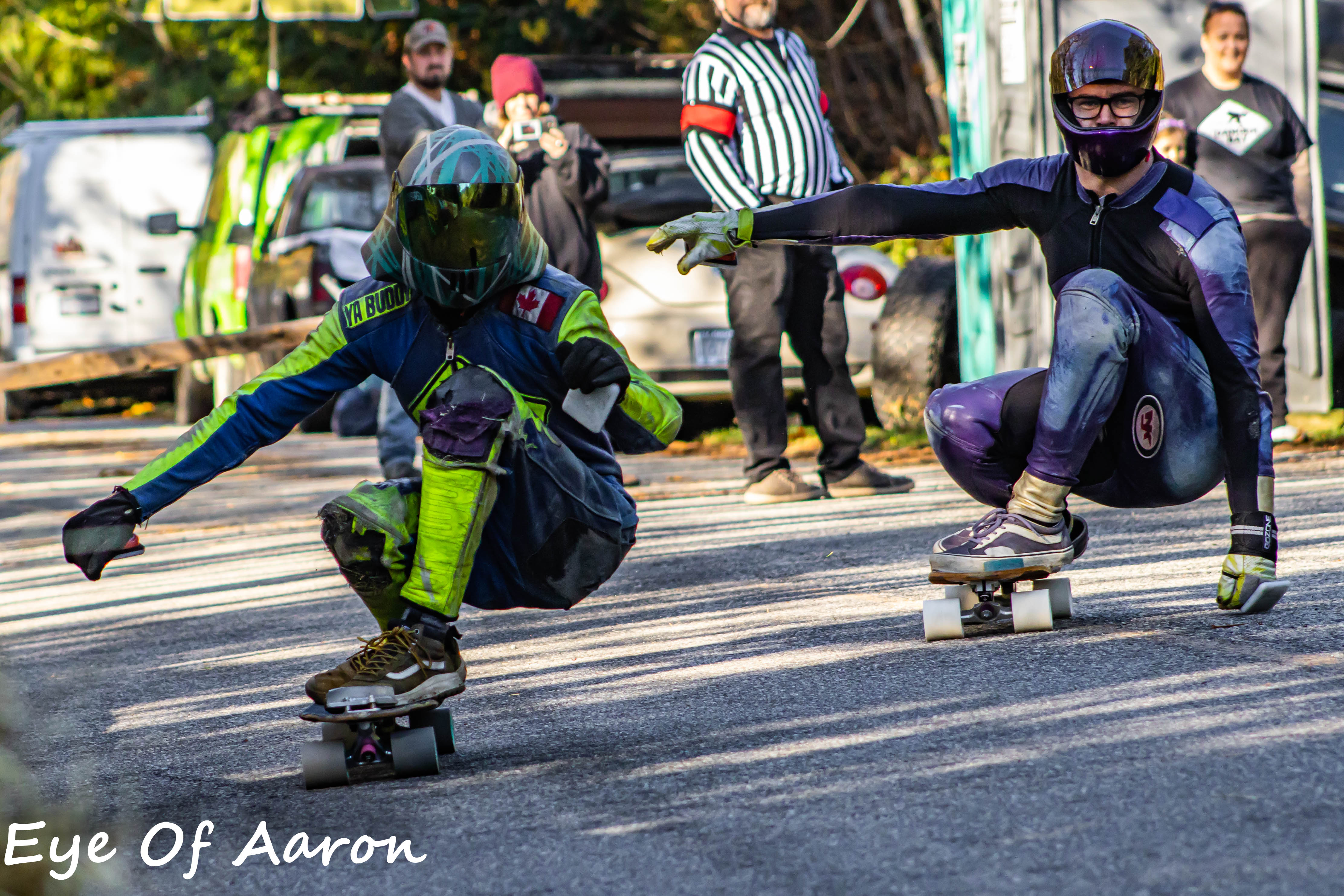 Speaking of abby and Yardwaste, again, Jacob recently got picked up by Landyahctz for all his hard work and smiles. And Cody has been perfecting a new board for sometime we hope will drop soon. Not sure we can say more. Both of these dudes are exceptional humans.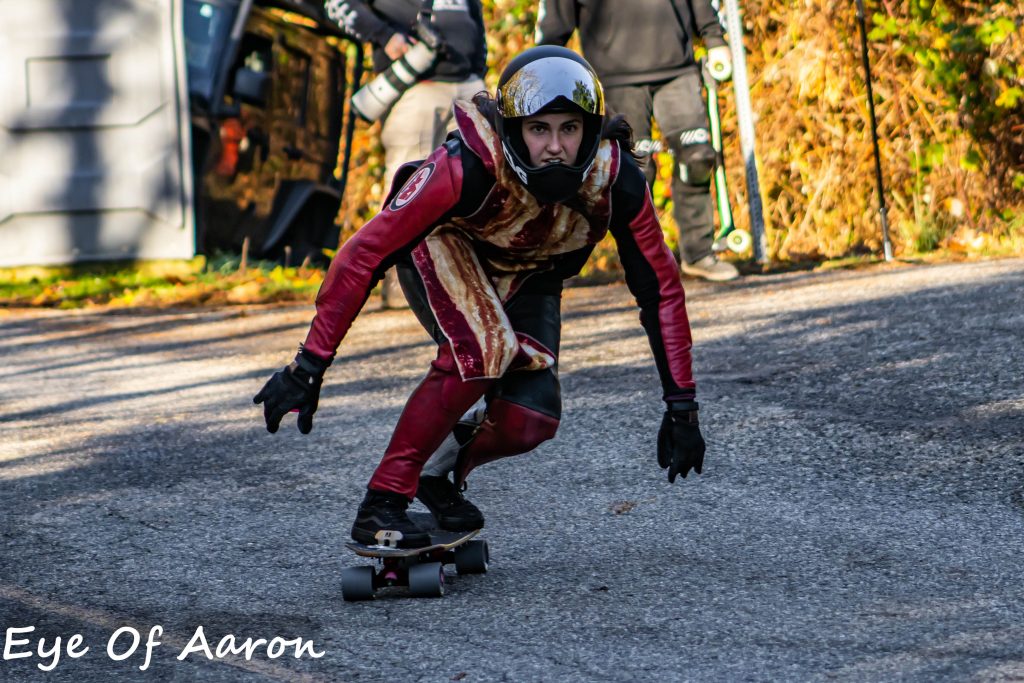 Danger Bay was on Halloween, but most people seemed to dress up as racers and wore leathers even though they didnt make a podium – HA HA. But Tessa has the right spirit and came as Bacon and still made a podium!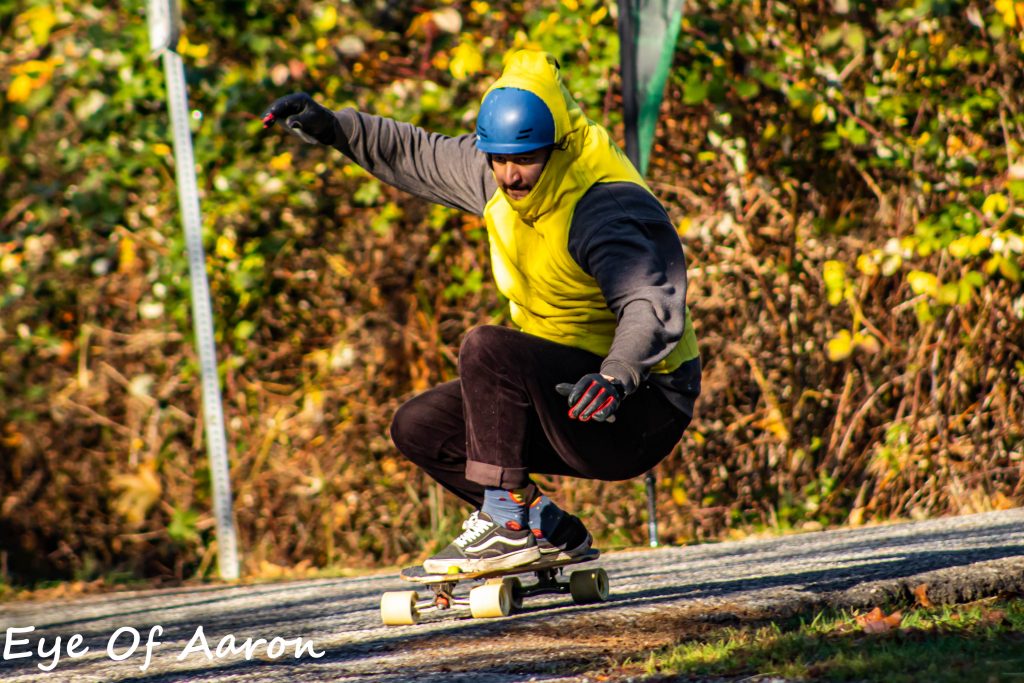 And then there is everyones favorite Api. Mans has a heart of gold, all the skills and has the most fun. He's a banana!
There are definitely more amazing photos out there, we've only posted a small selection of Aaron's Eye of Aaron photos. Please check his instagram and give him a follow and some likes. We want more photos.
Podiums were generally as follows, though I am missing some names. (message me and I can add them).
Open:
1. Dane Hannah
2. Troy Grenier
3. Dexter Manning
Ladies:
1. Katerina Hill
2. Charlie Cricket
3. Tessa Campbell
Junior:
1. Emerson Corduff
2. ??
3. Veronica Charlton
Big thanks to all the sponsors as well. I know it can't be done without everyones help.
SO THANKFUL FOR OUR TIGHT CREW OF COASTIES AND COMMUNITY PULLING THIS MILESTONE STONE OFF!!!

THANK YOU TO THE PENDER HARBOUR LOCAL RESIDENTS ON THE RACE TRACK!!! AND Dane Hanna THE PENDER HARBOUR WORLD CLASS DOMINATER!!!!! WINNING THE 20TH ANNUAL PENDER HARBOUR ATTACK OF DANGER BAY!!!!!

THANK YOU TO ALL OUR DEDICATED SUPPORTERS AND SPONSORS!!!! THANK YOU TO THE RACERS!!!!
Landyachtz, Team Green, Team Irene, CF Contracting, Cotton Mouth, Andres Welding and Machining, Sunshine Coast Credit Union, Uhaul, Ker Enterprizes, Cariboo Brewing, Captain Nemo, Riptide Sports, Ggear Premium, Team Nobull, Parktek Boarding Co, Switchback Longboards, Flatspot Longboards, Pender Harbour Tree Service, Scoot Smith, Be Prepared, Pender Harbour Rotary.
Until next year. Let's hope for a real Danger Bay 21 with a return to camping and spectators!!!