The longest running race in downhill is back thanks to Coast Longboarding and Bricin Striker Lyons. Get all the details from Bricin below and head to the event page for any more info or details.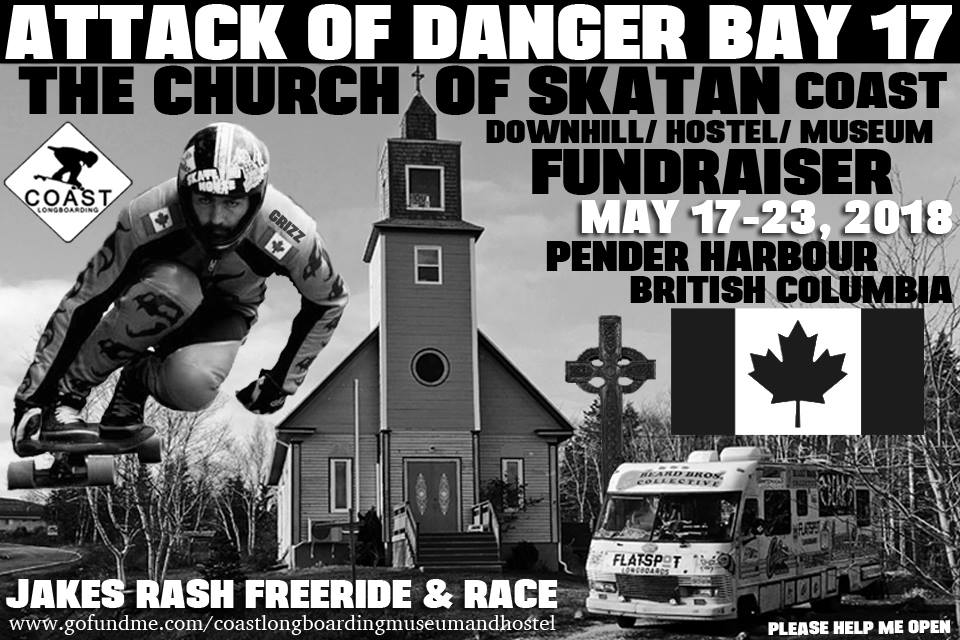 CHEERS TO THE LONGEST RUNNING RACE IN THE ENTIRE WORLD!!!! UNREAL WERE CREEPING TOWARDS 20 YEARS OF DANGER BAY!!!
ATTACK OF DANGER BAY 17!!!! COAST FUNDRAISER FOR THE CHURCH OF SKATAN!!! COAST MUSEUM OF DOWNHILL AND HIGHLANDS HOSTEL!!!
AFTER 19 YEARS OF RUNNING COAST LONGBOARDING AND DEDICATING MY ENTIRE LIFE TO CREATING, FACILITATING AND BUILDING A WORLD WIDE COMMUNITY…. FOR THE FIRST TIME IN 19 YEARS…IM ASKING FOR SERIOUS HELP!!
I BOUGHT THE CHURCH.. THE COAST LONGBOARDING WORLD HEADQUARTERS AT THE TOP OF SOME OF CANADA'S' GREATEST ROADS!!! THIS WAS TO KEEP COAST LONGBOARDING ENERGIZED..ALIVE AND HEALTHY TO EXPAND TO THE ATLANTIC COAST!! TO BUILD A RACE!! INSPIRE AND FIRE UP THE EAST COAST SCENE
FINALLY A CHANCE TO TELL OUR STORY.. PULL OUT ALL THE YEARS OF SHIT UNDER MY BED AND CONTACT RACERS AROUND THE WORLD THAT I THINK HAS REALLY MADE A DIFFERENCE IN DOWNHILL AND ADD THEM TO A SPACE IN THE COAST MUSEUM OF DOWNHILL!!
OPEN A HOSTEL WITH MY FAMILY FOR SKATERS FOR TOURISTS TO TEACH MY KIDS ABOUT NATURE AND HOW TO START SOMETHING FROM NOTHING… TO HAVE SOMETHING THAT WILL POTENTIALLY KEEP US LIVING A SIMPLE LIFE MAKING JUST ENOUGH TO GET BY… GIVING MY KIDS A FUTURE IN THE HIGHLANDS…WORKING AT THE HOSTEL!!!
THIS IS A MOVE FOR MY HEALTH AND SO FAR IT'S BEEN UNREAL… WAY UP IN THE HIGHLANDS WE HAVE ONE STORE… NO FASST FOOD RESTAURANTS… BEEN EATING HEALTHY.. BEEN ACTIVE.. BEEN WORKING ON THE CHURCH AND THE PROPERTY EVERY CHANCE I GET WHILE ACTUALLY SKATING DOWNHILL ALMOST EVERY FUCKING DAY.. IVE GOT BACK TO MY ROOTS… IM WORKING ON MY HEALTH.. MY FAMILY AND MY COAST FAMILY…
AS YOU KNOW THIS ALL CAME AT A PRICE.. I KNEW THIS HAD TO HAPPEN BUT I ALSO KNEW BEING A BROKE SKATER WORKING PART TIME AT THE POST OFFICE, RUNNING TOURS, AND BLOGGING FOR CARIBOO I WASN'T MAKING ENOUGH MONEY TO MAKE THE JUMP… I DID IT ANYWAYS…
RISKING MY FAMILY… LEAVING ALL MY BLOOD FAMILY ON THE WEST.. ENDING THE TOUR… LEAVING MY COAST FAMILY… LEAVING CARIBOO, LEAVING THE POST OFFICE WITH BENEFITS …ALL OF IT.. I HOPE YOU GET WHERE IM COMING FROM… IT WAS ALL OR NOTHING…
I'VE DONE NOTHING BUT GIVE MYSELF TO COAST AND OUR COMMUNITY…19 YEARS LATER IM ASKING FOR HELP WHEN I NEED IT MOST…. I HOPE BY HAVING A DANGER BAY FUNDRAISER YOU ALL SHOW ME YOU CARE ABOUT WHAT WEVE DONE OUT OF PASSION FOR ALL OF US IN THESE 19 YEARS.. AND SHOW UP!!!
I HOPE WE GET TO SEE MANY OLD FACES BACK THIS YEAR FROM THE FIRST DECADE OF COAST TO HELP SUPPORT THIS DREAM OF MINE!!! IM DRIVING ACROSS CANADA AND AND BACK OVER 16,000KM TO KEEP THIS EVENT GOING!! WERE SHOOTING FOR 20 YEARS OF DANGER BAY!!! WERE AT 17!!!
20 YEARS OF COAST LONGBOARDING IS NEXT YEAR!!! 20 FUCKIN YEARS! IT WOULD MEAN ALOT TO HAVE YOUR SUPPORT IN JUST THIS ONE DANGER BAY OUT OF 16 TO HELP ME BUILD US A HEADQUARTERS ON CAPE BRETON ISLAND… A COAST MUSEUM OF DOWNHILL TO LOG OUR HISTORY.
A BASE WE CAN COME TO LONG AFTER IM DEAD!! A PLACE WHERE OUR KIDS CAN GO AND SEE OLD PICTURES AND READ OLD STORIES!! THIS IS OUR CLUB HOUSE!!! THIS IS COAST LONGBOARDING… THE CHURCH IS COAST LONGBOARDING…. IM DOING MY BEST TO TELL OUR STORY AND KEEP THIS ALIVE… I HOPE YOU UNDERSTAND…
IF YOU DONT LIKE IT.. YOU DONT LIKE WHAT IM DOING… DON'T SHOW UP..SIMPLE …OR IF YOU'RE INSPIRED!!! SHOW UP!!! OLD COASTIES SHOW UP!!! NEW COASTIES SHOW UP!!! HELP ME BUILD THE COAST LONGBOARDING CHURCH OF SKATAN HIGHLANDS HOSTEL AND COAST MUSEUM OF DOWNHILL!!! THIS CHURCH WILL LIVE AT THE TOP OF THE HIGHLANDS FOREVER!!!
EVERYONE OF YOU WILL HAVE A FUCKIN NAIL IN THE WALL HOLDING THIS CHURCH UP!!!! THIS YEAR IS THE ATTACK OF DANGER BAY FUNDRAISER!!! PLEASE HELP ME BUILD THIS!!!!
THANKS EVERYONE!
STRIKER
SPREAD THE FUCKIN WORD!!!
BUSINESS CLASS IS BACK!!!
***REGISTRATION APRIL 1ST*** www.coastlongboarding.com!!!
CLASSES: **BUSINESS CLASS Super Grom, Grom, Jr, Open, 30s, 40s, 50s LADIES!! TH LAST OF THE COAST METALS FOR ALL!!!!
THURSDAY – May 17th:
*** Egmont Grind Push Race!!! (finish line the ocean)
*** Egmont Big Air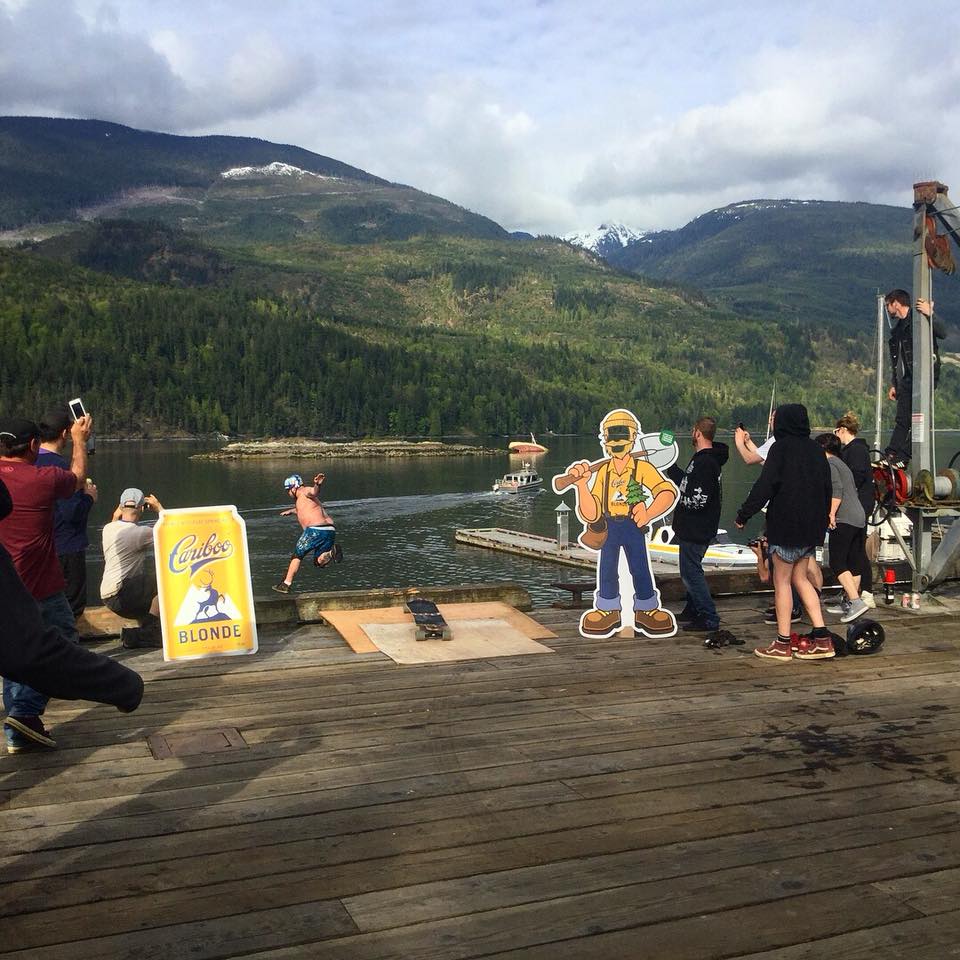 FRIDAY:
Set up Camp Racers International Camp Bands & bonfire
skate and explore
SATURDAY:
*** 11am sharp Mayday Parade – 11:45am Sk8 Hockey Tournament *** 2:00pm sharp!! SLIDE COMP AT BEER BAY – Racers ***Registration at the Camp 4:30pm SHARP!! –
*** Dusk Camp Entertainment –
Wolf dirt race
Hughs Dragg race
Bands & bonefire
SUNDAY:
Attack of Danger Bay 17 Race & Business class!!! ** To join the Business class you must have a business suite & tie with a REAL HARD briefcase** WINNER WINS A CUSTOM TUXEDO!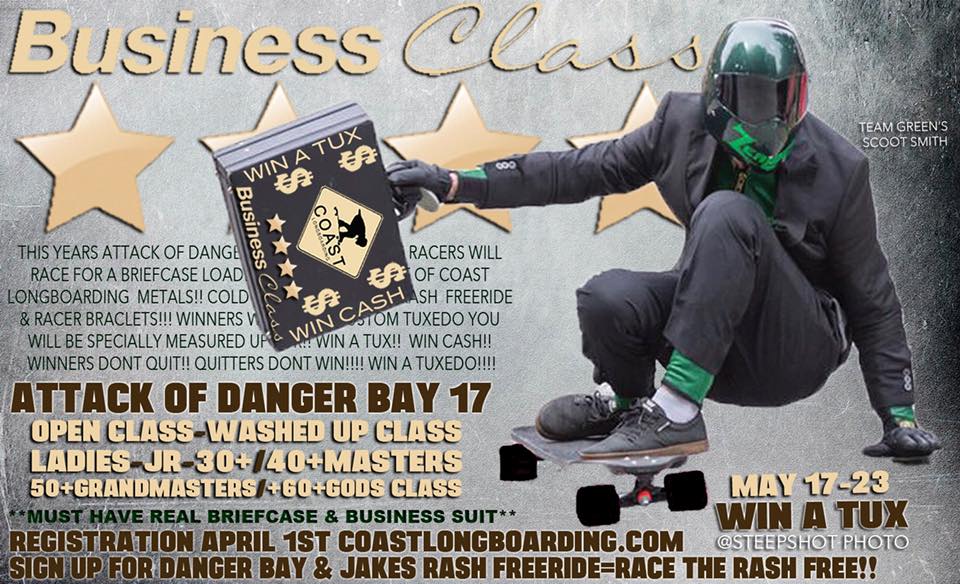 Camp Bands & Bonfire
MONDAY:
CAMP CLEAN UP CHILL SKATE & EXPLORE
TUESDAY – May 22:
***Jakes Rash Freeride All Day!!
WEDNESDAY:
***THE ROAD RASH RUMBLE JAKES RASH RACE!! MORE CA$H & COAST MEDALS!!!!
HERE'S THE CONTRACT!!! ATTACK OF DANGER BAY!!!!! JAKES ROAD RASH RUMBLE!!! 17 YEARS OF GRASSROOTS RACING!!!! BUSINESS CLASS RACING!!!! PACK YOUR LEATHERS AND BUSINESS SUITES!!! THIS YEAR WERE GONNA KICK SOME ASS!!!!
WIN A TUX!! WIN CASH!! WIN COAST METALS!! WIN RESPECT!!!!
**FYI If racers race DANGER BAY and join up for the JAKES RASH FREERIDE then they are automatically entered into the JAKES RASH race FREE!!! REGISTRATION IS APRIL!!
Watch the 2017 Flatspot Event Video here: