Max Capps has been in the game for a long while as a top level skater but what most people don't realize is that chopping boards got him into the game in the first place. Since the mid-2000's, Max has tried to make the most out of every board by modifying them to have special functionality. Back in May, Max made a trip back to Vancouver for Danger Bay and stopped by Flatspot to chop a few boards while he was in town.
See some of the behind the scenes photos on his chops thanks to Tyler Topping here.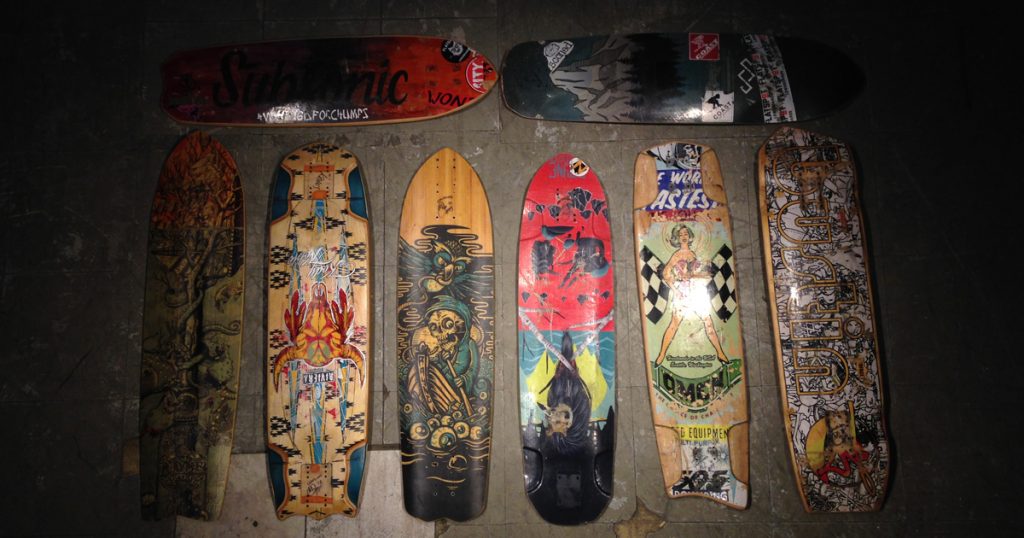 Max chopped each board to have unique characteristics.  Some of the boards in the line up have different strengths compared to the others and were cut to highlight their strengths and uniqueness. We'll break it down for you.
Race Chops
These boards are chopped with high speed, technical courses in mind.  If you want to get on the skinny-board racing train, check these out.
Reverse Chops
These boards are chopped "backwards."  This gives what used to be freeride-oriented kicktail boards a new life. While it might seem a bit 'backwards' to reverse chop, these cuts draw out each of their unique characteristics that make the switchero both fun and very functional.
Fun Chops
While these boards may not have the race course in mind, but you're still going to have a 10/10 good time.  The fun chop decks are going to be your beer-run rippers, freeride slashers, and all around head-turners.  I mean, who doesn't like boards that cut through the ordinary look like a knife?
Check out each hand cut deck online or stop by our shop to take a look in person.  These boards are one-of-one so get them while supplies last!
You can check out the decks available for sale at Flatspot here!
---
If you haven't found what you're looking for, be sure to check out our full selection in our web store. We've got one of Canada's largest selection of decks and completes ready to ship worldwide.
---
If you have any questions please feel free to shoot us an email at info@flatspotlongboards.com, message us on facebook, or call at 604 899 8937!