It's time for some HIGHWAY JAMS!!!
We've been too busy this summer to chase down sponsors for the Highway Jams and really don't like to beg. So, we have something special for ya'll to kick off a four, yes FOUR, event Highway Jam Series for end of Summer and early Fall. We will be hitting four different destinations, Highway 1 East, Highway 99 South, Sea to Sky, and the Island Highway. You will be able to buy either a Four Bus Pass, Three Bus Pass or a Single Bus Pass to reserve your seat. 
DATES
August 13th
https://www.facebook.com/events/320738221729665/

September 3rd
https://www.facebook.com/events/111806992818622/

September 16th
https://www.facebook.com/events/1120351911430217/

October 14th
https://www.facebook.com/events/119169955398070/

Get your tickets here on Flatspotlongboards.com
DESCRIPTION
The format of the event is simple. We jam a full size school bus with as many people as we can fit (which is 50). The bus then takes us all to three or four locations where we skate. We spend a good portion of the day without any access to public transit. That means once you get on the bus, you're on it till it gets back into the city. So be prepared to get rad and have fun all day!
We supply lunch and water. BUT OUR SUPPLIES ARE NOT BOTTOMLESS. Bring extra water and food! You will not be able to buy food or drinks.
If you're not familiar, you should definitely check out our youtube channel for some video of past events.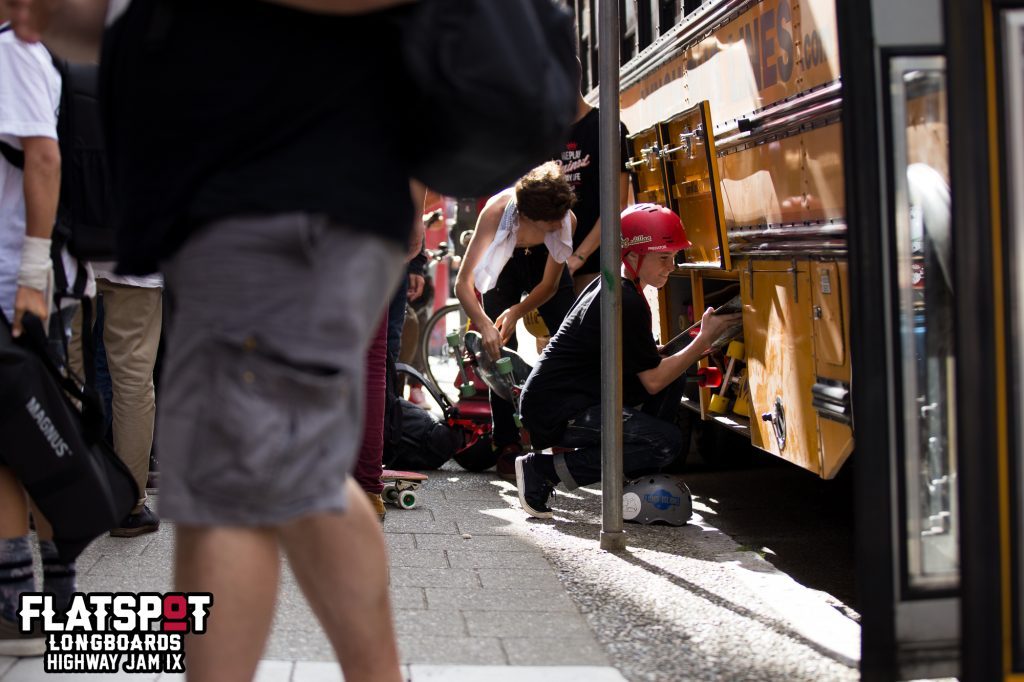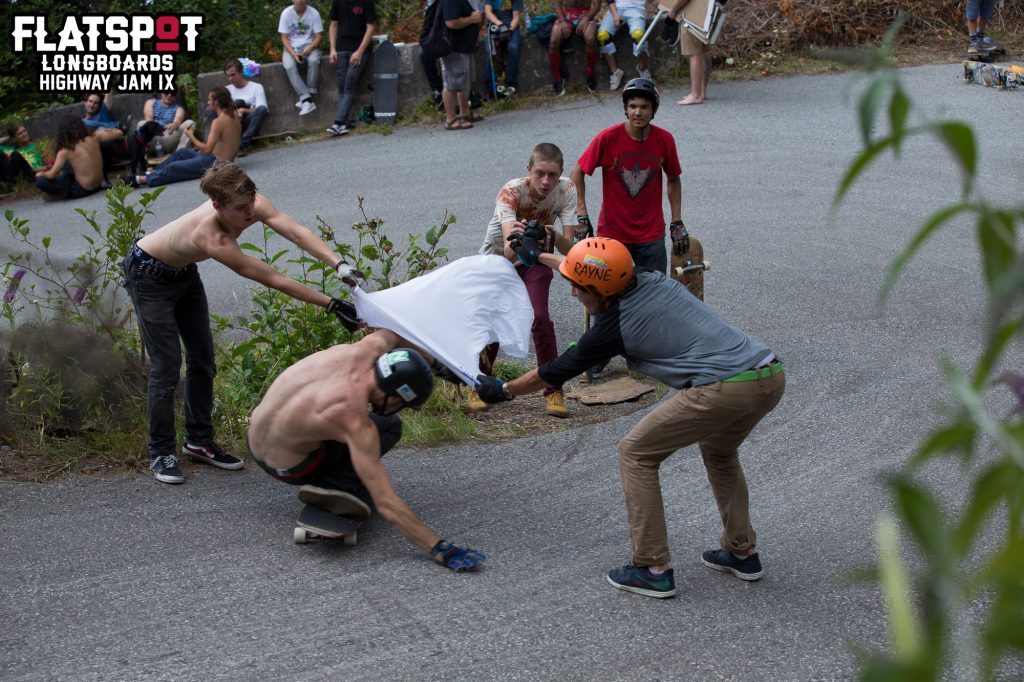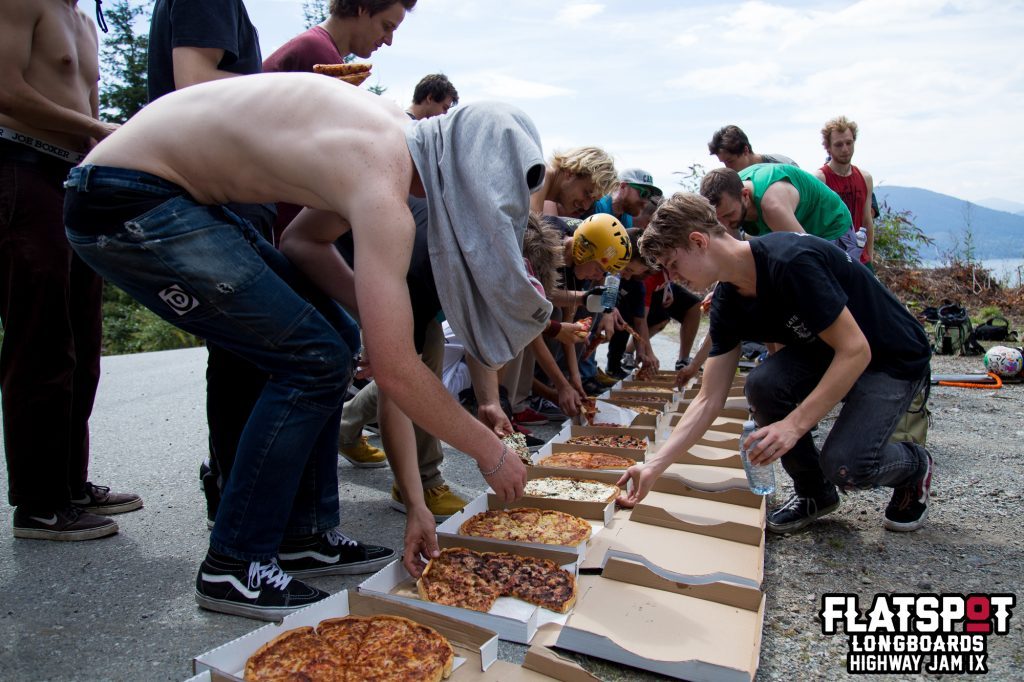 TICKETS
*New ticket pricing: Tickets come in three styles, Four Jam Bus Pass, Three Jam Bus Pass, and Single Day Bus Tickets.
Four Jam Bus Pass – $100 ($25 per jam)

Must be bought before Highway Jam XIII
Includes all four Highway Jam series dates
Three Jam Bus Pass – $90 ($30 per jam)

Must be bought before Highway Jam XIV
Includes three Highway Jam series dates, must note which dates.
Single Day Bus Ticket – $35

Available while supplies last!
*Multi Jam Bus Passes are not transferable. One rider, one pass. Passes will be custom to each rider. Riders trying to transfer their pass will not be on the bus and will lose their chance to get back on the bus. 
* Island Jam does not include Ferry Price. Details TBA.
All tickets come with an Exclusive Highway Jam T-shirt, snack, lunch and water.
All Multi Jam Bus Passes also come with additional swag, including a custom Bus Pass for the series, a Coast Longboarding Water Bottle, a hand made Flatspot skateboard keychain, and more.
There is a limited number of seats on the bus (50) and it sells out rather quickly. Please purchase your seat ahead of time. It breaks our heart to turn people down the day of, don't make us do that please.
**IMPORTANT**
If you are not on the bus do not follow/attend the event in your own vehicle unless asked to do so. This is an Exclusive event for Pass and Ticket holders only. Sorry.
WAIVER
You must sign a waiver to attend the event. They can be found on the FB page for the event, on our blog, or you can pick one up at the store.
ITINERARY
GET ON THE BUS!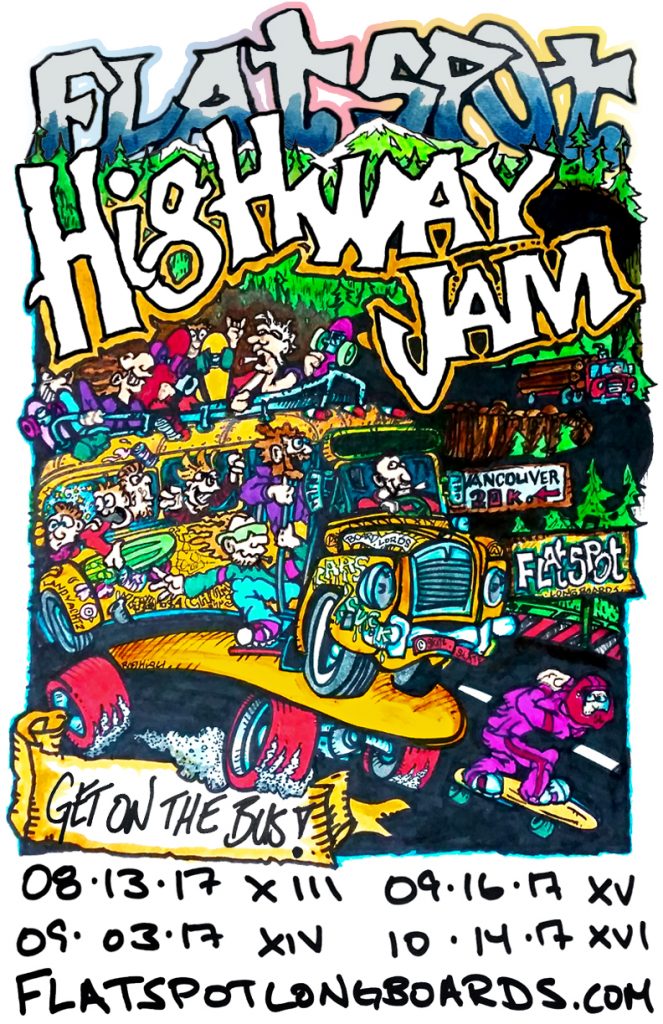 Latest posts by Les Robertson
(see all)