Its summer. Glorious, warm, long days are ahead of us and its up to us, and only us, to make sure we get the absolute most out of every drop of sunshine!
Camilo, the lovely care free columbian that you all know and love, is on his way to Vancouver. Really he is actually on his way to Giants Head Freeride, but we'll just say that he is coming just to see us, cause it makes us feel good. That being said, its good to make the most of spending time with your friends (and make new ones!), which is why we are gonna skate and chill with that lovely fellow and the other fantastic skaters of this fine city! The Day to Night Dock Session is gonna be lit. But just How lit is it gonna be? The most lit. Its gonna be so lit that its gonna go until the most lit thing in this solar system (the sun), disappears from view. For the love of skateboarding and sunshine, come skate with us!
Want to invite your friends? CLICK HERE TO GO TO THE FACEBOOK EVENT
Here's the tentative schedule:
11am – Bons – Breakfast and Chill
(carpool and public transport to UBC at your liesure)
1-4pm UBC Skate Park – shred, lurk, or whatever floats your skate-boat there's all kinds of space to skate any way you want
4-6pm Siesta at the Beach – we're going to play skate games and slack line at the beach for a break and regroup, prizes and swag to be had
6-9pm – DockSession style UBC campus push and pathways – this is a casual all skate adventure accessible for all levels of fun
9-11pm BBQ and Beach Jams – we will be closing out the night with sunset at the beach, some music, slack line, possibly glow in the dark bocce and a BBQ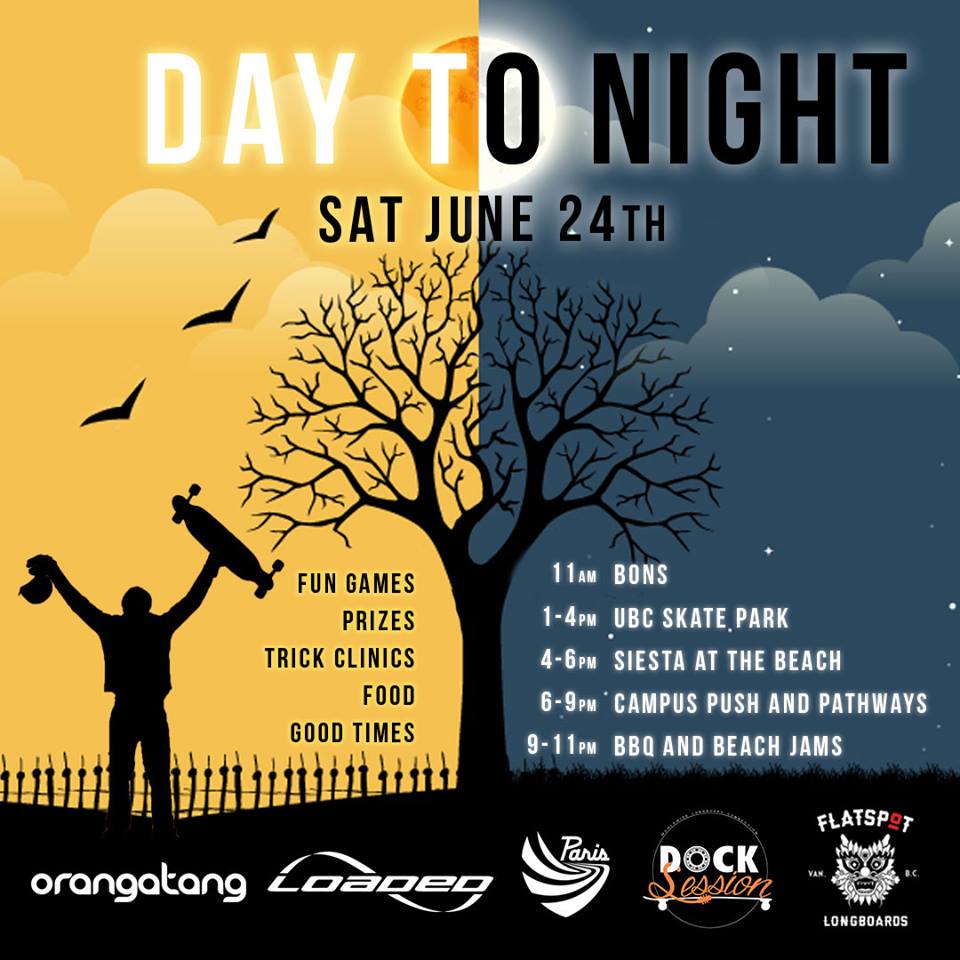 Huge thanks to sponsors Paris Truck Co., Loaded Boards, Orangatang Wheels, and DockSession
If you have any questions please feel free to shoot us an email at info@flatspotlongboards.com, message us on facebook, or call at 604 899 8937!

Latest posts by Mischa Farivar
(see all)