Maxwell Kaye is part of the Flatspot family, but he's also got a global family now that he's gone worldwide.
Some-time German, always Canadian, this giant man of love hails from Salt Spring Island and is the organizer of the Salt Spring Slasher race and freeride coming up. Thane Magazine knows what's up and Gbemi has a fresh interview with Max on his blog READ THE WHOLE THANE MAGAZINE INTERVIEW HERE!
Check out a few of the highlights below and be sure to hit Thane Magazine for the whole interview. Also, don't forget to check out the Salt Spring Slasher coming up, READ THE WHOLE THANE MAGAZINE INTERVIEW HERE!
From Thane Magazine:
Max Kaye: Fun All The Way
How did you get in this skateboarding game?
All my friends street skated in school and I could never figure out how to ollie or anything. Plus, hard wheels with a fat kid don't work too well or at least, for me. Big tree go boom. Then, my mom got me a longboard and, when I went to the 1st salt spring slasher and saw what downhill was and met so many amazing people who did not care who I was, they were just stoked that I skated – even though I did not know how to do anything. I've never looked back since.
Does downhill have any skate moms left?
I think so. My mom is a skate mom. She has come to every race I hosted and has become a skate mom to a few friends. She's put 30 smelly skaters in her house a few times. You don't have to skate to be a skate parent. You can just be the driver who always takes care of things. My mom has taken care of a bunch of my friends with nothing but love.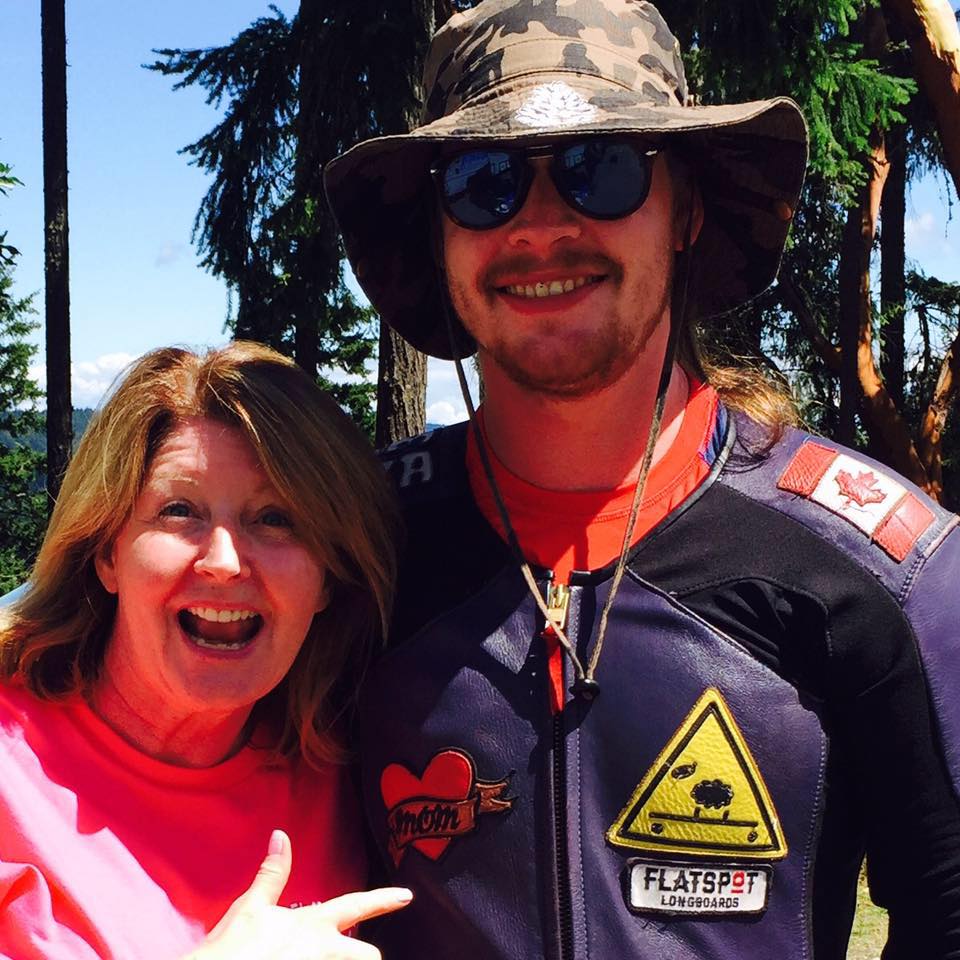 How was your first danger bay?
It was everything I expected and, so much more.
It was a big old fashioned drunk downhill skateboard family reunion. With a super fun race. If there is one race you should go to at least once, it's that. So many skaters were there from all over the world. It was my 1st time getting an understanding of what the longboard family truly was and if you want to see any BC OG skaters, this is where you must go! From the party to the race it's hard to have a bad time.
Are local shops important?
Oh god, yes! Without true local shops, there's no light at the end of the tunnel. They help with everything; spreading event details, stoking out new riders, and helping the community. Back in the days before Flatspot, we had switchback and to me switchback set a bar that all true skate shops should aspire to. Host events or help others do it, show up for support and actually support. Help the new guys get stoked. Do fun things and have fun with it. Now, we have flatspot in Vancouver and they do every thing to keep downhill going in and around Vancouver. Much love to them and all those skateshops that help out their community.
[THANKS MAX!]
People don't always see how hard people have to work to travel for Stoke. Or, is it easy?
Its super hard, man! You pay for it all; the races, wheels, transport, food, beer and rent! You have a place to come home to. It's so worth it, in the end. It sucks when you have friends who have a lot payed for and they just bitch about their sponsors not helping them more and just talking bad and taking it for granted.
What are you looking forward to, this year?
By the time this gets out, I will have gone to the Philippines with my family for 3 weeks which will be great. And back to Germany, get back to work with a little trip to Tenerife then, back to Noram for Maryhill, Danger Bay and Jakes Rash and to organise the 9th Salt Spring Slasher. Then back to Europe, get right back to work and hope I can do the Eruo Tour again. Might have to pick and choose a bit more this year. So, besides that, I will just try and go to as much as I can.
Any last words?
Don't give up on your dreams and things you love. Remember to have fun. I want to thank everyone in my life who helps me and supports me in all the ways that they do and have. I don't think I could get away with what I've done without their support and love.
READ THE WHOLE THANE MAGAZINE INTERVIEW HERE!
Find out more about Salt Spring here.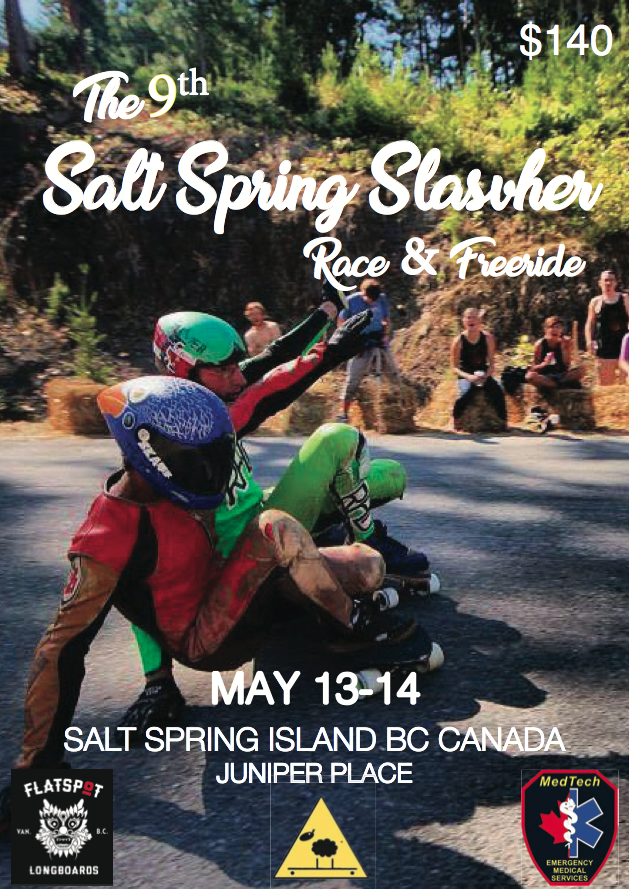 If you have any questions please feel free to shoot us an email at info@flatspotlongboards.com, message us on facebook, or call at 604 899 8937!

Papa Les has been skating, promoting and building the downhill community for many moons. Once a skate dad to many, he is now a real dad to his own spawn and spends more time in Vancouver behind a computer than he once was on the road in a Van. Helping lead the charge at Flatspot and Skate Slate, he continues to encourage everyone to skate as much as possible and always remember #walkingisforchumps.

Latest posts by Les Robertson (see all)