Size doesn't matter. But what you need to keep in mind is that bigger doesn't always mean better.
The Forged Paris Savant is an impressive truck. And now, you can get that same epic forged hunk of lean, with a little extra lean. By shaving off 15mm and rocking a 165mm hanger you will turn sharper and grip harder. But that doesn't mean you can't also have a banger freeride session on these trucks. We have had a chance to ride these ourselves (thanks paris!), and were immediately please with the results.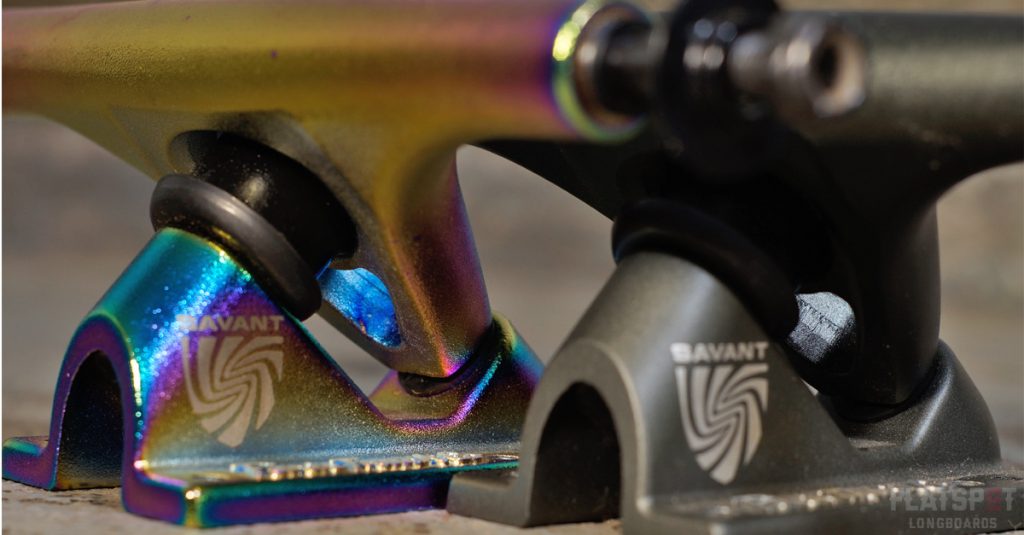 The cool thing about forged trucks is that they are stronger than cast trucks, but cheaper than precision trucks! But what is a forged truck anyway? Forged trucks are made by taking a larger piece of aluminum, and smashing it with an incredible amount of pressure into a smaller piece of aluminum. Ideally one that looks like a truck hanger. This make the material denser and stronger. Although its heavier, it makes it possible to make a smaller truck, so normally the weight differences are minimal. If that didn't make any sense, look at the picture bellow. If that doesn't make any sense either I can't help you, I'm sorry.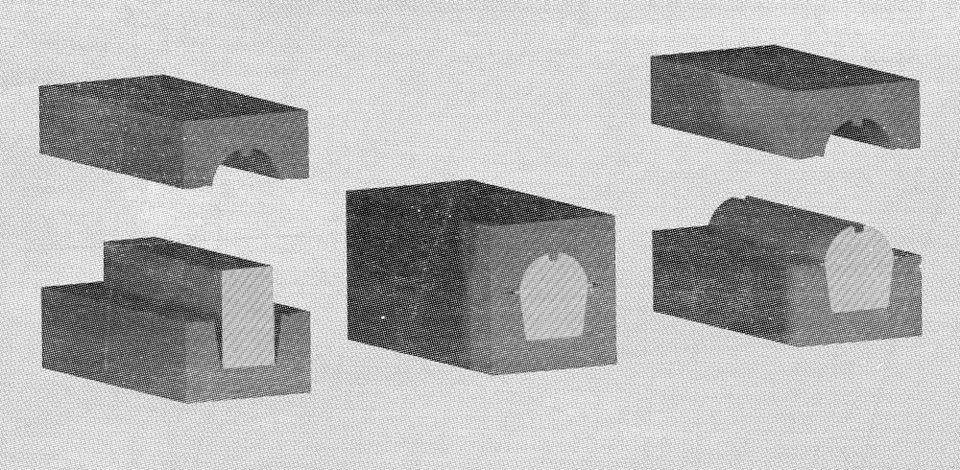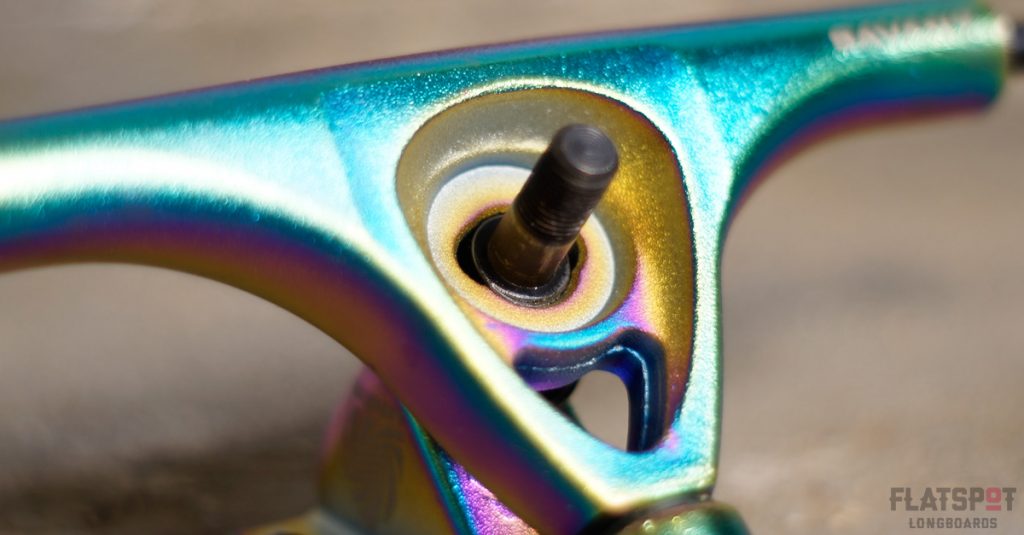 Once you have decided that 165mm forged paris savants are the best truck you have ever seen. One question remains: What degree baseplate should I ride?
Well, we really don't have a straight answer for you on that one. It all depends on what you want to do, and how you like your lean. Medium rare, on the rocks? Both trucks technically turn the same amount. The 50 deg paris savant will turn more for the amount of lean. Whereas the 43 deg paris savant will have to lean more to acquire the same amount of turn. This translates into the 50 deg feeling grippier and having a more "on top" feeling. Comparatively the 43 deg will have a surfier ride, and are considered to be a slidier truck. So if you want to huck it sideways four on the floor, go with the 43 deg. If you want to rail lines, than the 50 deg are likely best for you. That being said, if you want to carve and pump around the city, the livelier 50 deg are also what you are likely going to prefer. But if you are dancing you may enjoy the broader turns of the 43 deg. All that being said, there are definitely more than a few skaters that throw this knowledge to wind and ride what feels good to them. And thats rad too.
In case you weren't convinced that Paris Savants are totally badass and you should be smashing your piggy bank to get a set. Here is a list of badass thing about this truck that we ripped off the paris truck website.
Forged 6061 Aluminum Hangers. T6 Heat Treated
Dead Straight Axles Tested For Perfect Alignment
Race Spec 8mm, Grade 12 Axles
Patented Captive Axle Lock System
Grade 10 Branded Steel Kingpins
Precision Axle Washers
1mm Built-In Inner Speed Washers
96a "Slop Stoppers"
Cast Baseplate
Hand Poured Paris 96a Pivot Cups
Machined Kingpin and Pivot Holes
Paris 90a USA Made Double Barrel Bushings
Genuine Anodized Hanger (Gunmetal or Red)
Titanium Plating (Electro Luxe)
Precision Engineering and STRONG AS F@#K!
Crazy amirite? Get some.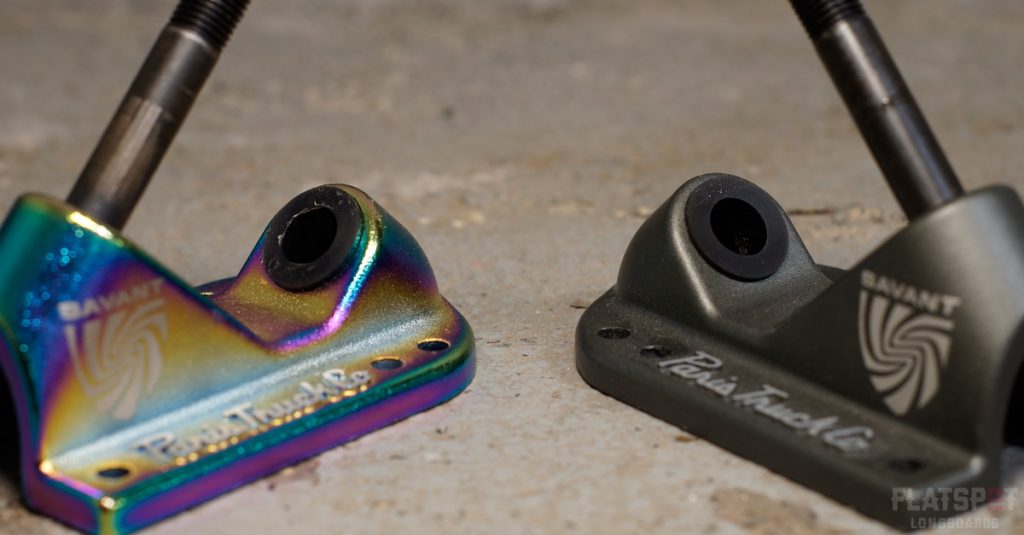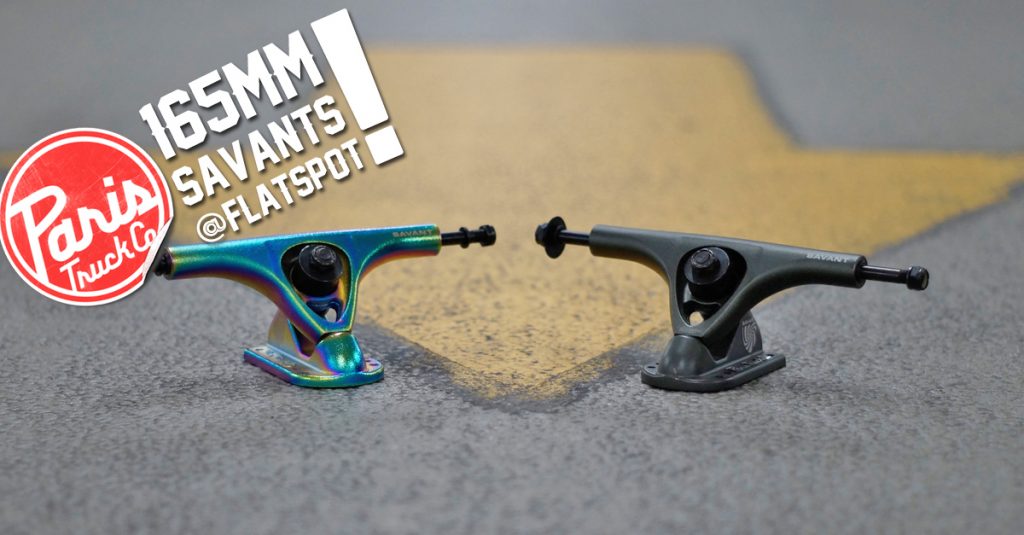 If you have any questions please feel free to shoot us an email at info@flatspotlongboards.com, message us on facebook, or call at 604 899 8937!

Latest posts by Mischa Farivar
(see all)