We teamed up with LY Snow to bring a special winter edition of our Highway Jam to the slopes of Cypress Mountain.
Our Highway jams have been running strong for the last 2 years, and for four our 11th edition we decided to shake things up a bit. So earlier this December with ditched the trucks and wheels and traded them in for a ski. Much of the lower mainland has been hit heavily with snow this year. While we certainly have a "no excuses" policy when it comes to weather conditions and skating. Sometimes it's nice to take a break for the slippery, and sometimes icy roads. Winter has been a trip so far in Vancouver so when LY Snow asked it we wanted to get a snowskate session together we figured it would be the perfect chance to load up the bus again, and head for the hills.
The day started of much like any other highway jam, a little behind with a lack of sleep and craving coffee. What set this one apart from past events was the amount of snow dumping at the shop…like A LOT! We hadn't even left the shop and the sheer amount of snow in the DTES was already piling up, so we were anxious to get up to the mountain to see what we'd be riding. Thankfully our good friend, and purveyor of all things Cariboo stopped by and helped shovel the sidewalk.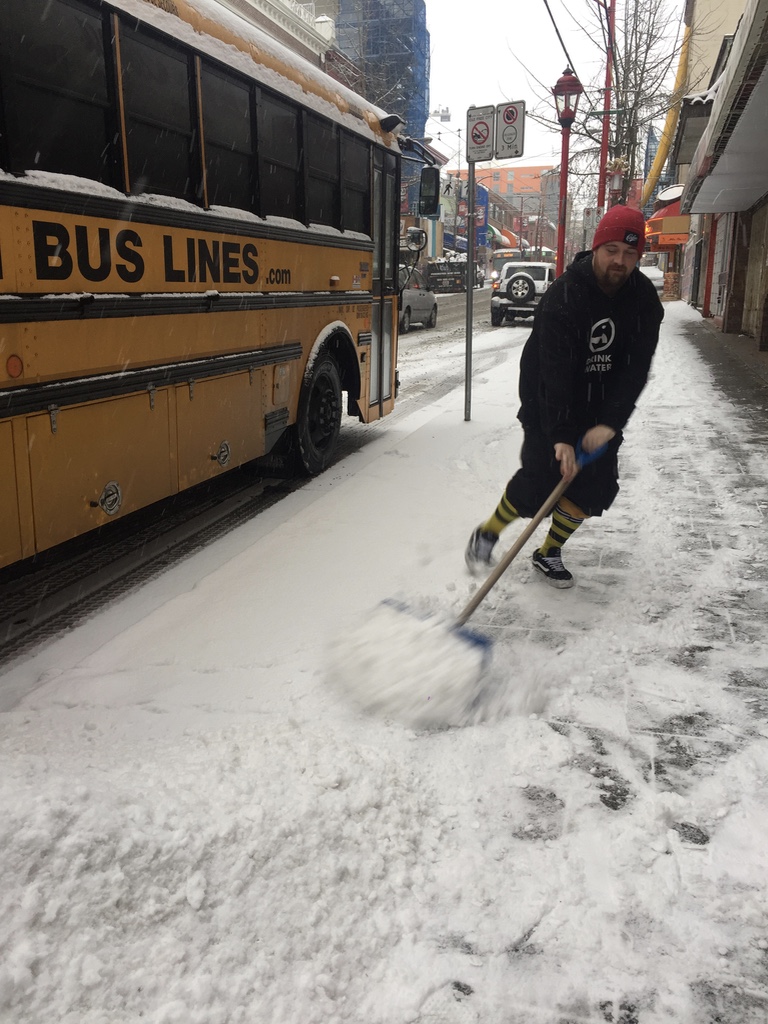 We slowly piled into the bus and headed out for a full day of rad times in the snow. Since we'd been running a little behind we missed our chance to grab coffee..which isn't a good thing. Most of us seemed to be doing ok, Mischa however was looking like he needed a caffeine fix ASAP!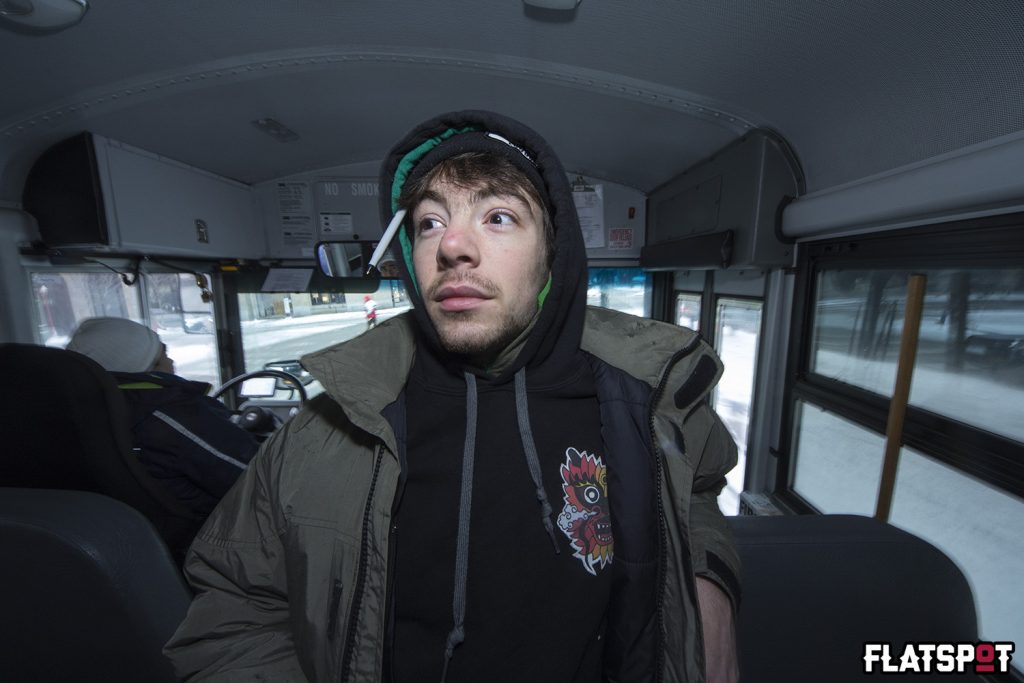 Our master of cerimonies and LY Snow ambassador Liam was doing quite the opposite. After a run down of what to expect for the day, a lesson on "Cotton Death" and a reminder to wear our helmets, we grabbed our snow buddies…YEA BUDDY! Seeing as a good portion of us were new to snowskating Liam assumed we hadn't fully prepared for the day…LY Snow hooked it up with extra pairs of socks (which later came in handy…BIG TIME).
We climbed the road and parked the bus and quickly shuffled out with the excitement of a kid on Christmas. The Landy van had been waiting for us to arrive so they could unload their mound of snowskates for us. Max wasted no time hoping in the back and dished out boards to everyone. It was pretty nice being able to just show up on the spot and our boards were there for us already…luxurious right?!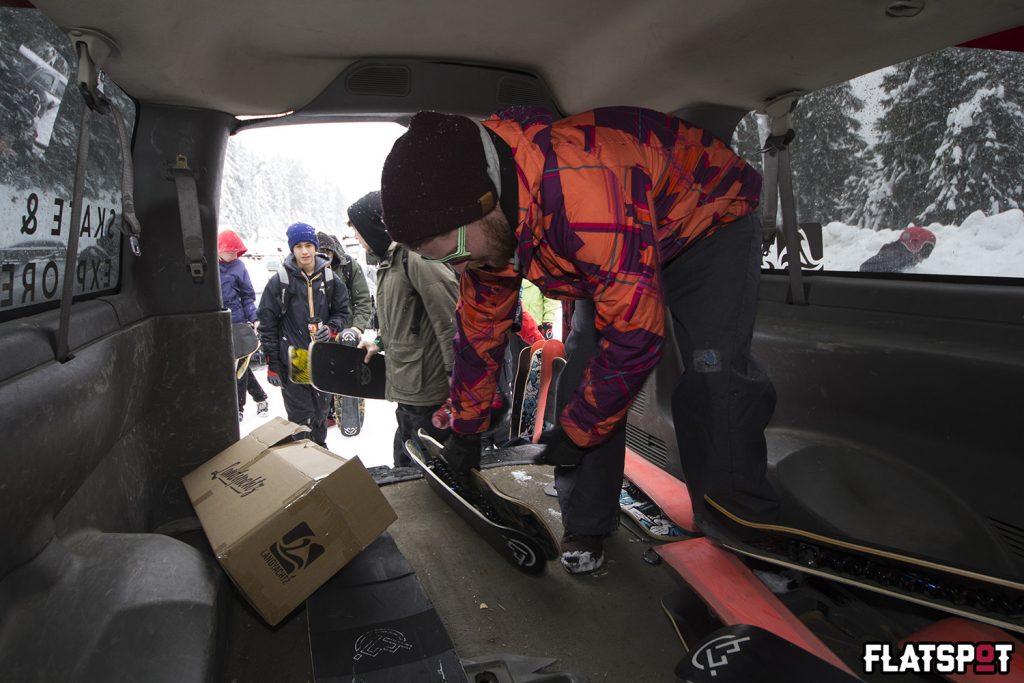 With boards in hand we hiked the trail up to the session spot. Snow had been falling all night and continued to fall so there was plenty of fresh powder for us. It looked like we were the first people to hit the trails so we were expecting some good times. After a good hike to the top we got a lay of land and quickly realized that EVERYTHING was a line. Seriously, if you wanted to jump off something, you did. If you wanted to slash a corner, cut between trees or slide a tree branch you could. We'd been so use to being limited to whatever road we'd been skating so this was a totally new experience. With all the fresh powder on the ground it also gave a little confidence boost to launch of pretty much anything and everything we could find.
Around noon Troy Yardwaste showed up with the goods. Anyone who's been on a highway jam before knows what we mean. You work up a serious appetite putting in work on a board. We make sure everyone gets fed, and what better way to refuel than with the best food item ever…PIZZA!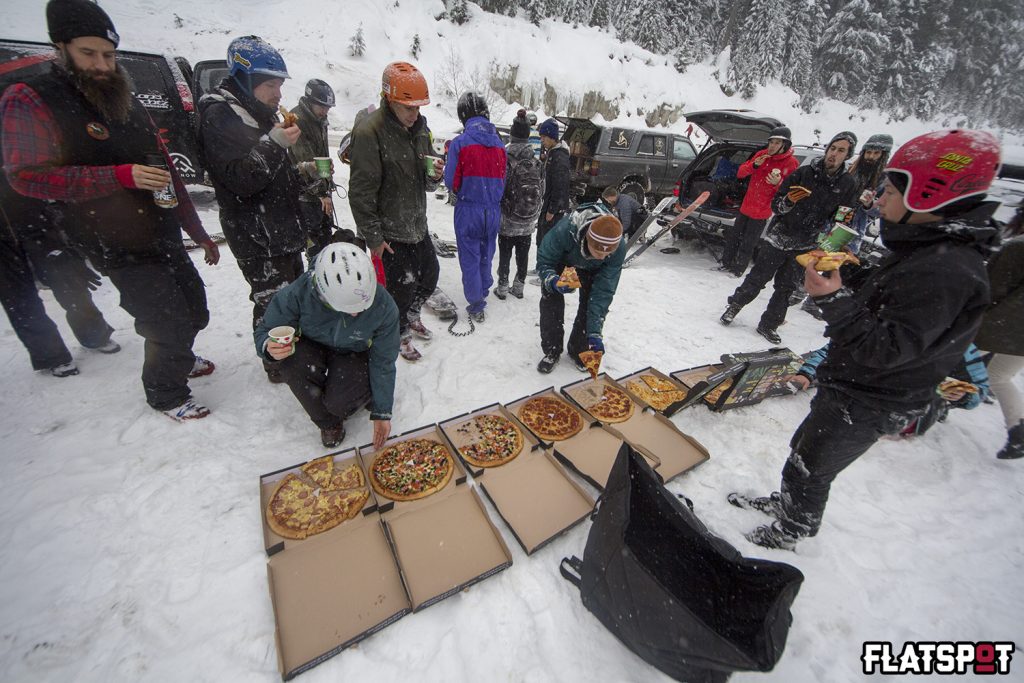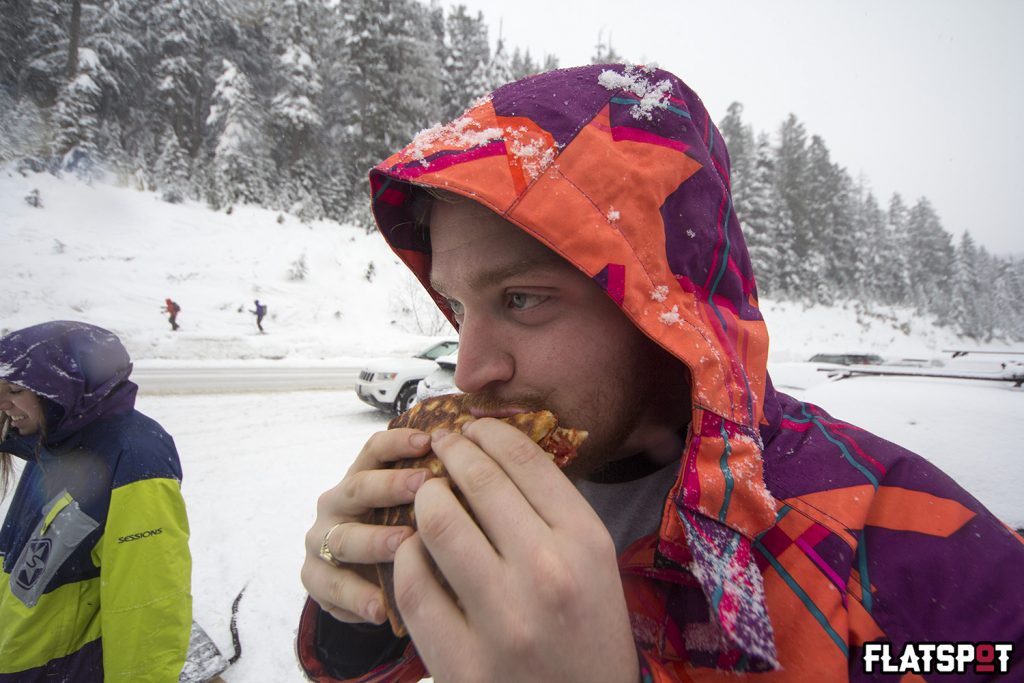 After some serious pizza intake, hot chocolate, coffee and possibly a little Fireball we hiked back up. At this point most us us had a pretty solid understanding of how to ride a snowskate. The second half of the day was really just seeing how rad we could get. Before we knew it the sun was setting and we had to head back to the bus. We collected our gear and made our way back down. Most of us had a little energy left and went for a full send descent, while others opted for a more relaxed method. We know you're suppose to stand on them, but a good buttboard ride never hurt anyoune, and these LY Snowskates we just was fun seated as they were standing.
All in all the day was SUPER fun and most of us left with a new addiction for snow. We'd like to thank Liam and the rest of the LY Snow crew for hooking us up with decks and rad spot to session. If you didn't make it to this one well…ya blew it! Don't worry though, LY Snow will be hosting a demo day on Cypress Mountain Dec. 30th, so check it out. Be sure to stay tuned for our next Highway Jam we hope to announce soon, and check out our Facebook for all the photos from our LY Snow x Flatspot XI Highway Jam.
Check out the official video recap from LY Snow as well!!!
If you're looking to pickup a snowskate we also now carry the full lineup of boards available from LY Snow in store and online. They're built just as well as their longboards and are a perfect downhill alternative to those who live in a snowly part of the world. Give them a look and pick one up if you're tired of not riding during the cold season!
---