Flatspot has always been a fan of the push! Maybe you've heard? #WalkingIsForChumps! From commuting around town to long paths in the woods of North Vancouver, we even skated across a country. We just love to be out on a board. Over the years we've tried a lot of things. We chased those long treks on Demonseeds, we snubbed up 35 inch switchblades with tkps, and we've been cutting custom platform decks for brackets for as long as there have been brackets. Having the gear that makes your distance melt away makes all the difference. There really isn't a need to struggle with that anymore. Introducing the Loaded Fathom and G-Bomb Zee Bracket. Loaded has worked to offer a new light weight, super strong, cost effective bracket system that lets you use easy to access parts like Paris Trucks and Orangatang wheels.. and the Loaded Fathom platform of course!… to build a personalized setup thats going to keep you pushing and pumping all day long. We'll make another post to go into more details about the Zee bracket itself and all the DIY options, but lets look at the full package, the Loaded Fathom Complete option, first!
Loaded Fathom – For the Last Mile (Or Every Mile)
Introducing the Loaded Fathom, the longboard that blurs the boundaries of what a skateboard can be.
The Fathom is one of the easiest boards to ride in the world, and a ton of fun. Built around the new Loaded Zee Bracket truck mounting system. With large wheels and a low ride height, the Fathom reimagines soulful commuting and urban exploration.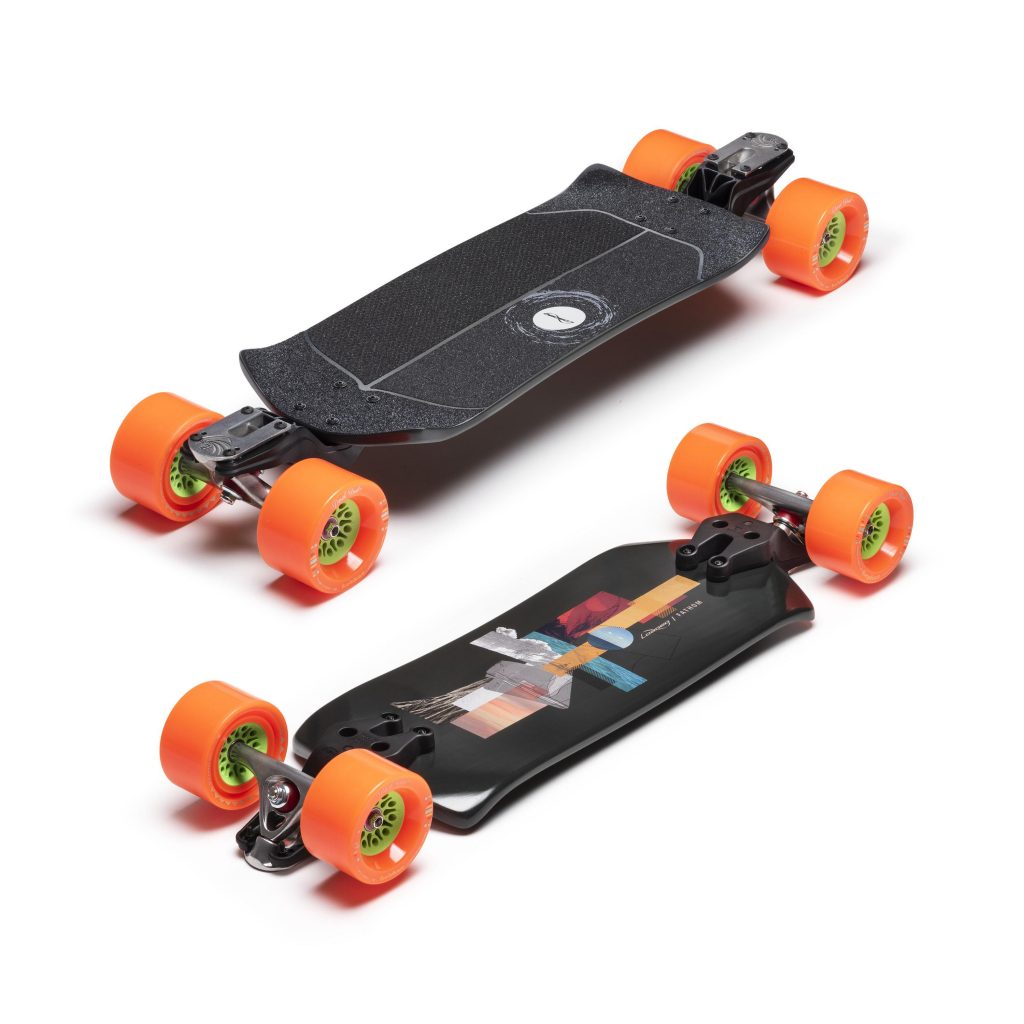 ZEE BRACKET — This proprietary composite bracket designed by the wizards at GBomb allows us to build unique and functional next-gen skate vehicles with double-drop (drop-through and drop-down) truck mounting.
SPEED — Built for speed and momentum. With its large (up to 105mm) wheels and agile trucks, the Fathom bridges the gap between board and bike, easily reaching and sustaining commuting speeds that surpass the comfort zone of conventional skateboards. Get a workout, explore the roads less traveled, or get to class/work without breaking a sweat. It's up to you.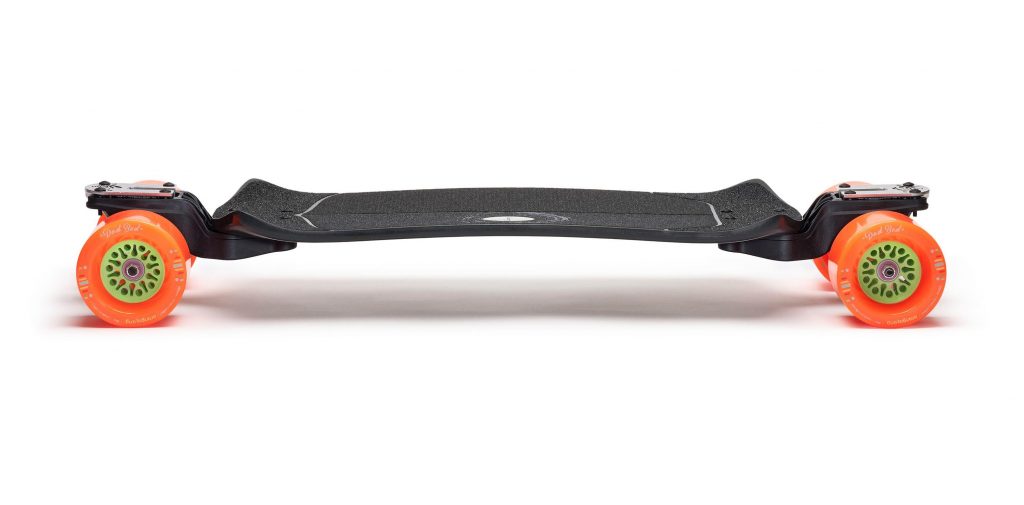 CONTROL — The Fathom is stable and easy to control, even at high commuting speeds. The low ride height provides stability and ease of pushing and foot braking. The wide deck further enhances confidence, while upturned deck corners reduce the chance of footbite.
FUN — Double-drop brackets and relatively narrow trucks make this board surprisingly responsive and agile. A board with wheels this size has no right to turn this well.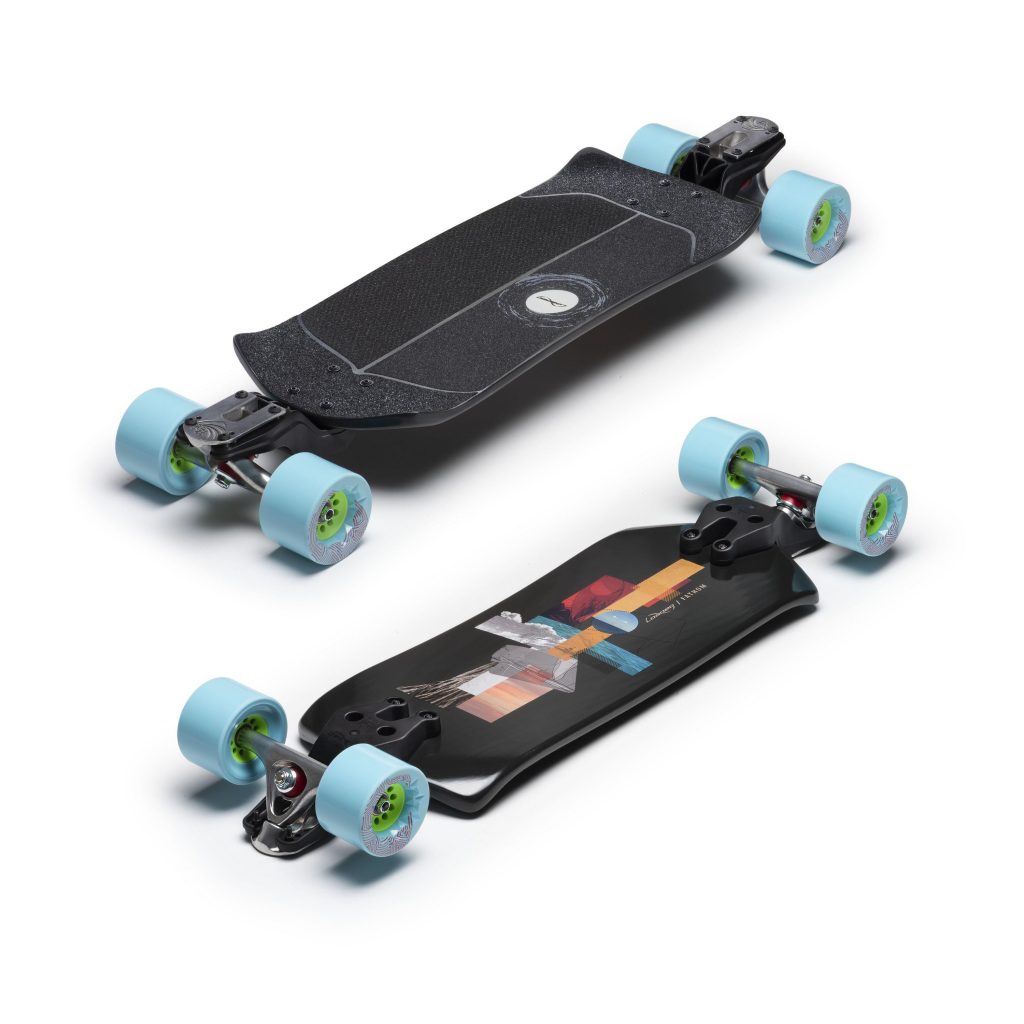 TWO SETUPS — Featuring Paris 150mm trucks and your choice of 105mm Dad Bod (80a orange) or 85mm Caguama (77a blue) wheels. The Dad Bod setup is a blast to ride, carries massive momentum, and can go over anything for easy cruising. The Caguama setup is a fun, approachable alternative, providing quick acceleration and a lower stance. Here at Loaded we vastly prefer to ride the Dad Bod setup because of its epic rollover power, but you know, you do you!
CONSTRUCTION — 8-ply maple construction, slight camber for road-smoothing suspension, and lifted corners (with more aggressive grip tape) to lock in your feet and reduce the chance of foot bite. Large enough for comfort but compact enough to carry on public transportation and stow under your desk.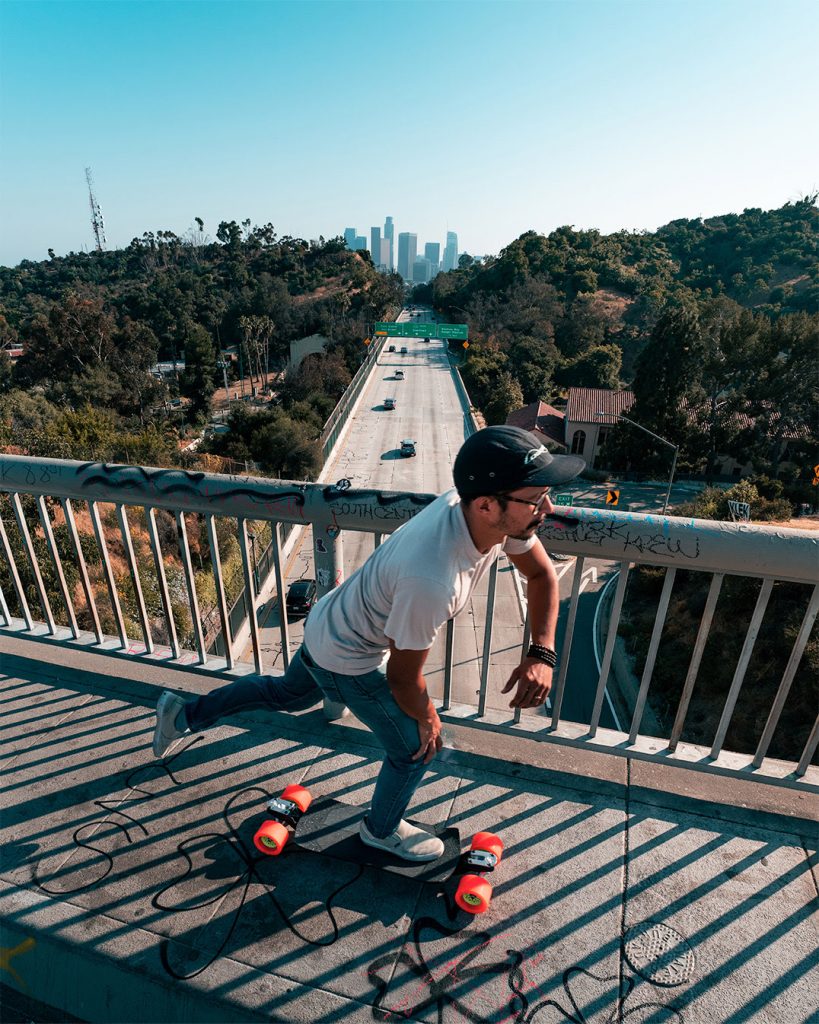 GRAPHIC — To evoke the spirit of adventure and exploration, the current graphic was inspired by the historic Polynesian expansion and their mind-boggling oceanic navigation. Nanastudio created this collage based on Polynesian ships and artifacts.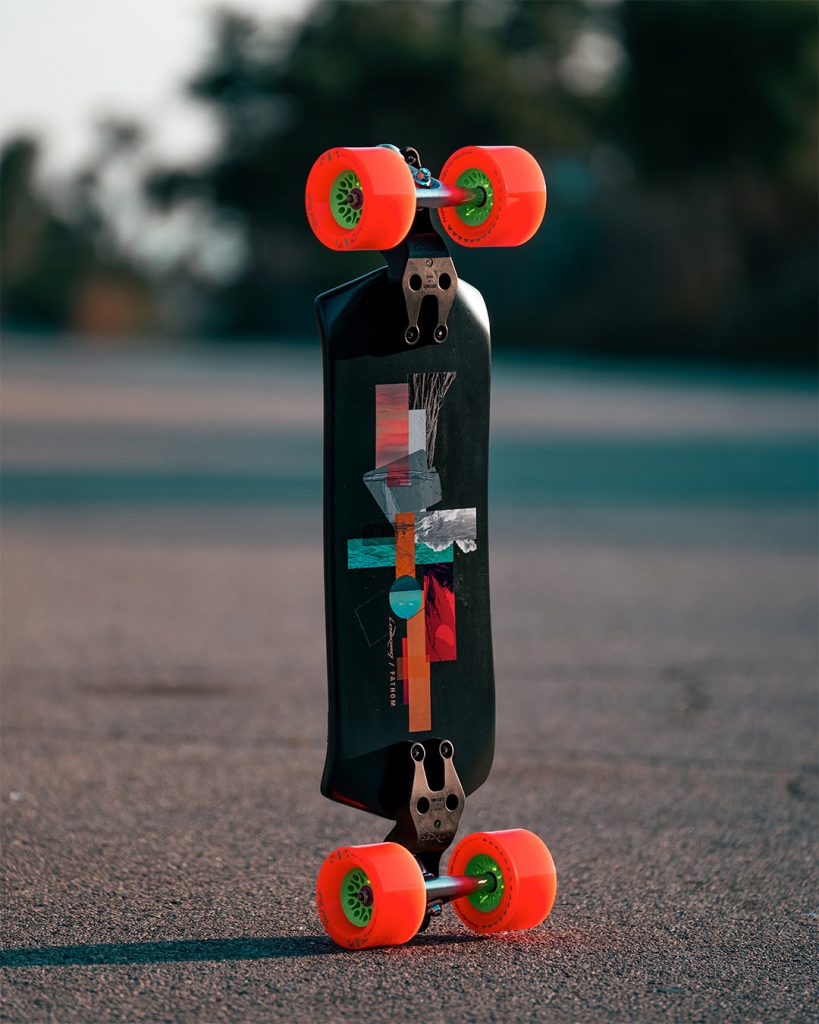 The Zee Bracket system is also available as a standalone package, arriving with two brackets and directions on how to cut out and DIY your own cruising machine. Cut down an old board or heck, cut down an old coffee table and get creative to make your own longboard dreams come true!
Professor Hildenberger is currently in line for an advance screening of Barbie, so our very own Juhyeok Park is filling in to walk you through every small detail that went in to the creation of this brave new board. Tune in to see the Fathom in a whole new light and learn more about how much you will undoubtedly love it.
Downtown Los Angeles is home to some of the most heavily car-centric infrastructure in the country, yet the automobile need not be our default mode of transportation. DTLA denizen and Loaded ambassador Ari Chamasmany is well versed in skating for both pleasure and practicality.
Whether you count on your longboard to carry you the last mile or to push through every mile, the Loaded Fathom ensures that your journey is as fun and effortless as it can be.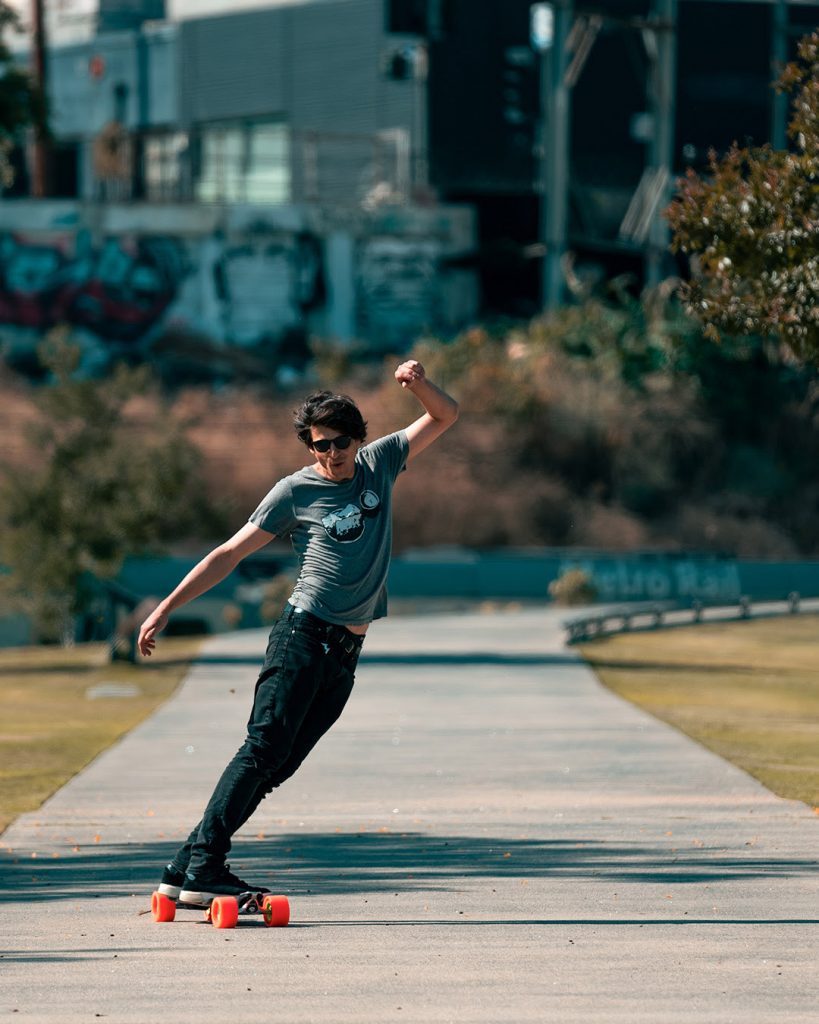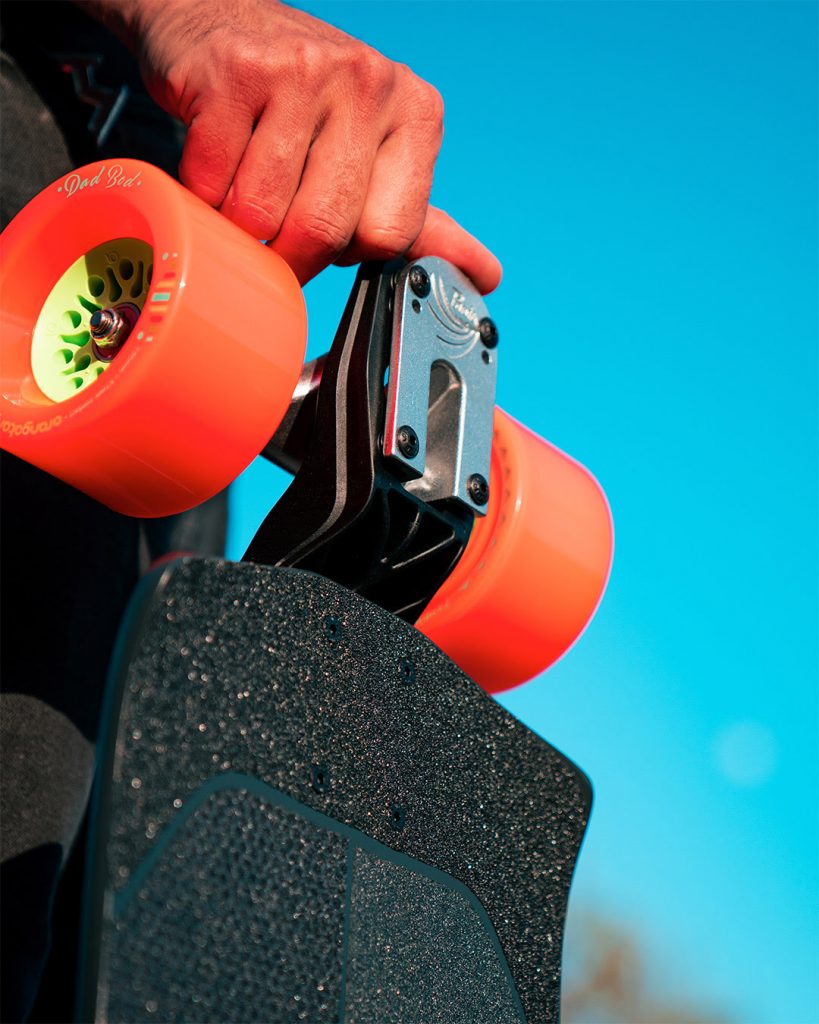 ---
If you haven't found what you're looking for, be sure to check out our full selection in our web store. We've got one of Canada's largest selection of decks and completes ready to ship worldwide.
---
If you have any questions please feel free to shoot us an email at info@flatspotlongboards.com, message us on facebook, or call at 604 899 8937!