Introducing our month long calendar of sales, promotions and stoke!
Winter is here it's time to deal with large gatherings with the family, so what better way to deal with that than getting loaded?! Before you jump to conclusions it's not what you think…or maybe it is. Either way we've come up with a full month long series of sales and promotions for you to add some great products from Flatspot and our favorite brands to your orders! Introducing the Get Loaded with Flatspot month long sales calendar. Amongst the already awesome lineup of our regularly scheduled events; Tuesday Tech Slide Sessions, Learn 2 Stop and Thursday Night Parkades, we've also got some great deals and promotions going down all month long!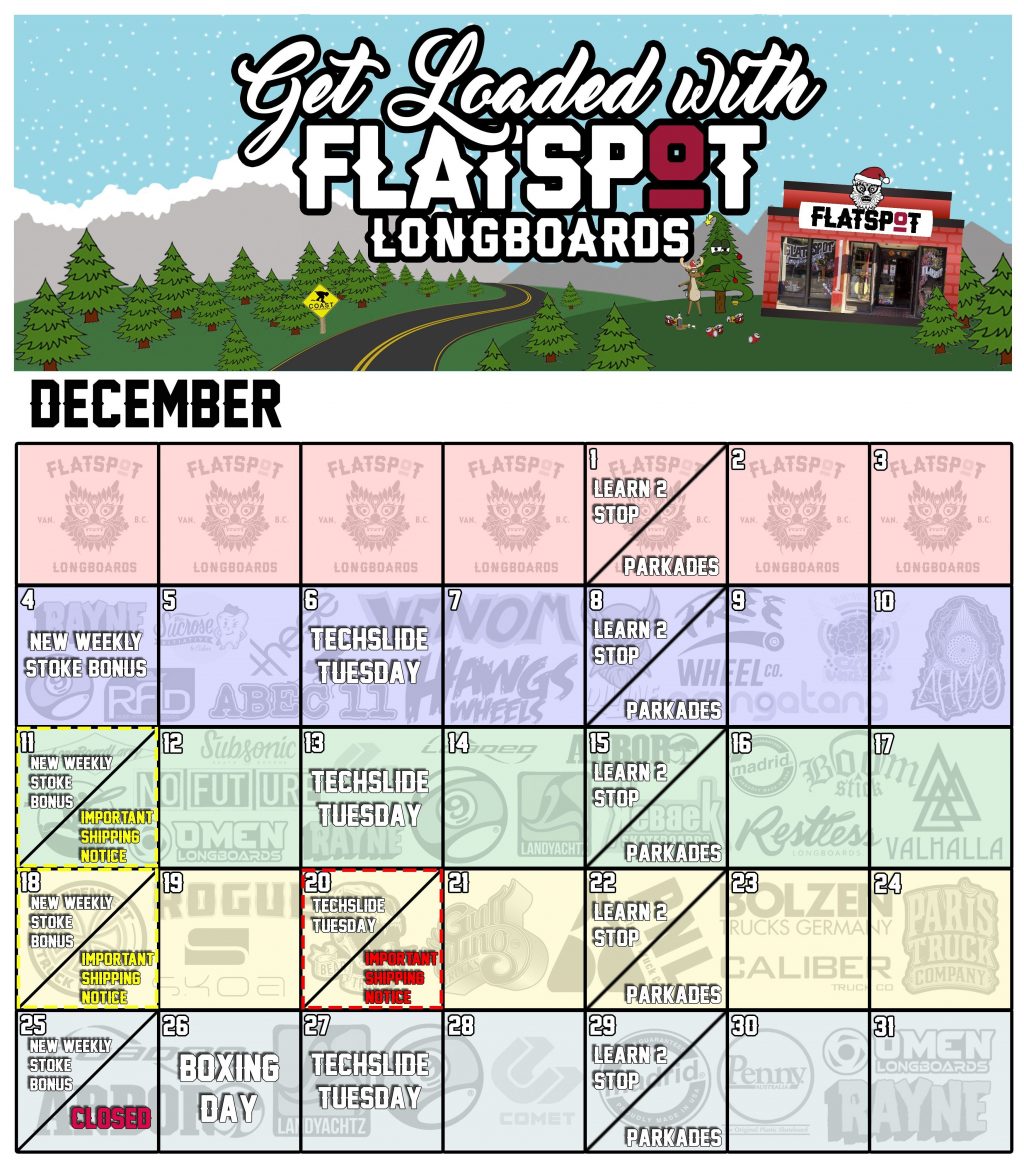 ---
Beginning tomorrow, December 1st well be rolling out weekly "Stoke Bonuses" to all orders and sales. To qualify all you'll have to do is meet that weeks requirements. Whether thats purchasing a certain product, or spending a specific amount, we've created tons of ways to score some free stuff! The weekly Stoke Bonus changes out each Sunday and midnight so you'll have 5 new bonuses all month! If you're looking to even even more stoke to your order we're also offering a daily "Double Double". The daily Double Double will be a featured product of the day and will include a special offer only available that day. These change EVERY day so be sure to check back and see what we have to offer and Get Loaded with Flatspot Longboards.
We'll be making everything live tonight at midnight to show our appreciation to our fans we're going to give you a preview of whats coming in advance.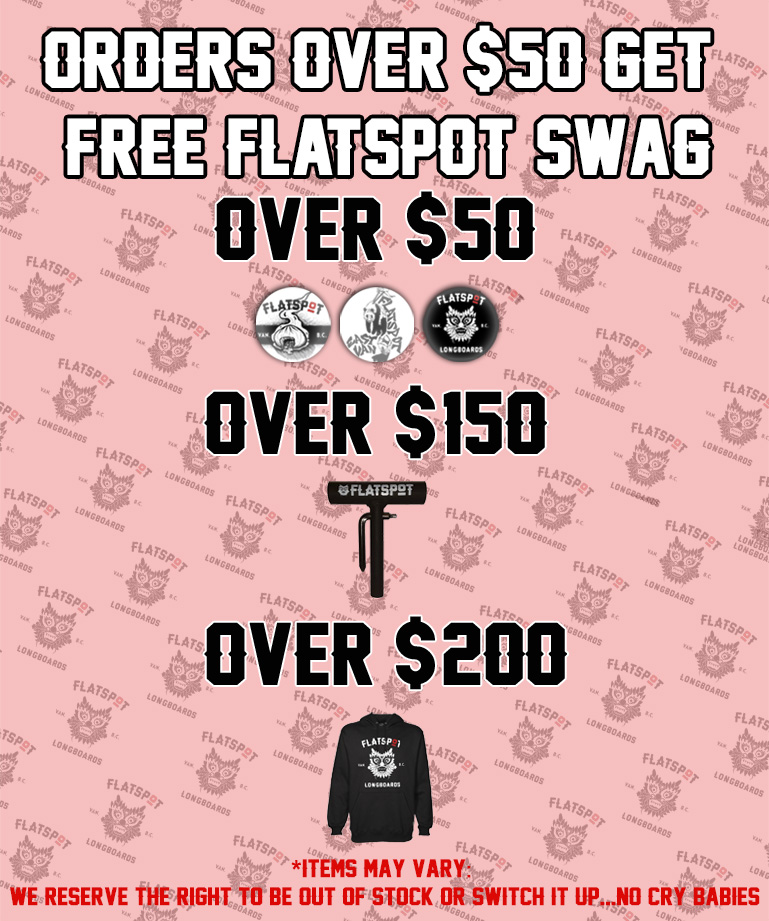 The Week 1 Stoke Bonus (Dec. 1st – 3rd)
All orders over $50 receive a FREE Flatspot Button Pack
All orders over $150 receive a FREE Flatspot Tool
All orders over $200 receive a FREE Flatspot Hoodie
Inventory, sales and promotional items are limited to act fast before they're gone!
We've go a bunch more surprises in store so be sure to stay tuned to our Facebook, Instagram and blog for more details. The best way to stay up to date is by subscribing to our newsletter so you don't miss out. The holidays are here and Flatspot has all the gear you're looking for to stoke out that skateboarding in your life, or even yourself. So Get Loaded with Flatspot this winter and get rad for winter.
---
Be sure to check the full selection products in our store. We've got one of Canada's largest selection of decks, completes, wheels, trucks and accessories ready to ship worldwide.
---
If you have any questions please feel free to shoot us an email at info@flatspotlongboards.com, message us on facebook, or call at 604 899 8937!