This mole is unlike other moles. It has a layer of carbon on the bottom. Sweet, stiff, shiny carbon. Making this particular mole exceptionally good for super fast skids!
First off, Longboard Larry is a small company that is made entirely by a handful of skaters and Larry himself. They were the first people to put kicktails on a drop deck or make a dancing board. So its only fitting that a board with concave as unique as The Mole would come from Cole Kurtz and Larry. You can find a full concave profile breakdown at the bottom of the page. Cole Kurtz has a highly personal style he developed in the desert. It involves huge hands down blunt slides, sometimes as speed checks into corners. As well as a variety of squatters and other funky, fast and sideways skids. If you get a chance to stand on one of these it will become clear Cole designed it around his style and bag of tricks. If you are looking to get creative with your slides, but want to do it with a speed stiff deck than this might just be your beast.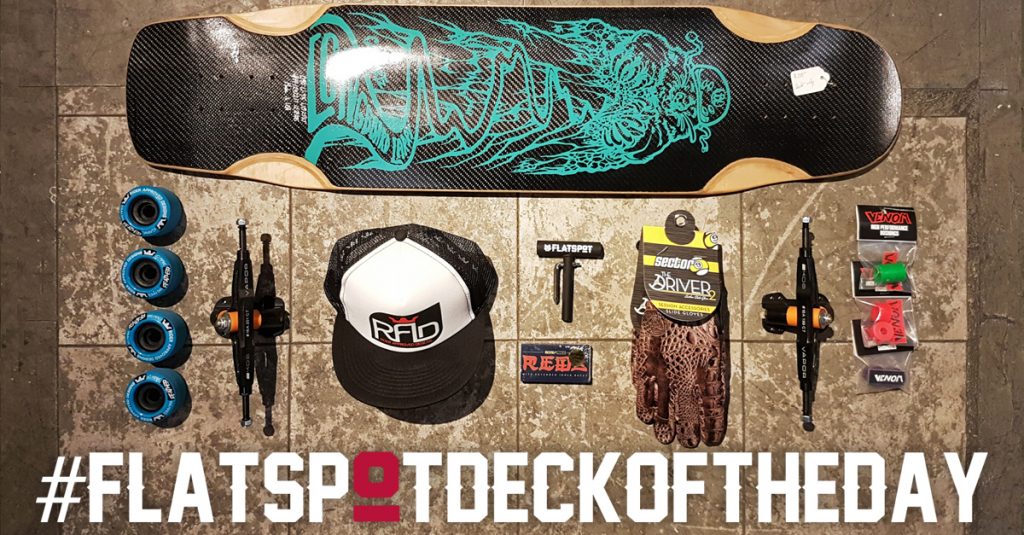 Description and Dimensions from Longboard Larry.
WB 25-27- A handful of wheelbase options to help cater the deck to your liking.
DROP  2/7"  – The gentle drop in this board helps provide stability and comfort, without sacrificing grip.
5/8TH IN. RADIAL CONCAVE  – This is the same classic concave we have been using on the Manatee for years! Simple and sweet.
ROCKER  .25"- A subtle .25" rocker help provide a comfortable locked in feeling at higher speeds.
MOLE MOUND LOCATION FEATURE – The Mole Mound is a location feature for the front foot. As the 2/7" Drop begins to taper off into the concave, a small bump at the center of the board raises up creating an extra point of leverage for the front foot.
MOLE TUNNEL W CONCAVE  – A mellow tunnel of W Concave runs through the middle of the board and subtly dissipates into the 5/8th" Radial Concave before reaching the drops, providing maximum leverage and comfort while tucking and in corners.
ASYMMETRICAL NOSE AND TAIL – Fully functional noses and tails for added versatility.
If you have any questions please feel free to shoot us an email at info@flatspotlongboards.com, message us on facebook, or call at 604 899 8937!

Latest posts by Mischa Farivar
(see all)