The Landyachtz Triple Beam may be the most anticipated downhill board ever released. The final version spent years of testing and designing to create, and its clearly been worth the wait.
The wait is over! The Landyachtz Triple Beam is now available to the public. This board is completely handmade in Vancouver by a handful of skilled individual at landyachtz. At no point was quality sacrificed for cost, so although this board is expensive, you are getting quality to match. The limited quantities of these boards comes down to the fact that they are exceptionally difficult to make. There are many steps involved, many of which require lengthy curing times for the various epoxies used. So don't be upset when they run out, we have been told they are doing their absolute best to make as many as they can, but you can't rush perfection. As soon as we picked this board up, and felt how light it was, it was clear that it was going to be deck of the day. If we had a deck of the month category it would probably be that too.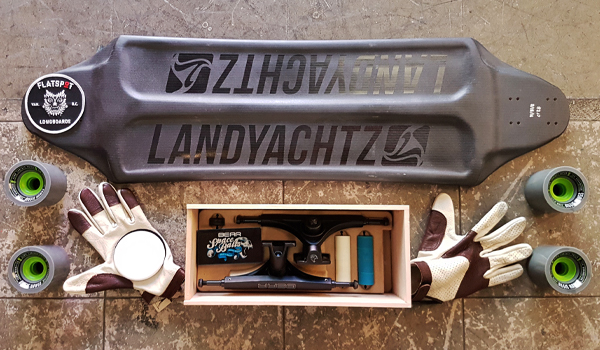 Creating the complete for this board was easy. Just take a look at Prince Dillon Stephens and its a no brainer to put bear kodiaks and biggie hawgs on there. Its the nascar landy special! The biggies with their new core have a very predictable drift with a mean grip. The kodiaks get more turn than most trucks, and take tall bushings to help boast that feature. Spaceballs make life simple by eliminating all those tiny spacers and speed rings, and making them ceramic is a nice quality touch. And if you are gonna hop on one of these bad boys, you'd better be wearing gloves and a helmet, cause your gonna be cookin.
Lets take a moment to appreciate whats on the inside. Many carbon boards are TOO stiff, and send vibrations straight from the road into the riders legs. This is not only unpleasant, but creates strain and will tire out the rider faster. To deal with this the Triple Beam has some incredible design features you will never see. Like the fact that the truck mounts are made of poplar to dampen those vibrations. This is also where the you can see how the urethane bumper is set into the nose of the board.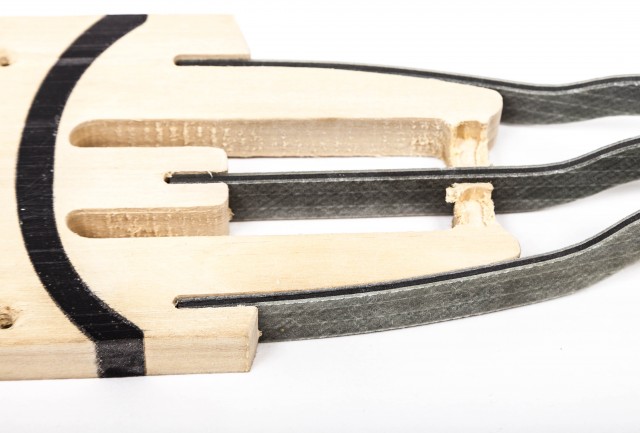 It is from the poplar truck mounts that the frame for the structure of the board is made. This adds strength to where you need it, and provides a structures to hold the foam and wrap the carbon.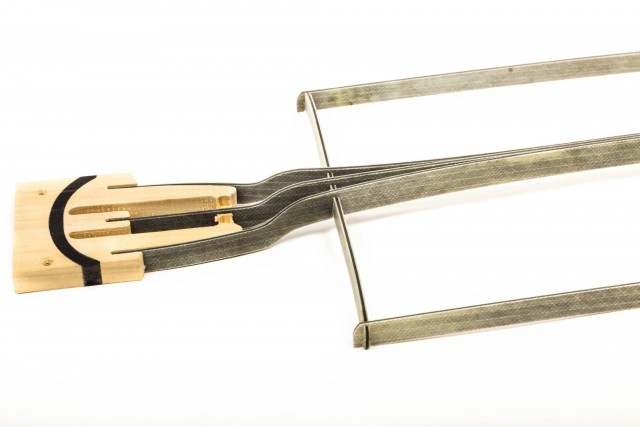 If you haven't already, we suggest you invest a small amount of time getting educated on this board. Even if you don't intend on purchasing one, seeing the design and manufacturing process is fascinating! Landyachtz really outdid themselves with this one!

Latest posts by Mischa Farivar
(see all)