Wolfgang Miller Coleman is a legend. Longboarding watched him go from skate prodigy child to full moon man wolf, and his promodel board has always been highly regarded!
To be honest. We are a little scared for this A.M.A. with Wolfgang Miller Coleman. Wolf is a gnarly human being in every sense of the word, and he holds back for nothing and no one. Expect the extreme truth, nipples, shotgunning, some amazing stories about BC, a very accurate list of all the concave features of the WolfShark, and some SUPER old wolf footy. Either way, this man has been living and breathing downhill for a large portion of his life, and we're excited to see what comes of this!
Tune in for the AMA at Friday 7pm Febuary 24th – We will be giving away all kinds of Landy Gear!
CLICK HERE TO VISIT OUR FACEBOOK PAGE AND FIND THE LIVE FEED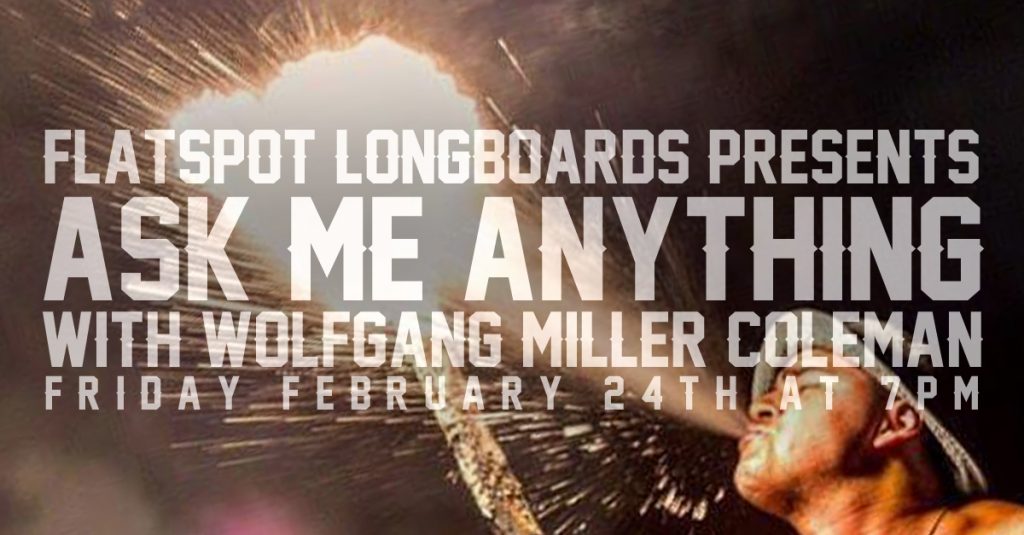 We survived the live stream! Huge thank you to Wolfgang Miller Coleman for answering our questions and yours. As well as some incredible stories about sex, drugs and rock n' roll. We won't spoil it for you, but there are some gems, as well as a guest appearance from Bricin "Striker" Lyons and Flatspot team rider Troy "Yardwaste" Grenier.

Wolfgang Rides for Landyachtz Longboards, Bear Trucks, and Hawgs wheels. Looks like he might even get his custom bike frame in production with Landyachts Bikes as well!
If you have any questions please feel free to shoot us an email at info@flatspotlongboards.com, message us on facebook, or call at 604 899 8937!

Latest posts by Mischa Farivar
(see all)