If you missed the live auction this year, you blew it!! We auctioned off some incredible new gear, good condition demo boards, vintage collector boards, and even precision trucks. Huge thanks to everyone who tuned in, shared the video, and bid on gear!! Thanks for the support <3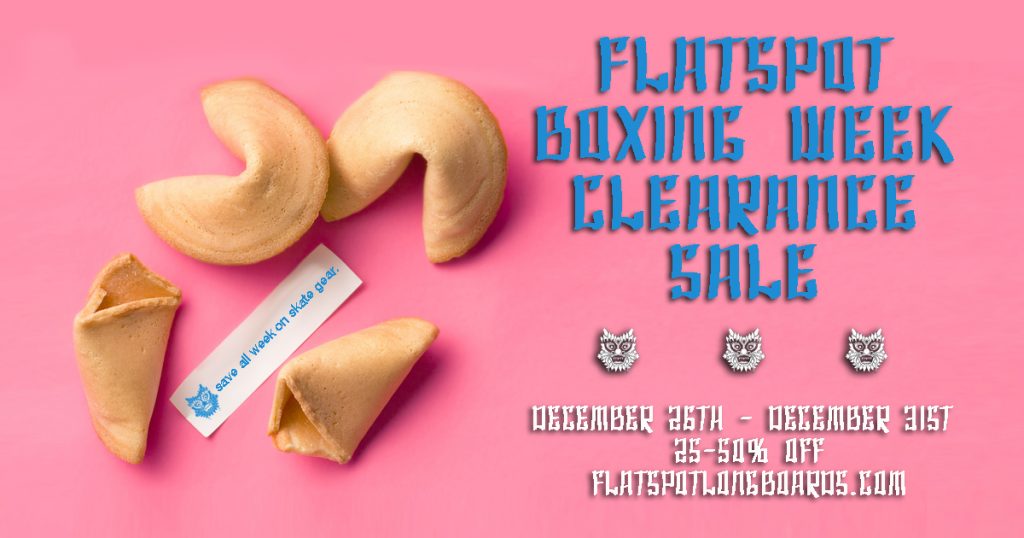 LIVE AUCTION
Missed the auction? Watch all 4 hours of the live feed here on our facebook:
BOXING WEEK SALE
Now enough of that, the auction is over, but the Boxing Week Sale continues!! We've got some steep deals special for boxing week, along with a ton of other clearance priced and discount gear we're looking to move out to make space for 2019.
Check out a few of the options for sale here, then head to the clearance section to see what else is good… there are definitely some great deals on Rayne Booards, Landyachtz completes, Abec 11 wheels, Orangatang wheels, Vicious griptape and more!
You can check out all the clearance items available for sale at Flatspot here!
---
If you haven't found what you're looking for, be sure to check out our full selection in our web store. We've got one of Canada's largest selection of decks and completes ready to ship worldwide.
---
If you have any questions please feel free to shoot us an email at info@flatspotlongboards.com, message us on facebook, or call at 604 899 8937!