Get ready to squint real hard, cause a little bit of eye ball straining might win you a pair of Oranagatang Wheels!
We have another contest all you broke ass skaters! Channel your inner eight year old who could find waldo in every "Where's Waldo" book, because your gonna have to find all the O-Tangs in this hoard of minions! The catch is, all the otangs are yellow 86a thane, hiding in and amidst many many minions who also happen to be poured in the same urethane facility. In fact, Orangatang doesn't want you to know this, but they make their wheels out of DEAD MINIONS! So next time you core some a set of 86a orangatang wheels remember that there is someone at Pixar behind a desk balling their eyes out because you killed one of their beloved creations.
Contest Details – CLOSED
Everyone is eligible for THREE entries for a random draw to win a set of Orangatang Wheels.

Entry 1: Like and share the post/photo on Facebook OR instagram OR twitter.
Entry 2: Post the correct number of 86a Orangatang Wheels on the post/photo.
Entry 3: Find the one item in the crowd that IS NOT an Orangatang OR a minion.

In exactly 15 days (Jan 24th) we will tally up all the entries and pick a winner!
Winner gets to choose which hidden Orangatang wheel set they receive.
Find the contest on instagram HERE
Find the contest on Facebook HERE
WINNER HAS BEEN ANNOUNCED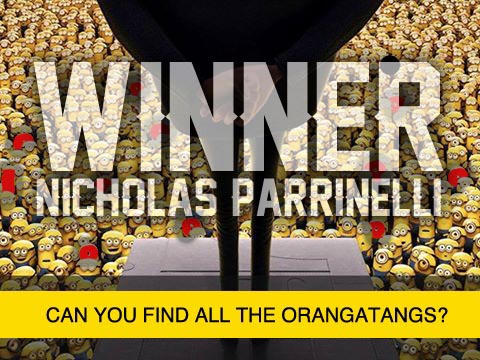 d
If your like us and just can't handle the uncertainty of a draw, or just want a set of wheels, we also have all a full selection of orangatang wheels available online!
If you have any questions please feel free to shoot us an email at info@flatspotlongboards.com, message us on facebook, or call at 604 899 8937!