The version of the Shadow 37 have been floating around the west coast all summer. Couldn't be more hyped on the final version!
Hi there! I (mischa) have been skating this board for the past few months. I had been rocking the proto-type during the summer and got my hands on a production model in the early fall. The production Shadow 37 is my go to, do absolutely all the things board now. Its long enough for downhill, stiff enough for freeride, but poppy and light enough to me to enjoy dicking around at the top of garages pretending I'm going down them but really just lurking and avoiding whatever work I have to do at back at the shop. There is a micro drop in the back, but NOT one in the front, which is utterly ideal, as a micro drop in the front predetermines your pockets and subsequently where you are going to be putting your trucks. Which is dumb if you are going to have multiple mounting options. Which is highly preferable, as if a board does not have lots of drill options some grom somewhere is gonna shoot more holes in that poor bastard than a masochist at a piercing convention. Plus it also allows for much more free movement of the front foot, which I prefer for a mixed used board (as opposed to strictly DH, which is something that winter recently took away from me, because it hates me). So basically the board has to be the way that it is, because otherwise it wouldn't be perfect, or at least near perfect, which is by far the nicest thing I have ever said about a skateboard. So don't quote me on that.
As for construction. It looks like its just maple from the outside, but its actually got sneaky little fibreglass layers between the veneers. Despite being ridden 90% in the soaking wetness, I've found this board to remain snappy and stiff. Which is a refreshing change from some more shameful aspects of my life. Maple is likely my favorite plant based fibre. Its very dense, and I like that. But its not good enough on its own. Just like how I view myself. So I'm totally jealous that this board has fibre glass to deal with its problems. Which it deals with quite efficiently I might add.
The concave is also SIGNIFICANTLY improved from the previous version. Its not a full tub concave, it looks almost like new mexico ditch with a flat portion in the middle with two flat banks on either side. I have size 11 feet and a nasty habit of monkey toeing, and am super happy with this concave. So if you are some size 16 clown footed dude, I'm sure it wont matter and you will still totally dig this concave. In fact, the concave is so good I left the stock griptape on, when I would normally immediately rip it off and slap on Mob Coarse. Haven't had ANY foot slippage issues. So thats nice.
Anyway, I hope you made it this far in the review. That means you don't totally hate it. Thats pretty neat eh? Someone might have liked this article! Gosh, if your still reading you should just start looking at the nifty pictures. Signing off – Mischa.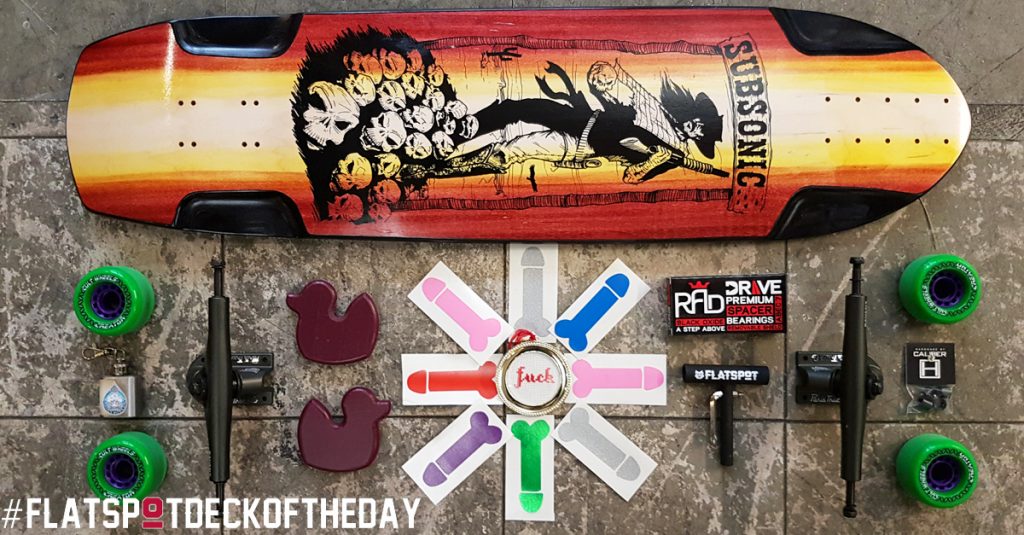 Latest posts by Mischa Farivar
(see all)