Maybe Techslide Tuesday isn't that much of a secret, but for those of us that fiend for some regular downhill skateboard skids, this weekly Vancouver session is the place to be.
Techslide can be as casual or challenging as you want it to be. There are no entry fees, you never miss a shuttle back to the top or a run down, and there is certainly no one to compete with. You set your own goals and skate at your own pace, doing your own thing. I think it takes a special kind of person to appreciate the repetitiveness of dropping in, possibly blowing it, maybe slamming, walking back up and trying it over and over again. Working at the same trick can mean hours of rinse & repeat until you get it, and then even more to perfect it. But the reward and stoke of unlocking those achievements is really incomparable.
I also think Techslide is the closest to thing to a street skate session that downhill has to offer. There is a general space everyone is skating in, which can be viewed by much of the group, and everyone is generally 'taking turns' and stoking each other out. You can be present and lurking or be present and skating, all at the same time. Freeride runs are spread over a greater distance, you usually drop in as a group vs. one-at-a-time, and so really you're skating with each other, not really observing each other so much. The result is a more shared experience of doing it together, stoked with each other; versus watching each other do it and being stoked for each other. Does that make sense? Freeride runs – we did it! Techslide runs – you (I) did it! These are different kinds of actions and feedback mechanisms.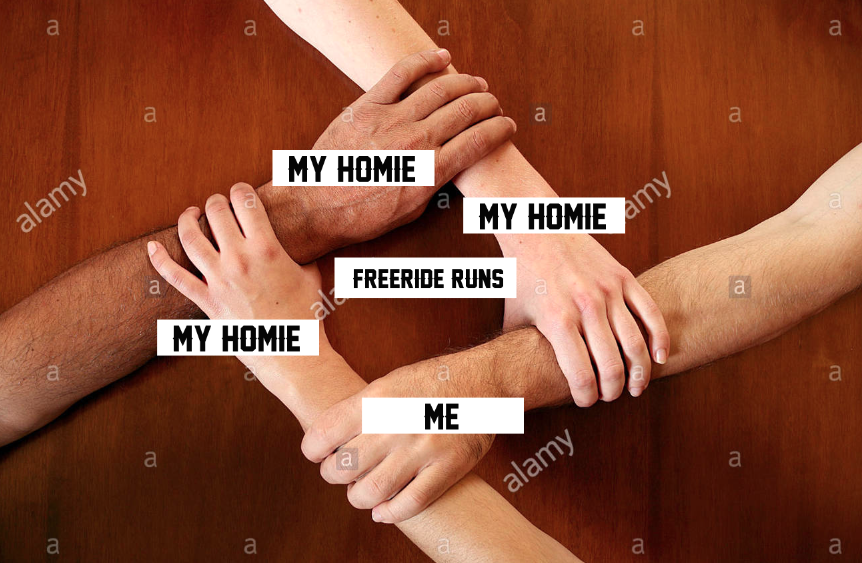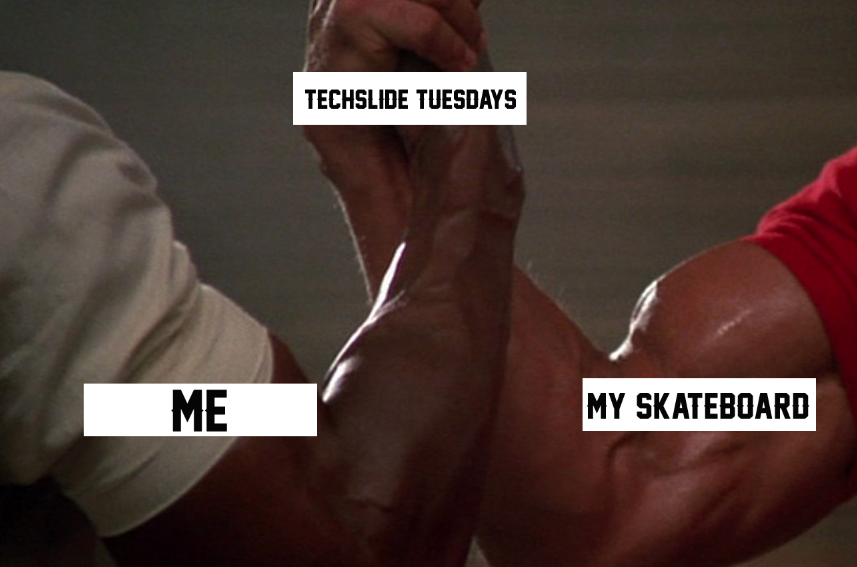 This is not to say one is better or worse than the other, just that they're different. Freeride runs are always fun, but they are also not always readily available. We're blessed here in Vancouver to have some premium runs nearby and there is definitely a time and place for them. Heading out freeriding takes more time and effort to skate and be fulfilled. Maybe you have a car, or there's a bus route on the run, but what if you have to hike all your freeride runs. Longer runs also require more spotters and/or more risk, at least with regard to traffic. Techslide uses a lot less space to have a session. For the same one hour of skating, you might only get a couple or few freeride runs in, but you can probably get in ten times that many techsliding. What that means is, longer runs also don't really provide ample space and place to work on honing a particular slide or trick either. There are simply longer gaps in the feedback loop between trying something and then trying it again, so it can be harder to focus on, and build, skill around a particular manoeuvre in a shorter period of time. The goal is to do the whole run vs. work on the specific skill to make future run faster, safer, more challenging.
Techslide sessions also give you a space and place to get 'techy'. Not just about the style of skating and tricks, but about your own skills, style and even gear. Being able to take just a chunk of road, drop in, skate, walk back up, and do it all over again repeatedly allows you to try anything and get direct feedback without wasting a whole top-to-bottom freeride run. It doesn't really matter if you're riding hard or soft wheels either. While 'techslide' itself is typically a hard wheel thing, these tuesday session are open to all types of wheels as long as you're down to have some fun. Hard wheels on smaller runs will help you build core muscles and skills useful for soft wheel slides on bigger runs too. Want to figure out how to hold out standup slides? Hard wheels mean you can huck standies at lower speeds and in smaller spaces, while learning to mange the release, slide and hook up with much less resistance than soft wheels. So if the spot isn't that steep or long, throwing on some hard (or even just a harder durometer) wheels will make small potatoes feel like a big cheese.
Anyways. Enough of this verbal diarrhoea. Whether you are a complete noob or think you're a pro, techslide on a tuesday is a great place to meet people, have some fun, and slide your skateboarding skills around any way you want.
Check out a few photos of some of the fun from one of the Techslide Tuesday Sessions in August here and be sure to make some time to come join us! Discussion, directions (map) and additional details can easily be found on the facebook event page here: https://www.facebook.com/pg/FlatspotLongboardShop/events/
That's all for now. Doesn't matter how you skate, just that you go skate. Hit up the event page here and come join us for a session!