The Vancouver Parks Board and Vancouver Skateboard Coalition have come together to build a Skateboard Amenities Strategy in Vancouver and help shape the future of what wheelie boarding might look like in the city for the next 10 years.
Currently in Phase 2, with a new survey open until November 8th, 2021 (more below), the City is hosting sessions, pop-ups, panels, and questionnaires to get skaters out of the woodworks and involved in the future of their City. The past months have seen some great events and good feedback, but we need more!!

Uytae Lee explores the relationship between skateboarders and the city of Vancouver since the early 1960's. Join Uytae as they trace Vancouver's often-rocky relationship with skateboarding and its contrasting position hosting successful professional and amateur contests, alongside a growing and diverse user group.

This video profiles the benefits of skateboarding, its rich history, and importance in animating public spaces, while digging into the current efforts to plan for future skate amenities.
From the City:
We want your help with developing our citywide Skateboard Amenities Strategy called CitySkate. Your feedback will help shape a long range plan for improving the skateboard facilities within our park system in addition to finding opportunities for skateboarding (and other small wheeled sports) in public spaces within the city.
The Skateboard Amenities Strategy is guided by VanPlay, Vancouver's Parks and Recreation Services Master Plan, which represents a strong commitment to equitable delivery of excellent parks and recreation opportunities, including improving access to and availability of skateboard amenities.
We want to hear from everyone, from those who are on their boards daily to those who have never been on one. When skate amenities are planned and designed with strong community input, they not only become beloved destinations for local youth but celebrated public spaces for everyone to enjoy.
Over the course of the project, we will complete two main phases of public engagement and we look forward to getting your input on this second phase. Phase 1 was completed in June and results can be found in the documents tab. The Phase 2 survey will be available October 12 – November 8, 2021. (Link) Results from this next survey will also be available here in December 2021. We intend to share the final recommendations in March 2022.
PHASE 2 SURVEY
We are developing a Skateboard Amenity Strategy and want your input.
This strategy will include guidelines about developing skate amenities and how to support riders. It will help guide Park Board and City of Vancouver in planning for new skateboard and small wheeled sport amenities over the short and long term.
A skateboard amenity is a feature, obstacle or space that is used by a skateboarder (including skateparks) and open to a variety of other users. Skateboard amenities can vary in size and scale ranging from a single skateable element like a ledge, box or bank, to several elements clustered together, to large scale destination skate parks.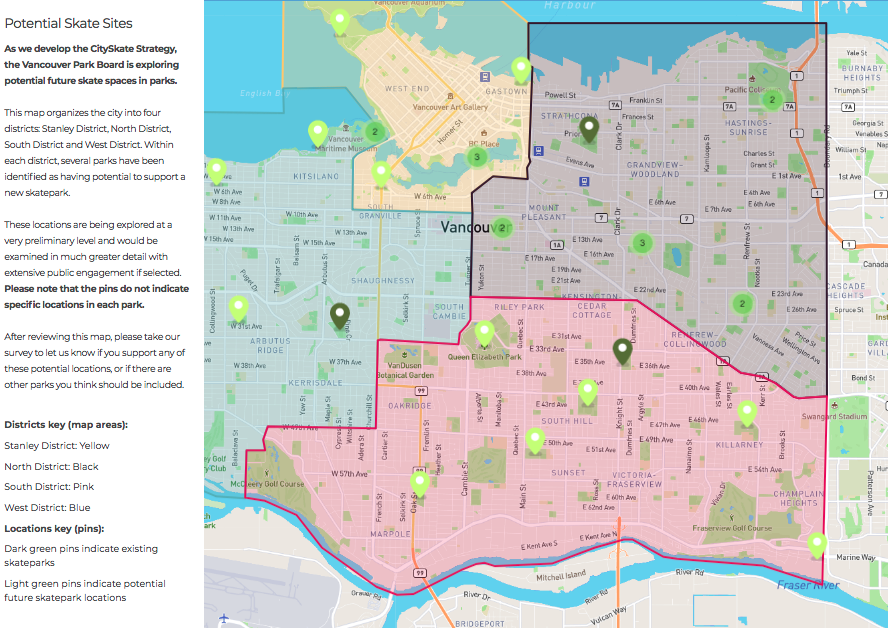 This Phase 2 Survey builds on the first round of engagement we completed in June where we heard about people's visions and ideas for skate amenities in the city. This survey will help us understand your priorities when it comes to skateboarding and asks for your input on potential locations for new skate parks. We recommend having a look at the map of potential skate sites before beginning this survey.
Okay, that's it, that's all for now. We can't do this without you. It is now up to you….