That's right!!! The highly anticipated – 3 year?! – wait is now over!!! Aera Trucks, Kevin Reimer and Powell-Peralta have finally released their Forged precision truck to all of us drooling over their team 'prototyping' them for years now. Check out the details from Aera Trucks and K-Rimes and get yourself a set of the newest in downhill, freeride and carve technology for all the downhill skateboarding, longboarding, speedboarding, longboard dancing and everything else you want to do.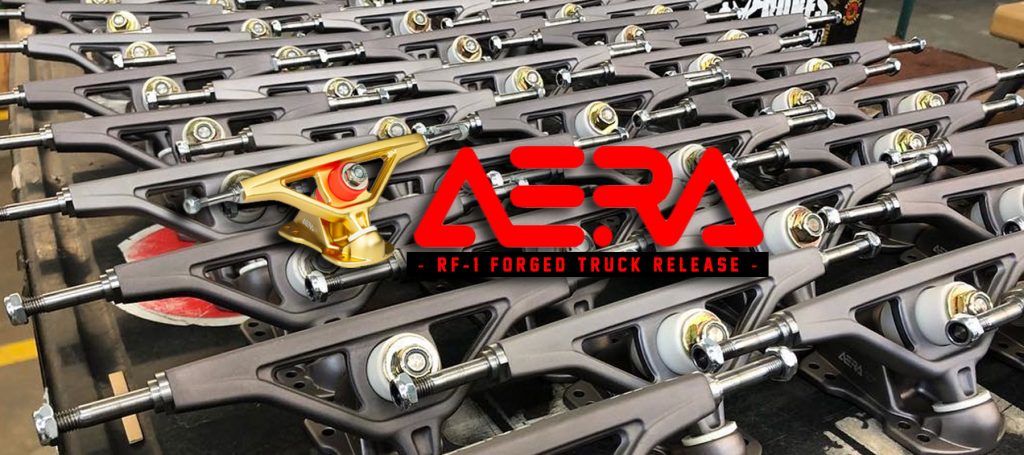 Check out the details on the trucks below and decide what's right for you out of one of the three configurations, DH, Freeride and Carve. Then pick your color, gray or gold. We're selling these forged trucks as sets, pairs, 2 trucks of the same setup and color and not as individual trucks right now. If you really want a split order, we can make it happen, but you need to contact us directly at info@flatspotlongboards.com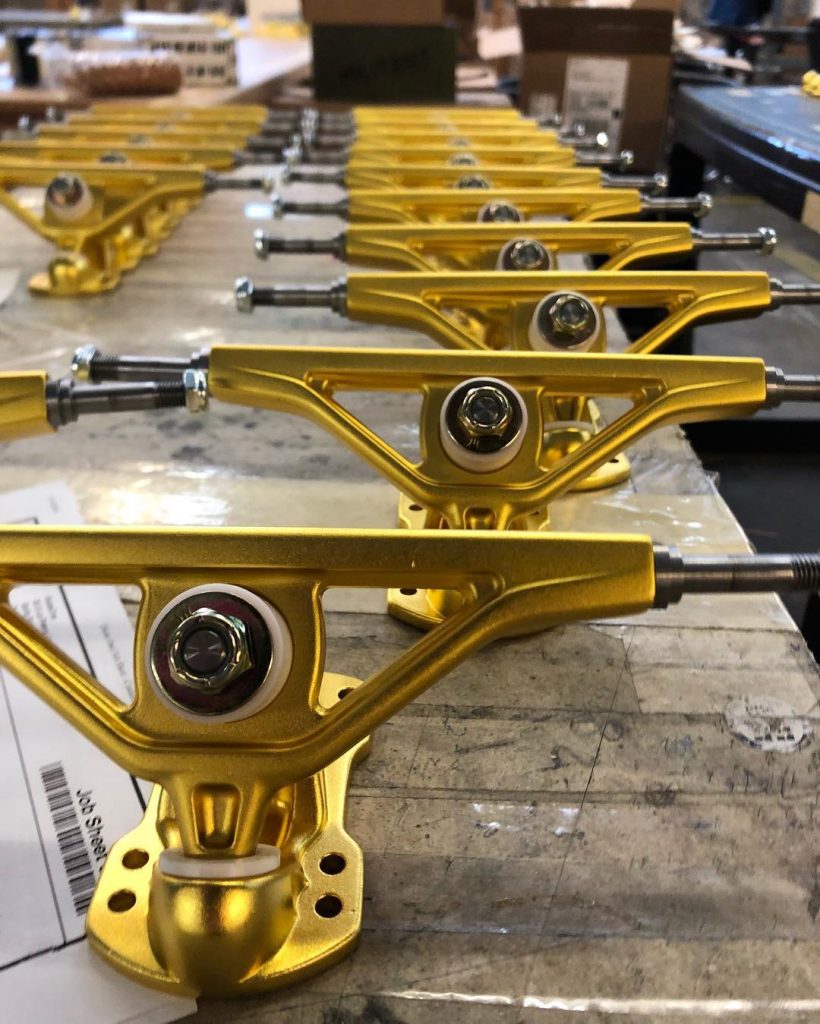 Here's what Aera has to say:
The Aera RF-1 is a cold forged, machined axle and kingpin, ultra high-end production truck. It comes stocked with Hardcore Bushings, and is sold fully assembled. This truck is stronger than machined or CNC varieties with nearly the same level of precision so there are many advantages.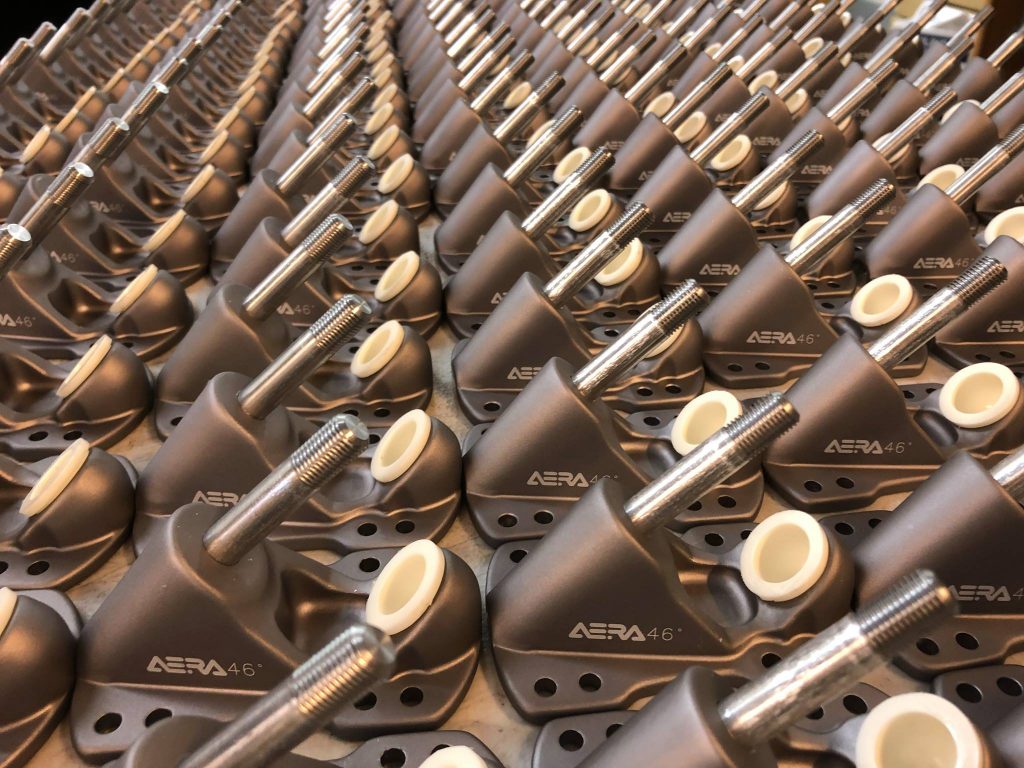 The unique pivot and pivot cup allows the truck to steer deeper while also being more stable. Cold forging is the process of stamping a hardened aluminum material with 30,000lb of pressure – this nets a very precise part, and also one that is stronger since the material flows into its final shape.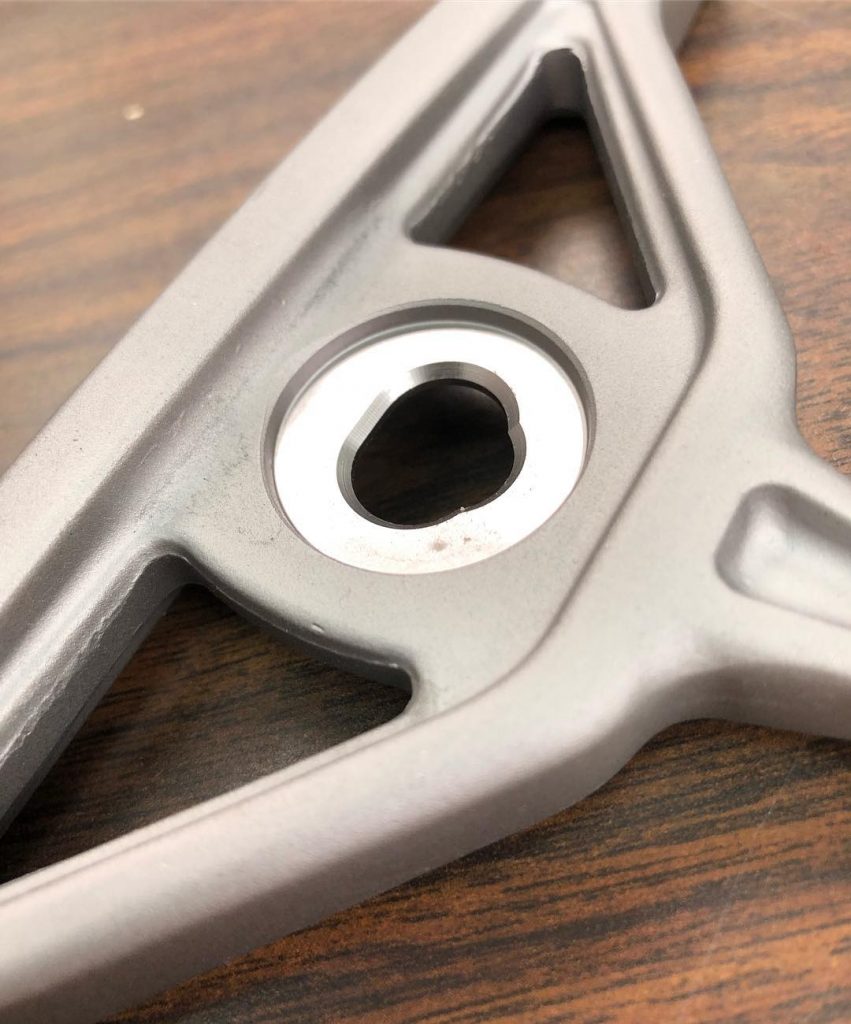 There are three models, in two colors:
DH (Downhill)
– 46˚ bases – 176mm width – 93a Bushings: This set-up is ready to go for riding downhill at high speeds. It is sold with our hardest Hardcore bushings, and is ready to go 60mph+ or freeride the streets for heavier riders.
AERA TRUCKS – RF-1 DH – 176MM 46 DEG
Brand: Aera Trucks
Truck Model: RF-1
Truck Width: 176mm
Baseplate Angle: 46 degrees
Color: Gol, Grey
Bushings: 93a Hardcore
FR (Freeride)
– 46˚ bases – 180mm width – 90a Bushings: This is the all-arounder in the lineup, and can be used for intermediate downhill, and high level freeride. It's perfect for the majority of riders.
Brand: Aera Trucks
Truck Model: RF-1
Truck Width: 180mm
Baseplate Angle: 46 degrees
Color: Grey
Bushings: 90a Hardcore
Carve (Dance or Commute)
– 50˚ bases – 180mm width – 88a Bushings: This is the truck that most riders should start with, and it can be used for ALL varieties of longboards. It is especially set-up to be easy to carve, steer around town and over city obstacles, or do some lightweight freeride or downhill. The higher angle 50˚ baseplate is very versatile.
Brand: Aera Trucks
Truck Model: RF-1
Truck Width: 180mm
Baseplate Angle: 50 degrees
Color: Grey
Bushings: 88a Hardcore
Other fresh Powell-Peralta DH Products In Stock:
Don't forget to check out the new Powell-Peralta DH Hardcore Grip that was recently released!
This griptape is perfect for 80s skaters who want the "Pizza Tape" look and function, those who shred super gnarly bowls and need more grip for the pool coping, or for downhill and freeride skaters who want the ultimate in traction while skating downhill on sticky wheels.
High traction – This is a 32 grit coarse griptape, and will keep your feet locked on the deck while doing pretty much anything gnarly. It is not just for Downhill, and can definitely create a look like older coarser tapes used to have.
Features
Hardcore Griptape is soft and supple and easily moulds to complex concaves.
Specifications
3 sheets of 11″ x 11" extra coarse griptape
One of our shop favorite riders, Byron Essert, has some delectable pro model wheels out in SSF Pro.
Features
Larger 72mm diameter for more durability and grip
SSF PRO – 30% more grip than SSF
Pre-Ground surface for no break in time
Narrow contact patch at first for smooth slides
More volume / width than Snakes for more grip as the wheel wears
2mm offset with new H5 core, still flippable for even wear
Specifications
Diameter: 72mm
Hardness: 75a
Formula: Soft Slide Formula (SSF)
Core: Centre (2mm offset)
Skin: Stone Ground
---
If you haven't found what you're looking for, be sure to check out our full selection in our web store. We've got one of Canada's largest selection of decks and completes ready to ship worldwide.
---
If you have any questions please feel free to shoot us an email at info@flatspotlongboards.com, message us on facebook, or call at 604 899 8937!