We were not planning a big Black Friday or Cyber Monday Sale. We had been adding some great deals to our clearance section of our website and planned to drop a few rad eggs over the weekend, but here we are… we're offering 25% off ALL Landyachtz for the whole weekend. Be sure to use code 25LANDYACHTZ at check out. Read more to find out…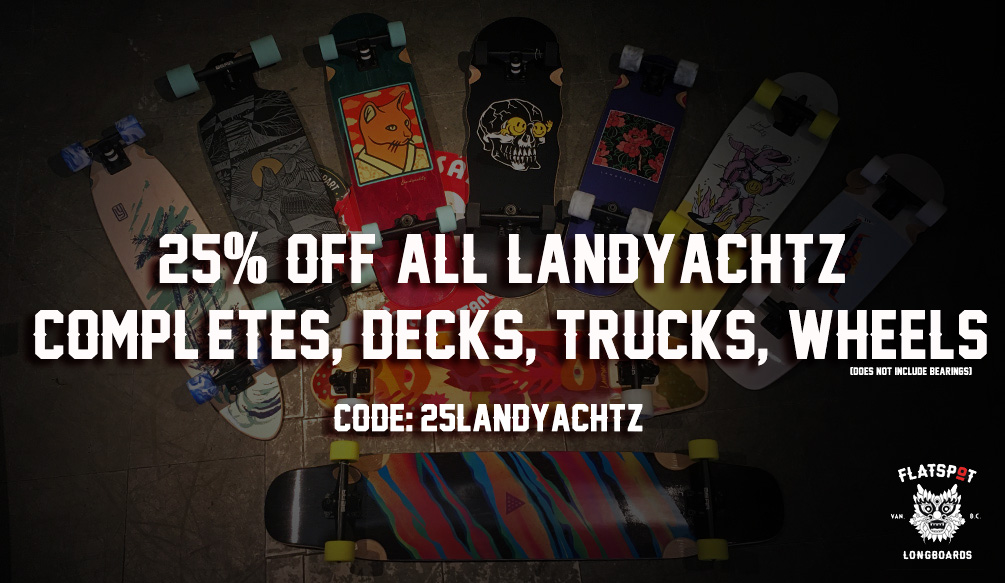 We're not big on sales, but that doesn't mean we're not big on deals. Sales are a capitalist tool to liquidate the items you have too much off, or to clear our before new things come in. Skateboards and longboards aren't really going out of style. And we don't sell Winter gear. So we're not big on just 'liquidating'. What was released in 2020, is often still for sale here in 2021 and the same will be true for 2022. I promise you, a Dinghy will still be a Dinghy. Again, when we want to move it out, we just add it to the clearance section here.

That said, we have enjoyed doing a year end Boxing Week sale and specifically the Boxing Day Live Auction – we took a break in 2020 for a variety of reasons, but are planning to bring it back here in 2021. The auctions were super fun! They offered skaters a fun night and prices well below what we would offer in a "sale". If you've never seen, or bid in one, tune in Dec 26th this year for a shit show.
All Landyachtz completes, decks, bear trucks, and hawgs wheels are on sale now for 25% off!! Use code 25LANDYACHTZ at check out.
So what's this sale now then? Isn't this a sale? It is! While we like to do things our own way, we cannot deny that we are also pushed and pulled by the "invisible hand" of the market and economy… except in this case the "invisible hand" is very visible, it's a Landyachtz Corporate sale. Landyachtz decided to offer 20% off to customers for Black Friday – we are a Landyachtz customer!! How else did we buy Landyachtz to sell to you. For fucks sake! (or is that for fuck sakes?)

Well we can't be beat!!!! Even by corporate overlords who can literally go swimming in money. We don't want to swim, we want to skate! And frankly there is not enough room to skate in the shop over winter with all this Landyachtz here sitting around in the way. If Landyachtz wants to sell it all off so cheaply, so badly, we better do it too!!! (Maybe it will all explode if we don't!?)
Our loss is both our gain!!! We'll have more room to skateboard, and you will have more room in your wallet!
All Landyachtz completes, decks, Bear trucks, and Hawgs wheels are on sale now for 25% off, and will remain on sale until Monday (Cyber Monday) is over at 12midnight. ** This excludes Bearings, sorry. Use code 25LANDYACHTZ at check out.

Not seeing what you're looking for or having trouble with check out, just connect with us by DM, Email, Phone, etc. Just want a discount and don't want anything Landyachtz, cool, use code: BLACKEDOUT2021. Everything on the website is on sale, get all the details here.

---
If you haven't found what you're looking for, be sure to check out our full selection in our web store. We've got one of Canada's largest selection of decks and completes ready to ship worldwide.
---
If you have any questions please feel free to shoot us an email at info@flatspotlongboards.com, message us on facebook, or call at 604 899 8937!