Who can believe it's been another year!!!! Time has both dragged and speed by at the same time and our mind is blown both by how soon the 2021 has arrived and at how amazing it is!!!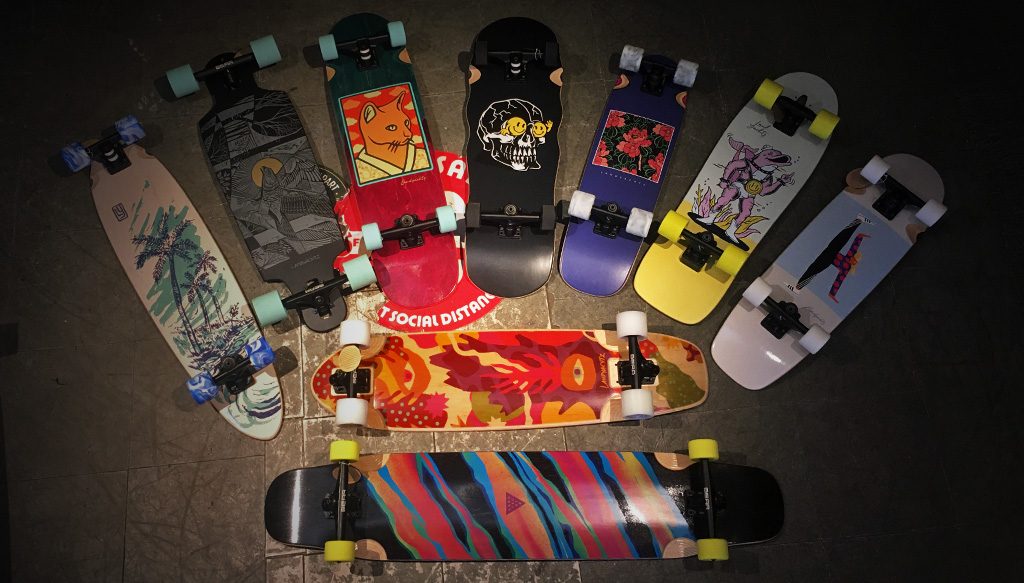 Have you watched the Landyachtz Official release video yet? Alex Hannigan crushed the MC role and gave us all the good, good on the new, new cruisers, longboards, skateboards (ATVs), dancers and downhill decks for the season.Like most years, there are a few comeback classics, a couple updates and new art, and then a few all new gems. Watch the video, and scroll down for some of our choice picks.
As Alex said, fro 2021 Landyachtz has broken up their product into key groups – cruisers, longboards, ATVs (skateboards), dancers and downhill / freeride. While we would love to go into each of these models in depth, we've kept to a few highlights and key picks we're stoked on.
CRUISER
The Landyachtz line is well known for the staple cruiser and an all time favorite, the Dinghy. This simple, timeless, cruiser has developed a whole wack of personalities these days and comes in classic, chartreuse, fender, coffin and blunt shapes, just to name a few. One iteration we particularly enjoy is the Turbo variety (this year with gold Birds) with Plow King wheels and a carbon reinforced layer. This year however, the Fender version has taken the lead, for us, especially with the new Dumptruck graphic. * Dumptruck was the old Landyachtz shop cat and she's wearing a Loose Tooth (local punk band) shirt. Super sick.
SPECS
Length: 28.5″
Width: 8″
Wheelbase: 14.6″
7 ply Maple construction
Bear Polar 105mm cast Standard trucks
Hawgs 72mm 78a Plow King wheels
ATV
The Landy ATV series has been developing over the past few years after a long run Loco series got put to rest. The ATV series are more traditional skate shapes, for all kinds of ramp, bowl, park and all terrain urban skating. While these are setup with soft wheels and make for epic skate everything (all terrain vehicles), you'll find their familiar nose and tail geometry easy to use for ollies, kickflips, rails, ledges, coping and anything else you want to throw it at. New this year and catching our attention is the wildly shaped Stone God Smiles. We're suckers for fun shapes with functional molds and especially when theyre wide. This should make for a fun time at the slappy curbs. You should also check out the Slim Jim with its trim cigar shape and of course the Ditch Life old school shape is back.
SPECS
Length: 32.5″
Width: 10″
Wheelbase: 15″
7 ply Maple construction
Bear Polar 155mm cast Standard trucks
Hawgs 60mm 78a Chubby, or EZ depending
LONGBOARD
What the heck is a longboard anyways? And how is it used. Well if you ask Landyachtz LONGBOARDS they'll gear you up with something fun, often with a mild flex, soft wheels, and all kinds of features like drop through and rocker to make for a wide range of styles and shapes to get anyone from the complete beginner to experienced city ripper around town with ease. Staples in the line up like the drop hammer, battle axe, ripper, chief and pinner are back and ready to get you rolling and smiling. We are particularly fond of the new Battle Axe paper tiger as it makes for a super simple entry setup, or exceptionally fun shredder.
SPECS
Length: 38.2″
Width: 9.4″
Wheelbase: 27.2″
8 ply Maple construction
Drop Through Mounting
Bear Grizzly Gen 6 180mm 50degree reverse cast trucks
Hawgs 70s, 70mm 78a wheels
SURF SKATE
Surf Skates are a new category for Landyachtz last year and brough an entirely new truck to their Bear game, the Banger. The Banger truck is the key to the surf system, giving you the geometry you need to dig deep, dive, pump, carve and pump these setups around like you are mashing waves. Take any line. Heck, pump uphill. The Surf Life series is ready to help you explore all that is possible with your motion on the concrete ocean. This year we have an all new shape with the Surf Life Flippy and we're stoked on it.
SPECS
Length: 31.6″
Width: 9.5″
Wheelbase: 15.7 – 17.8″
7 ply Maple construction
Foam top griptape
Bear Banger 130 Reverse front, Polar 130mm standard rear cast trucks *custom for surf skates
Hawgs 65s, 65mm 78a sharp lip *custom for surf skates.
DANCER
There is no question the longboard dancing genre has blown up over the past 5 years. Longboard dancing throws back to old school skate freestyle but takes what was a small board and blows it out to 40+ inches and creates a central platform are to move and shake like a dance floor. Cross steps, Pirouettes, Peter Pans, Tiger Claws and a million more can be cooked up and served up caliente like the salsa or merengue you can imagine. We're partial to this new Turno Spectrum graphic and cant say enough about the Hollowtech construction Stratus built here in Kimberly, BC.
SPECS
Length: 45.5″
Width: 9.25″
Wheelbase: 27.5″ – 29.5″
Hollowtech 7 ply Maple and 2 ply Fibreglass *Made in Canada in Kimberly BC
Bear Grizzly Gen 6 180mm 50degree reverse cast trucks
Hawgs Fatty 63mm 78a wheels
DOWNHILL
We were extremely stoked on last years release of the pro-line of downhill decks. The Small Blind (Dexter Manning), Obsidian (Kyle Martin) and El Peligro (Dane Hanna) are all all champion quality DH decks but they really do be having a smaller, race oriented package to them and not one kicktail in the bunch. You wont find one on the mainstay Evo's or Switchblade's either which are both still in the line (as they should be). What we're most excited about this season is the Reef Freedive thanks to Matt Noseworthy and Clayton Arthurs. Lets check it out quick…
SPECS
Length: 36.8″
Width: 9.6″
Wheelbase: 23″-23.5″
Bear Grizzly Gen 6 155mm 40degree reverse cast trucks
Hawgs Yate Dawgs or Supreme 70mm 78a Dh wheels
7 ply Maple and 2 ply Fibreglass *Made in Canada in Kimberly BC
The Reef Freedive is a maple and fibreglass directional top mount with a kicktail. It's a modest size without being either anemic or bloated for the average rider. This deck comes with great index points for your feet with a micro drop, and flares to help you feel comfortable without having to check your stance. While we're not the biggest fans of flush mounting ourselves, flush mounts are on this and can be deleted with the quick addition of a riser pad if you want.
One final note is that this deck is primarily set up as a complete. For more experienced riders looking to pick up the deck, we would actually encourage you to consider the complete for a minute. What gear are you riding now?! PLEASE DON'T just throw your existing 180mm trucks, or even 165mm trucks on this deck. Oh you have (or maybe rather want) sweet precisions and know exactly how you want to set this up? Also cool, but…. have you through of our lord and saviour the inexpensive cast truck? Bear (ha ha) with me for a minute and consider the truck that has been developed in conjunction with the deck. We don't want to tell you how to live your life, but the skaters-skater we know and love don't need no precision trucks to have fun. The Reef Freedive comes with 155mm 40 degree Bear cast that are actually rather awesome. Even if you have a mint set of precision Rojas or Valkyrie you are itching to throw on this deck, the 155mm 40degree cast are a great second set up trucks for a parkade/garage board, a grocery getter, or even that friend youre trying to get into skating. We just think these are worth a try, and the complete package is well appointed and well priced.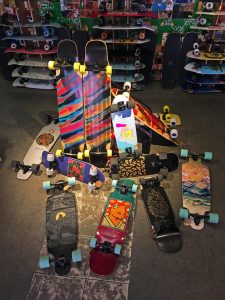 ---
If you haven't found what you're looking for, be sure to check out our full selection in our web store. We've got one of Canada's largest selection of decks and completes ready to ship worldwide.
---
If you have any questions please feel free to shoot us an email at info@flatspotlongboards.com, message us on facebook, or call at 604 899 8937!