It's Boxing Day here in Canada and that means we're dropping some of the best deals we can. There's already a sale for 25% everything in store on www.flatspotlongboards.com and some fat clearance deals. We are also going to be auctioning off all sorts of gear, LIVE on our facebook page to make the deals even better and have a bit more fun with this sale.
Boxing Day Facebook LIVE Auction
The Facebook Live Auction will be on December 26th, 2017 from 5pm – 7pm PST
Here's how the LIVE auction works:
– We open a facebook live feed and start auctioning off whatever we feel like auctioning. OPENS AT 5PM.
– Bets are placed by commenting on the live feed thread.
– Once we close the live feed than bidding is over. We will review the thread to determine the winning bids.
– We will contact you via facebook messenger to get your email address and send you an invoice.
– If you do not pay your bid within 10 business days of recieving your invoice we will put you on a blacklist for future auctions and move onto the 2nd highest bid.
HOW TO PROPERLY PLACE A BID
– Minimum bid raise is $2
– You include the product name in your bid for every bid.
– Winning bid at the cutoff determined without consideration for lag.
– Winning bids are reviewed after the auction to ensure accuracy.
**SHARE OUR LIVE FEED ON YOUR FACEBOOK PAGE TO GET $5 OFF YOUR SUCCESSFUL BIDS**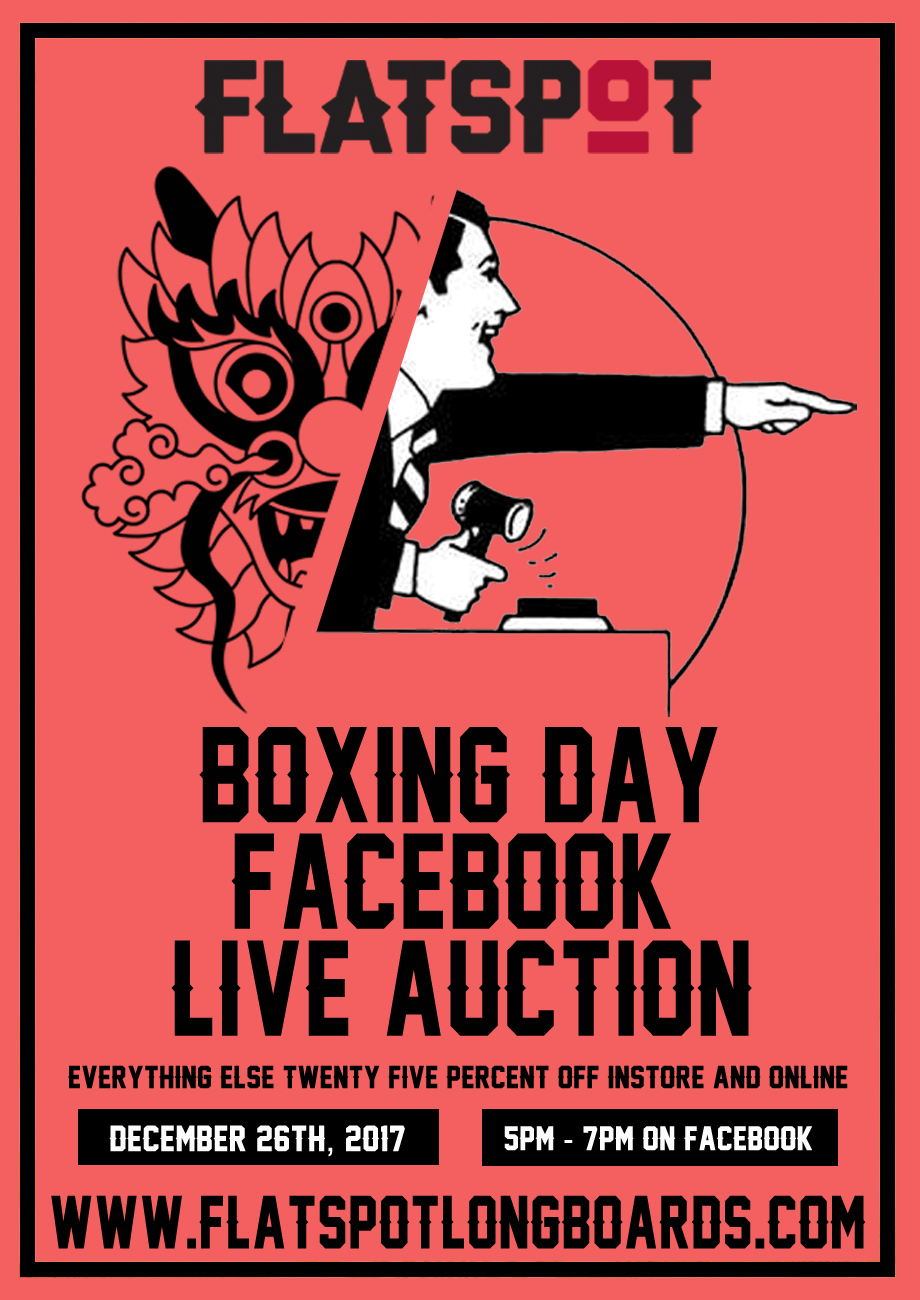 Boxing Week 25% OFF EVERYTHING IN STORE
Starting 12am – Midnight – there will be a 25% Off discount code available for the webstore and some super cheap specials and clearance items: https://www.flatspotlongboards.com/buy-online/
DISCOUNT CODE: boxingday
*25% Off Discount does not apply to all ready discounted Clearance items, Rayne High Society Gloves, or Vicious Grip Tape. Sizes and Quantities are limited.
All Rayne High Society Slide Gloves for $30.*
All Vicious Griptape Red packages for $15.
All Tshirts discounted to $7.50. 
All Loaded /Orangatang purchases receive a FREE Orangatang Hat.
All Flatspot Small & Medium Hoodies discounted to $40.
*Please note that sizes and quantities are limited. Flatspot reserves the right to be out of stock and sizes.*
DISCOUNT CODE: boxingday
Online orders placed between 12/26-31 will ship by 1/6/2017.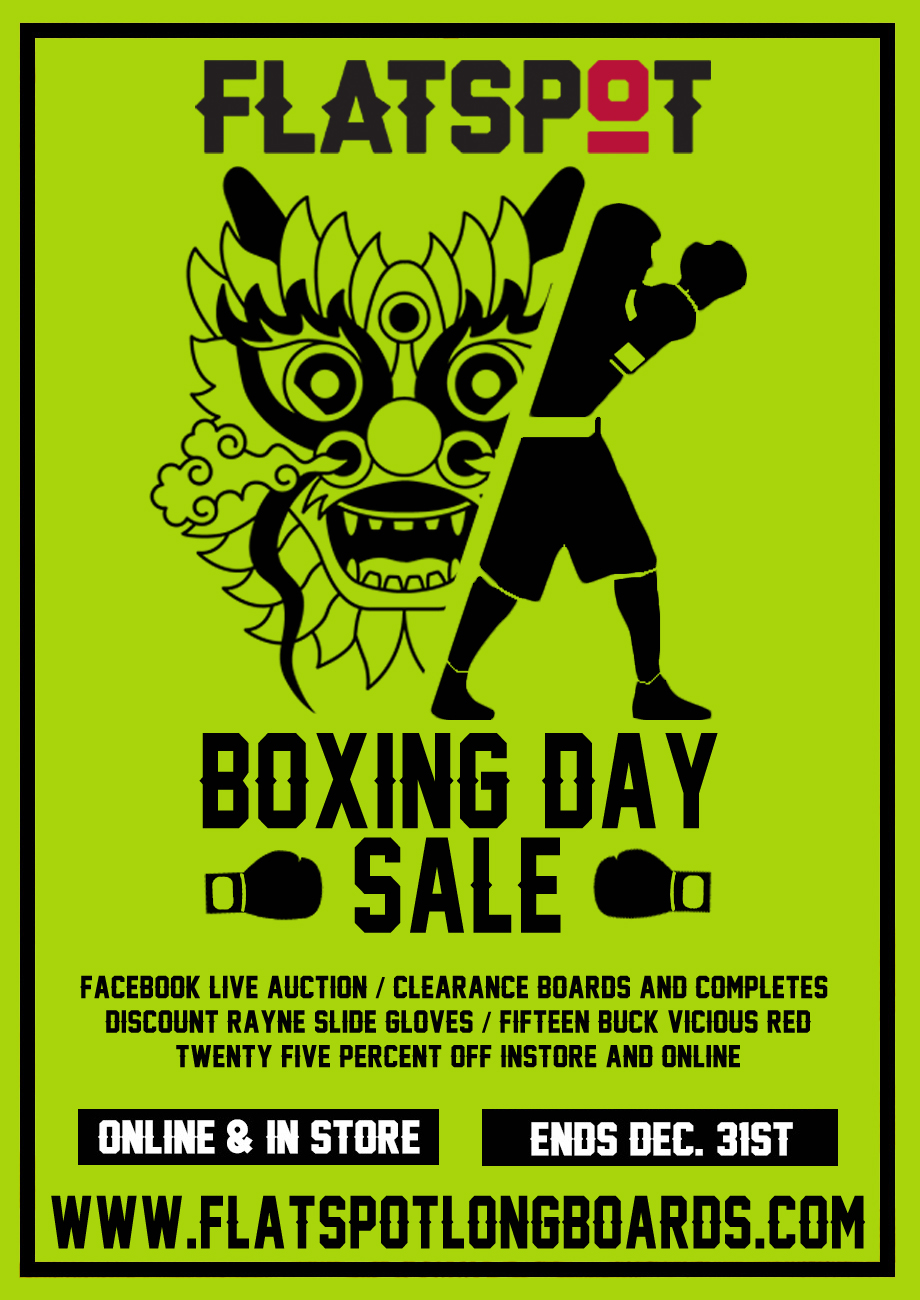 Boxing Week Store Hours
Dec. 26th: 11am – 7pm  – Facebook LIVE Auction 9am – 11am PST
Dec. 27th: 11am – 7pm
Dec. 28th:11am – 7pm
Dec. 29th: 11am – 7pm
Dec 30th: 11am – 7pm
Dec. 31st: 11am – 6pm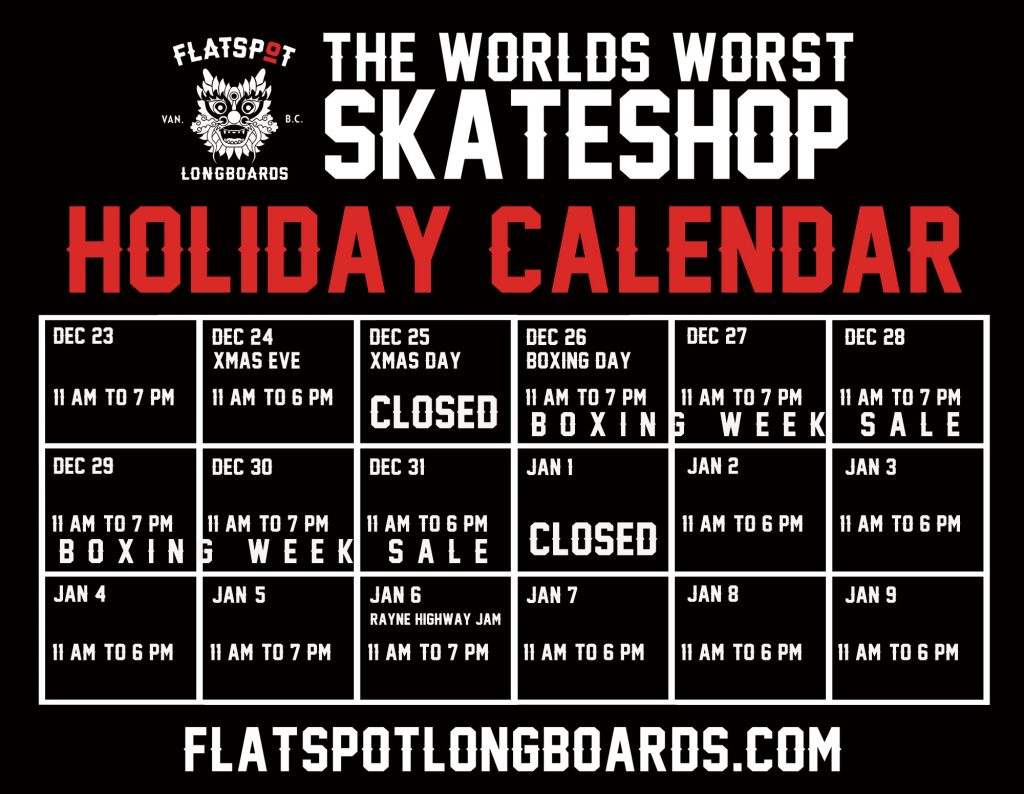 Don't miss the Rayne Highway Jam XVII Coming at you January 6th. Details here.