Description
The first thing you will notice about this board is that it is not symmetrical . . . but it IS symmetrical. The only thing asymmetrical about it is the angle of the nose. The concave and wheelbase options on the other hand are entirely symmetrical. This board is wide, rockered, has a SUPER comfy concave, and is silly stiff as a result of the Fat Bottom construction. Uses? Going fast, and going sideways.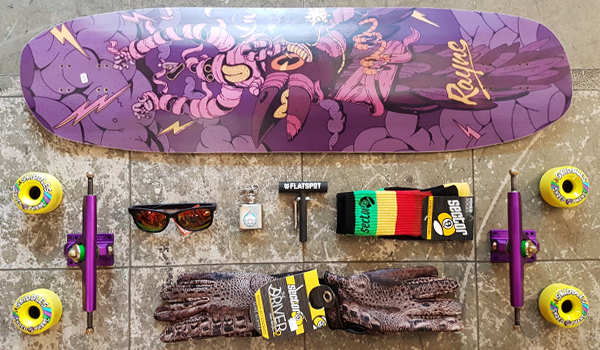 To make the most of the speed ready construction of this board, and its locked in concave, we arrived at this arrangement of gear. Calibers in 44 deg for that low ride height and stability. Sector 9 Skiddles for a smooth and controllable slide. The latest snake skin Driver gloves are for extra steeze points and the Dave's Hippy oil is for when those moments when you wish you hadn't had a lack of steeze.
Check out the Flatspot team rider Mike Fitter shred his the G-mack!
Not looking for the G-Mack? We have a bunch of Rayne boards on clearance!

Front desk denizen, chief rabble rouser and founder at Flatspot Longboard Shop.

Follow on instaswag > @mischachandler

Latest posts by Mischa Farivar (see all)