It's no myth that British Columbia is beautiful providence, and of all the place Flatspot could call home, we're proud to be from Chinatown, Vancouver.
Chinatown is epic. Its got old stuff, its got new stuff, its got crazy stuff and traditional stuff. Its been more than four fantastic years here, and we're stoked to also call this majestic building home. Literally, we live upstairs. Plus all our neighbours are awesome, between the new and old businesses in the area, every visit is novel. And if you are ever visiting the store, here are some of our favorite local spots you should investigate. Or just swing by and we can point you in the right direction.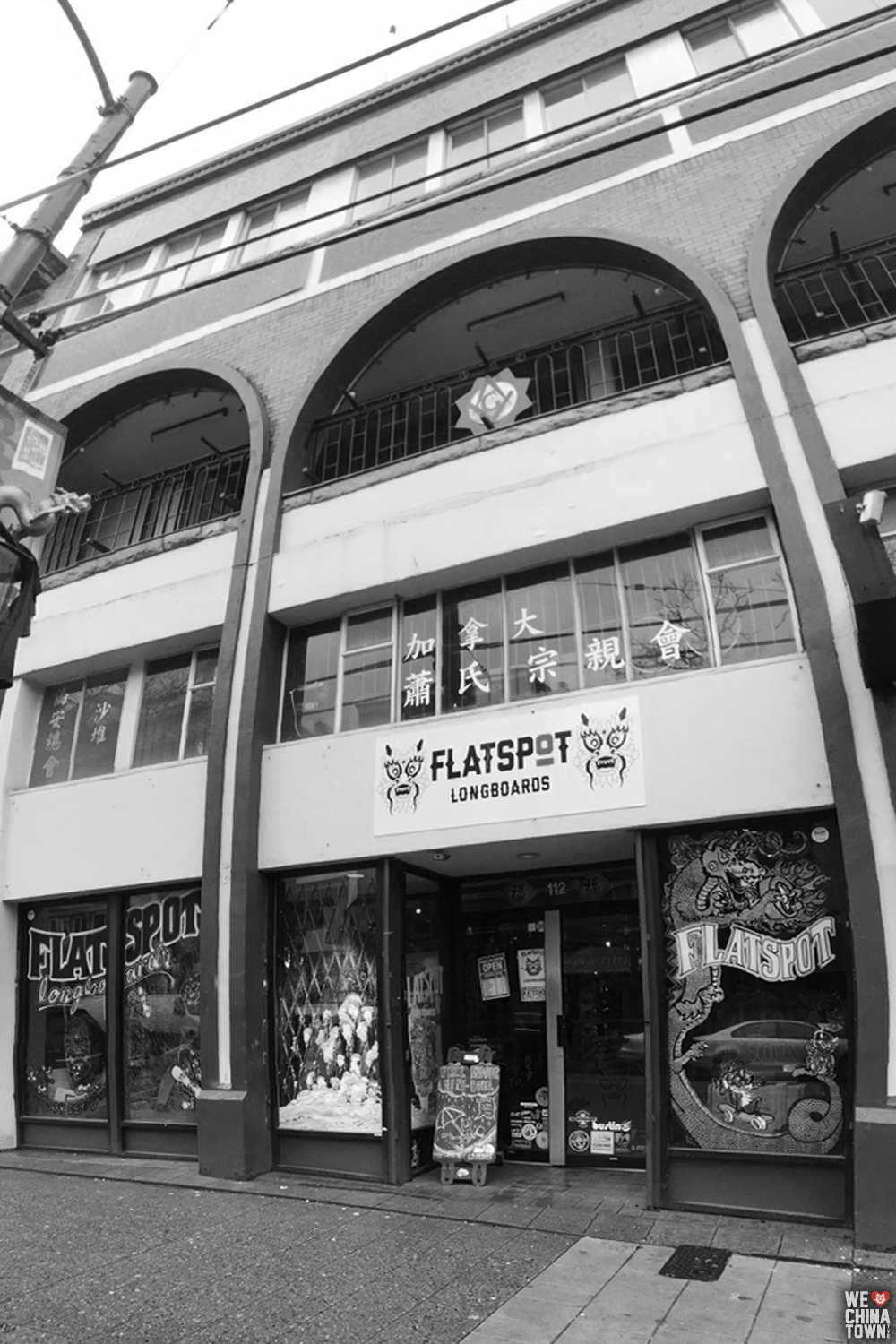 Top Favorite Classic Chinatown Spots
If you want to get a feel for classic Chinatown, we have a few suggestions to get you started. All of these spots have been around since before you knew Chinatown existed, and are extremely good at what they do!
Dr. Sun Yat-Sen Gardens   It's not often you find such a calm and pleasing space in the middle of a bustling city. The internationally award-winning, Dr. Sun Yat-Sen gardens might just become a source of mental health if you hang out there long enough. Do yourself a favour, silence your phone, and go have a pensive moment in there.
Beijing Trading Co.   If you are still trying to kick that lingering winter cold, the Beijing Trading Co.  has what you need. They have kept us healthy and vigorous for years and is kiddy corner to Flatspot! Their traditional Chinese medicine has kept the store open on several occasions (plus they have some of the best priced ginger tea and Nim Jom in the city).
Jack Chow Insurance – Need to get your car insured, married, deal with your unfair landlord AND file your RRSP? Need not worry, if it's a legal form on paper of some kind, Jack Chow Insurance has got it covered.
New Town Bakery – Has the best steamed buns in the city and internationally award-winning apple tarts. Two things you should try if you haven't already are the Century Egg Cake and the Hong Kong Milk Tea.
Kents Kitchen – This place is a hungry skaters dream. It will have you uncomfortably full for under $10. Its a buffet style eatery with a fantastic array of dishes. The takeaway containers make great tupperware.
Hon's Wun-tun House – The pot stickers will blow your mind, their Wun-tun is killer (and generally served super fast), and they just added bubble tea to the menu! It's also open later than just about everyone in the area, making it a complete lifesaver in a pinch.
Sunrise Market –  There is no cheaper produce in the city, period. Fun fact – Sunrise started as just a single family making small batches of tofu in their kitchen for the local Chinese community. They are now a huge tofu company, selling tofu well outside of Vancouver. Thankfully they still keep their small neighborhood grocer going, as its most certainly our favorite.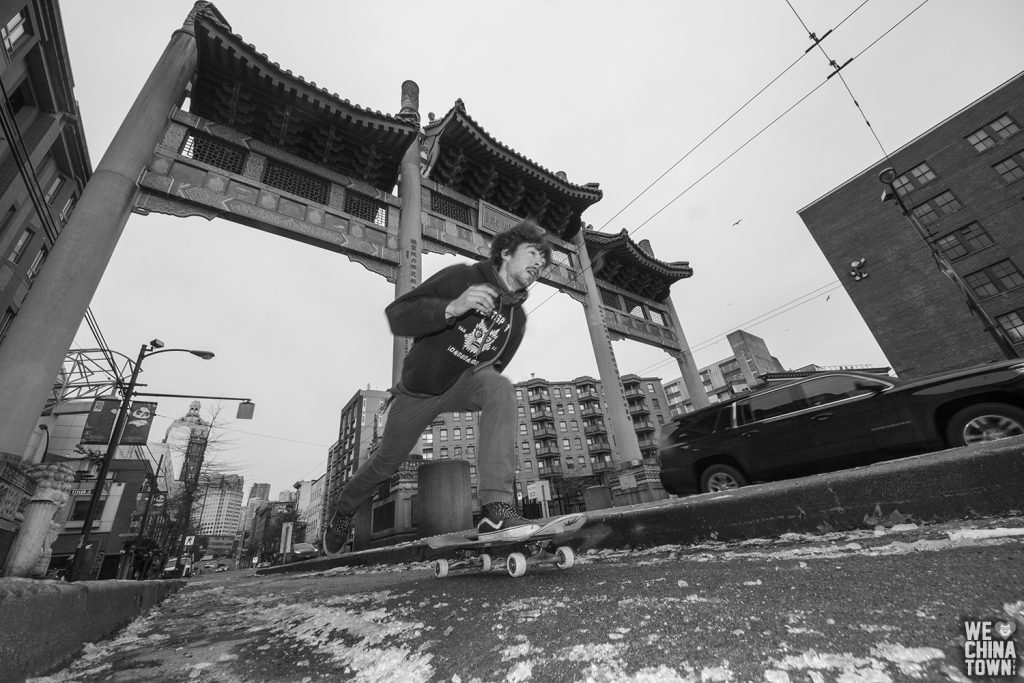 Top Favorite New Chinatown Spots
Just on our block alone the eclectic variety and of new small businesses is enough to inspire you to start your own! You might be surprised by what you find here.
El Kartel – Is our next door neighbour! We primarily drool over their Vans High Tops and epic selection of socks. But their clothing selection is actually pretty huge. Their taste in vinyl, jazz and beats is enough to make any visit there worth while.
Blim –  This place is immediately across the street from us. Do you like extreme amounts of color, space, sloths and cult classics? If yes, you will die of happiness in Blim. They also offer a thorough series of courses on screen printing and other DIY fashion skills with a rentable studio space to work in! The possibilities are endless.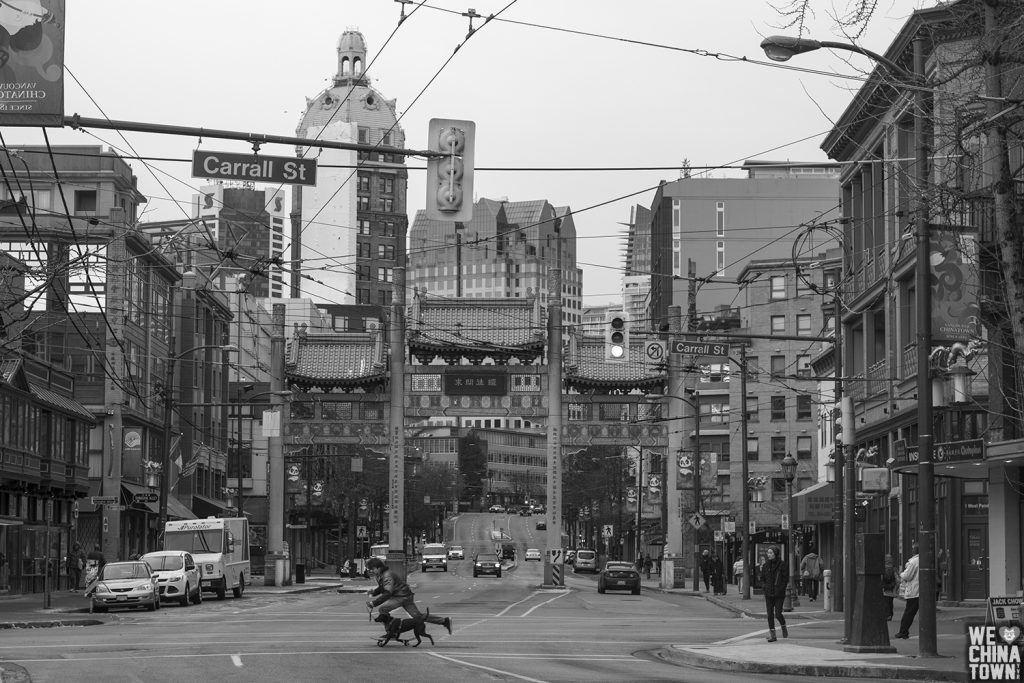 The Duchess – This is a unique store where you can both make AND spend money at the same time. The Duchess offers consignment vintage clothing. You can leave you're own vintage clothing, or buy someone else's. It's a win-win scenario where everyone looks better in the end.
Long Walk Lodge – If Indiana Jones lived to old age and opened a store with all his wondrous finds and odd items, this might just be that place. Long Walk Lodge also has a Bootleg Barber in the back, and AeroPress barista w placed 3rd at the world championships. He makes absurdly good coffee. Do not enter this place if you have less than 15 minutes to spare.
The Shop – These dudes know motorcycles, and motorcycle culture absurdly well. They have a selection of denim that takes years and years to fully appreciate. And the conversation and atmosphere are always on point.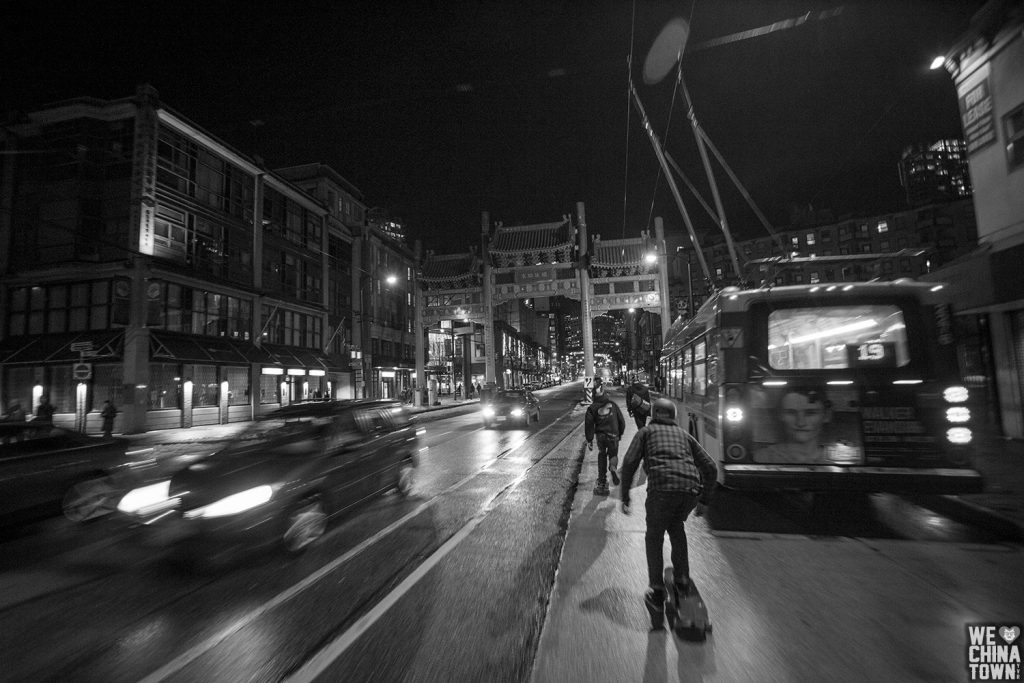 Bestie – This place could be the definition of friendly. It was started by two best friends. Who really like CurryWurst, a popular german street food (sausage, curry ketchup, and fries or sour crout). Make sure to get a homemade gingersnap ice cream sandwich on your way out, and they just released their own micro brew cider as well!
Ai & Om Knives – This is a dangerous store. Not because everything is extremely sharp, but because you will most definitely see a knife that you need. These guys moved in the past year, and we couldn't be more stoked to have more quality craftsmen around!
Whether you're visiting Vancouver or you've been a local for year we suggest you take a stroll through the neighborhood. China Town is full of history, interesting buildings and great shops. Next time you stop by the shop be sure to swing by New Town for a bun or say hey to our friends at El Kartel. We happily support our small and local businesses and hope you will as well. Flatspot has enjoyed being in China Town for almost 5 years and look forward to many more to come!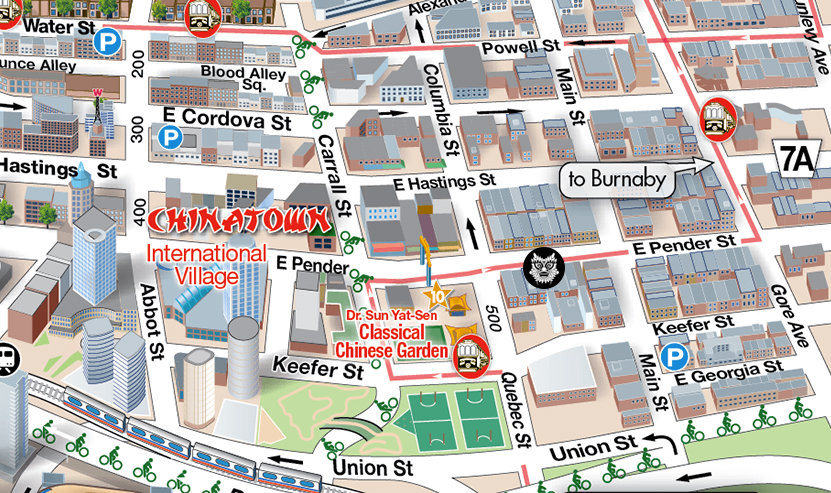 If you've never stopped by the shop be sure to come check us out, say hi and get a free high-five. If Vancouver is a bit out of reach don't forget about our full selection of gear in out online store which we pack and ship from China Town with lots of skate love!
---
Be sure to check the full selection products in our store. We've got one of Canada's largest selection of decks, completes, wheels, trucks and accessories ready to ship worldwide.
---
If you have any questions please feel free to shoot us an email at info@flatspotlongboards.com, message us on facebook, or call at 604 899 8937!