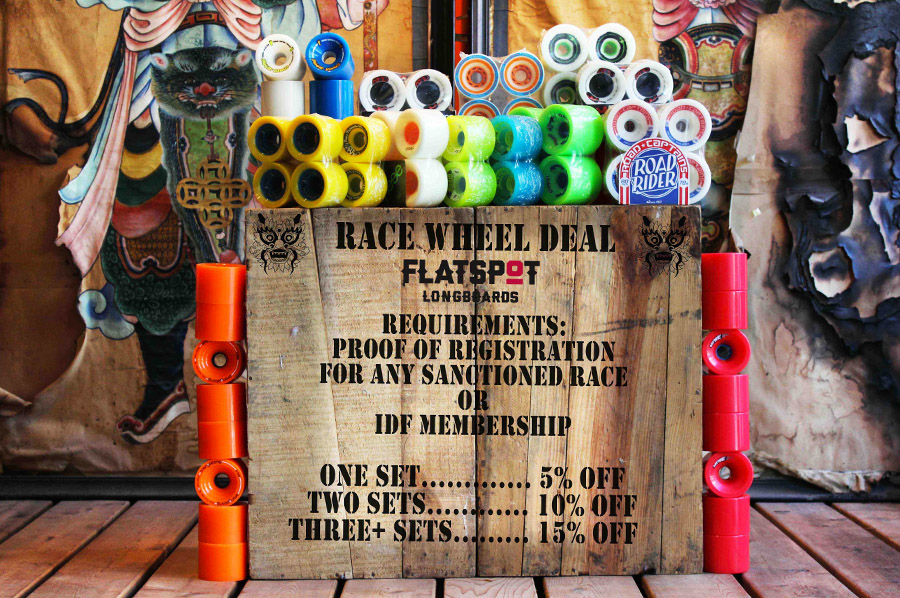 Racing is expensive. After paying for registration, traveling, taking time off work (if you work), and propper gear, its no surpise that DH skaters are total bums. IT AINT CHEAP! So, to alleviate the financial ups and downs of those who choose this wonderful lifestyle, we have decided to ease the pain.
But as it is with all things on the internet, this is going to require a small degree of clarification.
If you come to flatspot with a print out showing that you are either registered for a sactioned race or and IDF member, you will be granted a discount on race wheels!
Proof of registration must have your name and the fact you have paid, and you must have proof that you are YOU (meaning ID).
With registration or IDF membership confirmed, you will be granted 5% off one set, 10% off two sets, or 15% off on three+ sets. Freeride wheels are not included in this sale, but keep posted for freeride promotions later this summer.
This deal will end when the local race season ends.
That brings us to the conclusion of our deal.
Got questions? Read the description one more time.
Still got questions? Give us a ringles at 778 870 7154.
For more information on sactioned races in BC or becoming and IDF memeber, check out the links bellow.
http://www.internationaldownhillfederation.org/