Toy Boarders are here to shred anything and everything you never though possible. The
Ever been sitting in your sandbox with a pale and a shovel and wonder whats missing? We had that exact same issue. Its hard to entertain yourself sometimes, but boredom beware, Toy Boarders are here! This little bundle of gnar turns the entire world into a ginormous skatepark (more than it already is). And if you are past the sandbox stage in life, they are great for strapping onto fireworks!
One pack comes with 24 skaters, with 8 different poses. The series #1 and #2 have different skaters in them, bellow are the differences.
Now lets get this cleared up right now. THESE TOYS ARE SUITABLE FOR ADULTS. Don't be afraid to get your punked out 30 yr old skater homie a pack of toy skaters. Grown ass adults secretly want to be able to play with little plastic figurines in the park. Nothing is more therapeutic than pretending your kitchen sink is a vert bowl, and making explosion noises when one of your imaginary skaters takes a legendary bail. There is a small child inside of you, whether or not you feed it (but you probably should). Just use a little imagination (positive reinforcement thanks to spongebob.)
*Note* Skaters will not come to life if you leave them overnight in a antique cupboard.
Grab a pack and start shredding the ginormous skatepark that is all of the random shit in your living room!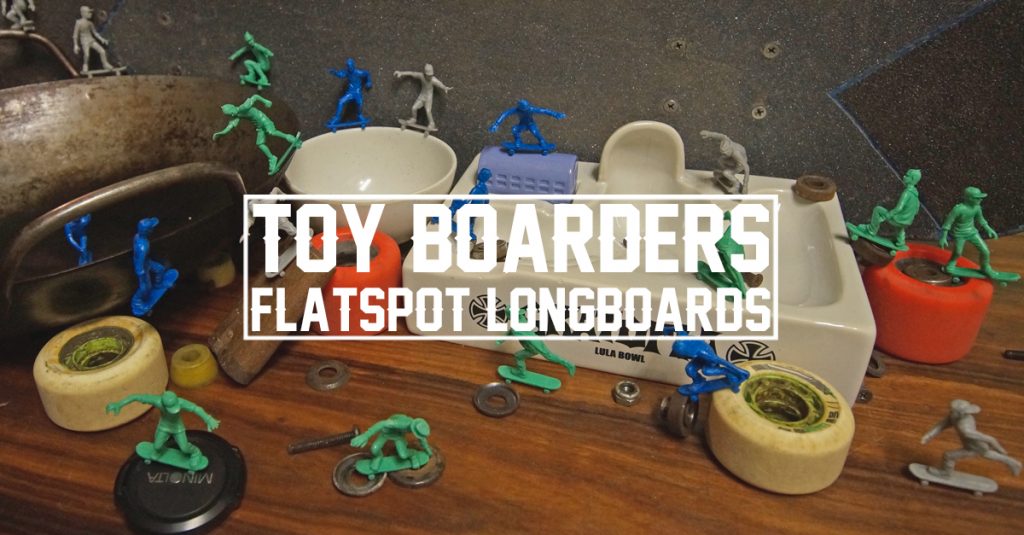 If you have any questions please feel free to shoot us an email at info@flatspotlongboards.com, message us on facebook, or call at 604 899 8937!

Front desk denizen, chief rabble rouser and founder at Flatspot Longboard Shop.

Follow on instaswag > @mischachandler

Latest posts by Mischa Farivar (see all)