This is a really big deal for us. Strike is special, and not in the shark wheel kind of way. He is a legend, a library of stories, the bringer of beer and the founder of coast. DO NOT MISS THIS AMA
Bricin 'Striker' Lyons is so many things. He is a father, a mailman, a punk musician, comedian, bad santa for hire, event organizer, skater, captain of the cribb bomb and the founder of the one and only Coast Longboarding. There is even a documentary about him and his friends! And thats not even all the things he is, let alone all the things he may become one day! He has shaped Downhill Skateboarding in north america to be what it is today, and by no small effort either. He once told us "sleep when yer dead". A motto he seems to genuinely live by. Which makes sense considering he has been to literally hundreds of downhill events in his time, often driving the Cribb Bomb full of skaters to and from the race. You can read about Striker prior adventures on the Cariboo Brewing blog that hosts his "Strikers Tales". Which we highly recommend reading.
To Read Striker's Tales – Click Here!
If you've met him, you will know exactly who we are talking about, because this man is unforgettable. His energy is viral, within minutes the complete insanity of highway bombing starts to become appealing, and all of a sudden you are burning lawn chairs in the rain and there is a naked man in a field shooting beer out of his nose that he drank out of a shoe. As a great facilitator of community, radness and playful adventure, we are honoured to have him in our midst.
THE AMA WAS HELD ON OUR FACEBOOK PAGE
WEDNESDAY MARCH 1st 2017 from 7pm to 10pm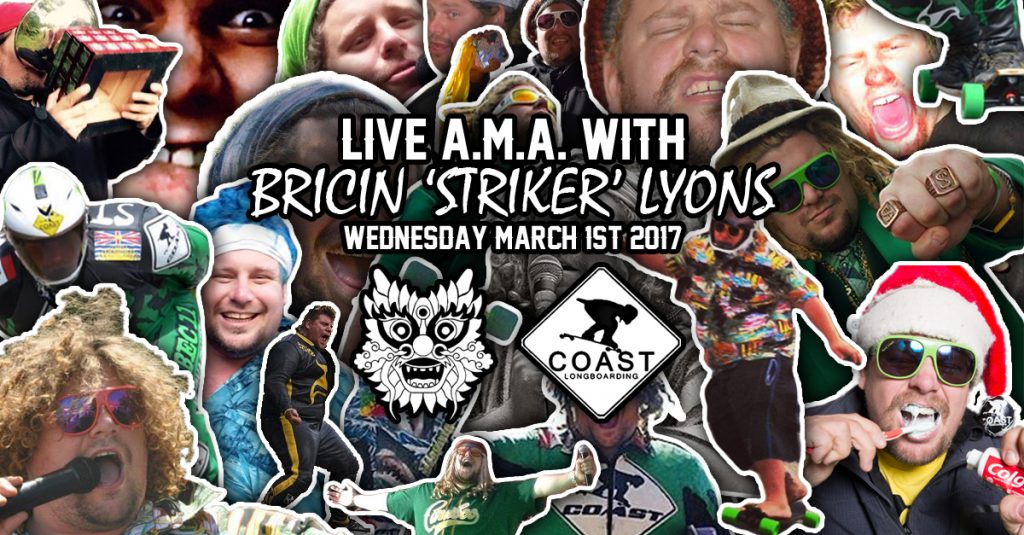 IN CASE YOU ALREADY FORGOT:
THE AMA WILL BE HELD ON OUR FACEBOOK PAGE
WEDNESDAY MARCH 1st 2017 from 7pm to 10pm
WANT TO SUPPORT COAST LONGBOARDING?! PICK UP SOME COAST SWAG!
If you have any questions please feel free to shoot us an email at info@flatspotlongboards.com, message us on facebook, or call at 604 899 8937!

Latest posts by Mischa Farivar
(see all)